Arizona Coyotes: Strome, Dvorak Both Expected In Lineup Against Montreal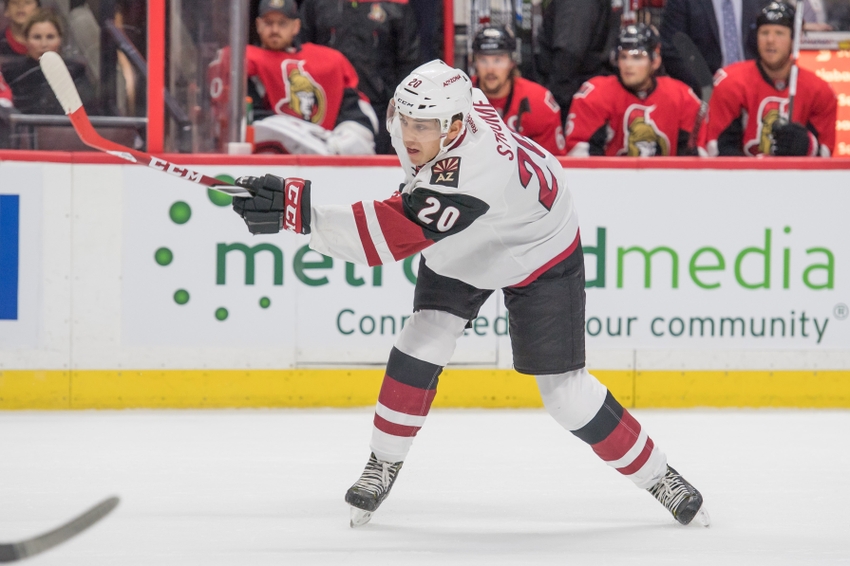 In a move anticipated all summer by fans, Dylan Strome and Christian Dvorak both appear to be in the lineup for tonight's matchup with the Montreal Canadiens.
Arizona Coyotes fans spent the summer and early fall debating the merits of Christian Dvorak and Dylan Strome.
Who will make the team? Which is better? Is there room for both?
Both prospects did make the Coyotes to start the season, but so far Head Coach Dave Tippett has preferred to alternate them as centers on the second line.
Tonight, however, that looks to change as line rushes in practice yesterday had Strome centering the second line and Dvorak centering a newly constructed third line.
#Coyotes running new lines:
Domi-Hanzal-Duclair
Rieder-Strome-Doan
Crouse-Dvorak-Vrbata
Martinook-Richardson-White/Dauphin

— Sarah McLellan (@azc_mclellan) October 19, 2016
It will be fans' first look at what the team might look like next season and on into the future.
Buried beneath the prospect hype, Max Domi and Anthony Duclair are skating on the top line together. They will be centered by Martin Hanzal.
I would expect some magic on Thursday night in Montreal.
Small sample size (17:39 TOI), but Domi/Hanzal/Vrbata line at 67.50 CF% 5-on-5. 2nd best in NHL. You'd think Domi & Vrbata are due.

— Howlin' Hockey (@HowlinHockey) October 19, 2016
Despite lukewarm reception to the original first line, however, it was performing pretty well as well…they just weren't scoring.
Based on the morning skate, rookie Jakob Chychrun will also be returning to the lineup.
Arizona Coyotes News and Links
Coyotes Should Demote Jamie McBain — Howlin' Hockey
The Arizona Coyotes season is just two games old, but there already needs to be consideration for roster changes and the talks must start with Jamie McBain.
Coyotes Go Back To The Future In Ottawa – Howlin' Hockey
The Arizona Coyotes rode their home opening win into Canada, and proceeded to generate the 1.21 gigawatts of power needed to absolutely get blown out in Ottawa.
Arizona Coyotes attempt to shake off bad loss with game versus Montreal Canadiens — Five For Howling
After a rough game in Ottawa, the Arizona Coyotes will try to right the ship in Montreal.
Undersized players making an impact for Coyotes — Arizona Sports
The Arizona Coyotes were the second tallest and third heaviest team in the NHL last season, but there are several undersized players on the team's roster that are making their presence felt — in a big way.
Other Local Sports
Arizona Cardinals: The good, the bad, the ugly — Raising Zona
The Arizona Cardinals were mostly good Monday night against the New York Jets but are left with some things still to work on.
GM Survey: Devin Booker, The 2016-17 Breakout Star — Valley of the Suns
Phoenix Suns Devin Booker received high praise today in an annual NBA General Manager survey.
This article originally appeared on