Arizona Coyotes Should Recall Brendan Perlini From Tucson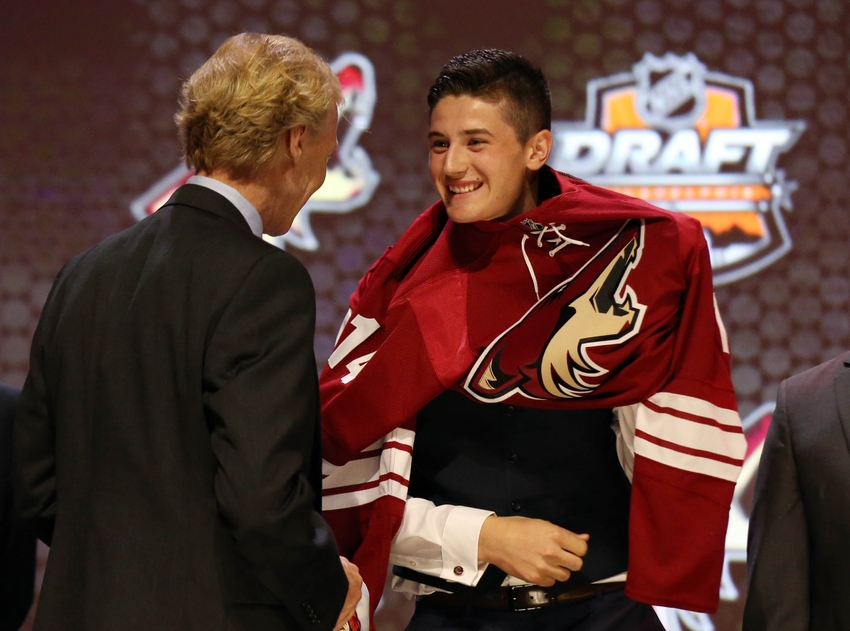 The Arizona Coyotes should recall Brendan Perlini to help overcome their scoring slump.
Something needs to give for the Arizona Coyotes.
Sitting last in the NHL with a 5-9-2 record and losses in 5 of their last 6 games, the optimism that surrounded this team a month ago is fading away.
They are consistently outshot and out played, and the youthful energy brought in by the team's five rookies is all but gone.
On the other hand the Roadrunners, the team's new AHL affiliate in Tucson, are enjoying a successful 7-1-2 start to their season.
A big part of that hot start is the play of Brendan Perlini, the Coyotes' 12th overall pick in 2014.
Despite his high draft position, Perlini has been passed by in the Coyotes deep prospect pool after a poor season last year (only 45 points in 57 games). That was the first time he had averaged less than a point per game in junior since his rookie year, not a positive sign as he turned pro.
Through the first 10 games of the season, however, Perlini has enjoyed some promising offensive success. He currently has 6 goals, which leads the team, and 3 assists.
It's an encouraging start, but there is a catch. Those 6 goals have come on only 24 shots. A 25% shooting percentage is certainly a bit of good luck. The problem is, luck runs out.
On the bright side, Perlini is almost certainly full of confidence right now, and that's exactly what the Coyotes need. Combine his first chance at the NHL with his confidence in his offensive game and you might get a shot of adrenaline.
Hockey is a team sport and players feed off each other.
Maybe Perlini's energy and confidence is just what guys like Duclair need to get going.
It certainly couldn't hurt.
Worst case scenario, Perlini doesn't make a real impact but still gets a taste of the NHL.
That will help him in his development, which benefits the Coyotes down the road. Best case, he lights a fire underneath the team with strong play and picks up a goal or two along the way.
This team is very young, and unfortunately they aren't playing as well as many of us hoped.
In my opinion, though, giving Perlini a chance would represent the organization's commitment to the process of building a champion.
I don't know about you, but I'm all for that.
This article originally appeared on