Arizona Coyotes Should Demote Jamie McBain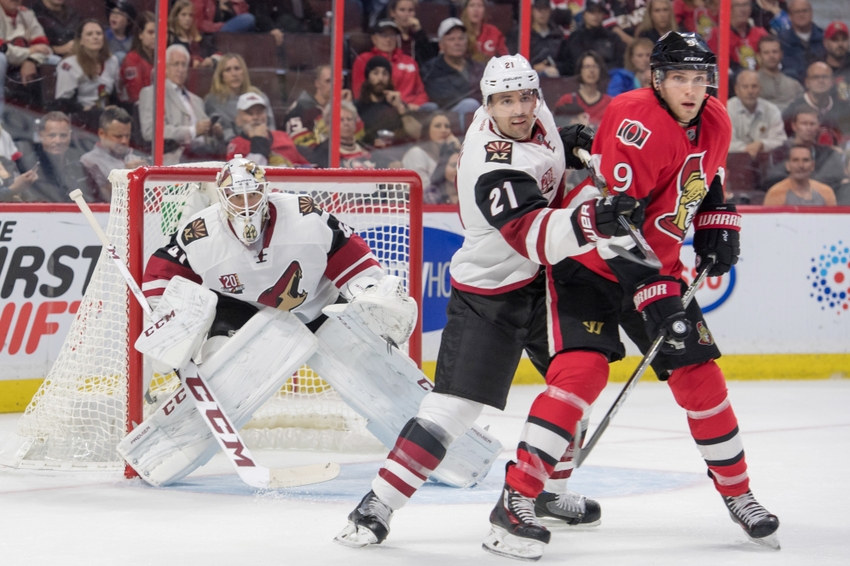 The Arizona Coyotes season is just two games old, but there already needs to be consideration for roster changes and the talks must start with Jamie McBain.
In just the first two games of the young season, the Arizona Coyotes have allowed 10 goals, can't win a face-off to save their lives, and cannot sustain offensive zone time.
Oh, did I also mention Mike Smith is hurt already?
The exciting "Coyotes 2.0" campaign was supposed to energize fans, but after the first two games, the on-ice product has left fans with some rather uneven play and lots of questions.
In particular, the team's poor play starts with the defense, most notably Alex Goligoski and Jamie McBain.
Goligoski was signed over the offseason to provide another steady hand to Arizona's top four.
But if the first two games are any indication of what Goligoski is going to bring the rest of this road trip, let alone this season, then his contract may be the one that mars John Chayka's immediate successes as the NHL's youngest GM.
He's been a minus-4, essentially having been on the ice for half of Arizona's goals allowed over their two games this season so far.
More than the goals, the questionable decision making when passing the puck has been concerning.
Another problem exposed in the first two games is Jamie McBain.
In the second game, McBain got 16:40 of ice time between the power play and even-strength.
That was too much.
In fact, I'd suggest McBain got 16:40 too much of ice time.
McBain was presumably brought in to serve as a solid depth defenseman and Tucson top four scorer. He was not signed to have first round pick Jakob Chychrun scratched, though they play different sides.
And he was certainly not brought in to help run a power play.
So what should the Coyotes do with him? Put him where he belongs.
In Tucson.
The impending return of Michael Stone should free Arizona up to do just that…provided it's McBain who is sent down and not Jakob Chychrun. If #21's presence forces Chychrun back to Sarnia, that's a mistake for the Coyotes.
This is a matter of talent, this is a matter of making the team better and this is a matter of winning games.
If the Coyotes are in the business of trying to be competitive this season, which they've suggested in their reasoning for alternating Christian Dvorak and Dylan Strome, they might want to have Jamie McBain pack his bags for Tucson.
It wouldn't hurt to ask Martin Hanzal to stop turning pucks over and find a way for Alex Goligoski play like the kind of player he's being paid to be.
This article originally appeared on