Arizona Coyotes' Shane Doan, Cardinals' Larry Fitzgerald Share Legendary Status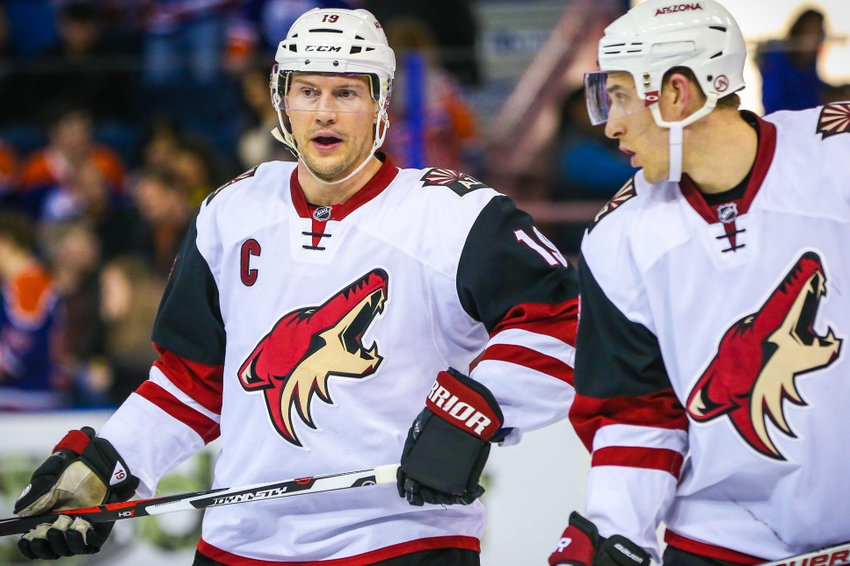 The two most beloved athletes in the Valley are Arizona Coyotes Captain Shane Doan and Arizona Cardinals Captain Larry Fitzgerald.
"Won't you be my neighbor" was most famously stated by Mr. Rogers, but even Mr. Rogers could not have even predicted the sports neighbors that would eventually both end up in Glendale playing for the Arizona Coyotes and Cardinals.
Shane Doan and Larry Fitzgerald play within walking distance of each other. They are Arizona's favorites, and for good reason.
Their accomplishments on the ice and the field are remarkable. Their qualities outside of gameday are just as impressive, if not more so.
Larry Fitzgerald recently caught the 100th touchdown of his career, while Shane Doan is four goals shy of 400. In 2012, Doan recorded his first hat trick. In 2015, Larry had his first 3 touchdown game. Sadly there is no cool nickname for the feat and NFL fans don't launch hats onto the turf. (Step it up NFL fans).
The individual accolades could be a novel. One of the most impressive qualities of these two is their leadership.
Both have led their team to Conference title matchups, though both suffered defeat (Fitz did clinch the NFC title in the 2008 season). As captains of their respective squads they are team first players, willing to do whatever it takes to get their team to the sports promise land.
Outside the confides of the field, the similarities between the two are endless.
Doan recently added to his resume to catch up to Larry Fitzgerald by conducting the Phoenix Symphony. Larry did this in 2012 when the Arizona Coyotes were in the Conference title game, and Doan conducted this year, oddly enough, after the Arizona Cardinals were in the Conference title game.
So the question is…how quickly can we get Larry back to conduct the Phoenix Symphony again?
Another connection is an aesthetic attribute that shocked me, especially with how much things change over the years. Both have donned the same hair style since draft day. Larry with his ever-present dreadlocks and Doan with the seemingly always wet hair style.
Maybe Doan could try dreads for a game?
Quite possibly the greatest mark of any individual is their ability and willingness to give.
That is what truly makes these two special.
Larry is always hosting events like his charity softball game which Shane Doan has played in, and from that I am glad he stays on skates. Doan is also regularly participating in Arizona Coyotes charity events whether it is a golf tournament or serving up food as a guest server at the Celebrity Waiters Gala, which Larry served at as well.
No matter the future brings for these two aging wonders, they will always be legends in the Valley.
The two captains make fans proud to cheer for them on the ice (or field), and allow us to feel good about that decision off of it as well.
This article originally appeared on