Arizona Coyotes Seek Revenge Tonight Against Columbus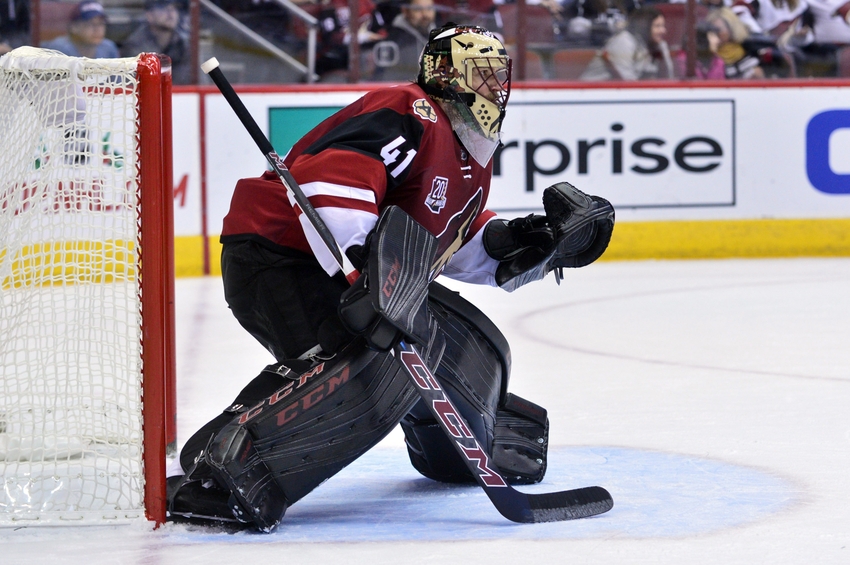 The Arizona Coyotes suffered a shootout loss to the Blue Jackets Saturday night, even after a record effort from Mike Smith.
Arizona Coyotes netminder Mike Smith was under siege in his last outing.
Saturday's game at Gila River Arena featured a barrage of shots from the Colombus Blue Jackets.
60 to be exact. Smith stopped 58 of those.
It still wasn't enough to grab the win.
Now just a few short nights removed from the heartbreak the Arizona Coyotes travel to Colombus to face the team that just unleashed a shooting frenzy on them.
So how will the Coyotes rebound and get revenge against the Blue Jackets tonight?
GENERATE OFFENSE
The Coyotes will need to generate quality offensive chances.
Radim Vrbata has been an absolute sniper this year, but the rest of the team needs to follow his and Max Domi's lead.
They will also need to make the Sergei Bobrovsky work.
Get the puck to the net and capitalize on the second chance opportunities.
CLEAR THE PUCK
The defense has had trouble all year getting the puck out of their end of the ice.
One reason is that they try to do it too quickly.
Clear the puck and don't assume your help is there. Use your legs and skate with it.
If the Coyotes can get the puck out of their own end they have a really good chance tonight on the road.
BRENDAN PERLINI
2014 first round draft pick Brendan Perlini debuts tonight.
He's scored 11 goals in 16 games with the Tucson Roadrunners. He's been on fire.
Out of all the rookies we have had in the line up this year this one is the one I am most excited for.
1st Period
Start fast.
The Arizona Coyotes games so far this season could be described as Benjamin Button like.
In period one they are an old out of shape baby, but as the game goes on they seem to pick up the energy.
They have done really well at responding to teams striking first with strong second periods, but tonight they are the ones who need to draw first blood and pour it on from there.
I expect this game to be an absolute slobber knocker of a rematch. This will be a must watch game for any hockey fan.
The Coyotes can get their revenge on Columbus tonight if they show up with an effort that we really haven't witnessed all season. They have plenty of motivation.
Saturday there was a lot of scuffling after the whistle. Tonight I expect a lot more than scuffling.
This article originally appeared on