Arizona Coyotes: Ryan White Embraces Role Of Troublemaker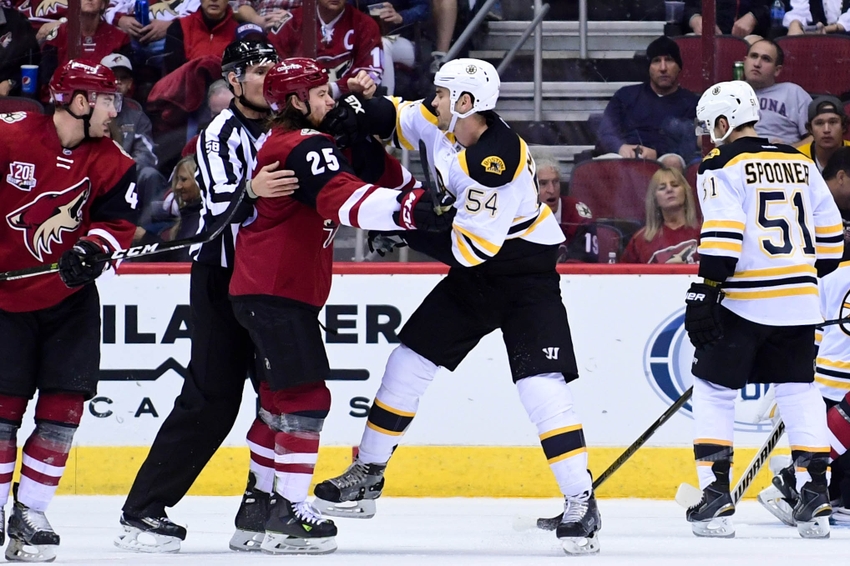 Arizona Coyotes forward Ryan White is one of the team's more unique characters, and can be easily spotted on the ice. He's the guy starting trouble, and throwing punches.
The Arizona Coyotes roster is filled with a diverse group of players, and as the team moves through the 2016-17 season, each of them are beginning to grasp their roles.
The ranks are starting to be thinned as some players are sent down to the AHL or OHL, while a few are moving between the Tucson Roadrunners and the Coyotes as convenience and needs warrant.
It's nice to have the franchise's AHL affiliate just down the road.
As Head Coach Dave Tippett experiments with line combinations and determines who plays well with who, the pieces are starting to fall into place.
One of the team's offseason pickups is forward Ryan White.
The Arizona Coyotes signed him coming off a stint with the Philadelphia Flyers to a one-year, $1 million contract. White spent two years with the Flyers, and five years with the Montreal Canadiens organization.
Since joining the Coyotes, White has been an integral part of the franchise's on-ice activity.
Simply, he's the guy usually starting trouble.
He's an instigator.
Saturday night's game against the San Jose Sharks was a perfect example. Just 1:57 into the game, the gloves were dropped and Ryan White was duking it out with Sharks forward Micheal Haley.
This wasn't a case of two players getting on each other's nerves in under two minutes. They were just picking up where they had left off a couple of weeks earlier.
Both players landed in the penalty box and earned five minute majors for fighting.
White is no stranger to dropping the gloves.
In the November 8th game against the Colorado Avalanche, White mixed it up with Cody McLeod, on top of his original confrontation with Haley at the beginning of November.
And those are just the ones where the gloves were dropped.
There's a player from just about every team the Arizona Coyotes have faced this season that has a post-game Ryan White story to tell.
Want your voice heard? Join the Howlin' Hockey team!
White's lone goal on the season was also a huge one for the Coyotes. On opening night against his former team, White scored the game-winning goal in overtime for a 4-3 win.
White is not especially big, or fast, or even mean. He's an antagonist, a bruiser, a tough guy in a league filled with players trying to push and shove you.
He doesn't take any abuse, and he certainly dishes it out.
He's the very model of a modern Major General, sticking up for his teammates, pushing back against a bully, and riling up the team when it needs it.
He knows his role, and he sure executes it well.
White doesn't win every fight, or even many of them. He gets in stirs and clashes that never show up on the stats after the game.
But he's out there causing trouble, pushing the other team, and on occasion, making people pay.
He's doing his job.
White has one goal and two assists on the season, with 25 penalty minutes to go with them.
I'm glad he's on our side.
This article originally appeared on