Arizona Coyotes' Rookie Camp Gives Prospects NHL Chance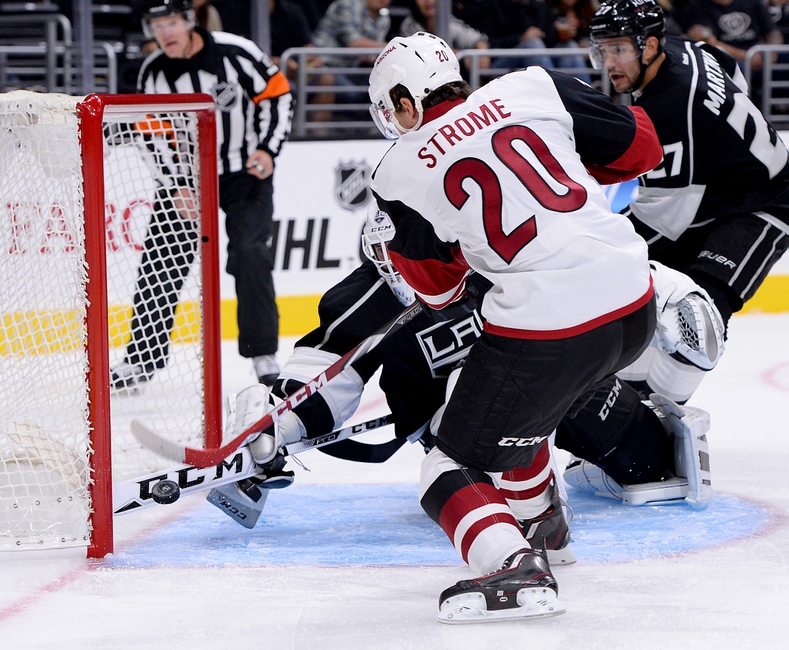 With Arizona Coyotes rookie camp set to begin and the boys in town, we explore about a few prospects beyond the headliners who also deserve a good look.
We have all heard the names Christian Dvorak and Dylan Strome roll through the Arizona Coyotes  a few dozen times.
What about some other big rookie names on the roster who could be considered hidden gems?
The Coyotes have one of the best farm systems in the NHL. They are stocked with plenty of talented young players to fill current and future roster spots.
Some thoughts to keep in mind; the Coyotes have limited roster spots available, as a result forcing the rookies to fight even harder in this years camp.
With Chayka already stating that Dvorak and Strome don't have a guaranteed spot, other prospects have a chance to shine.
Brendan Perlini, Left Winger
Perlini had 45 points in 57 games last season.
This is below the average of 60.7 points among top Coyotes prospects..
Brendan Perlini did have a rough season in the OHL, however. I don't expect him to have a guaranteed roster spot this season, but do see him making a guest appearance on the team throughout the season.
Perlini has potential but hasn't fully reached it.
Christian Fischer, Right Winger
Fischer plays right wing which puts him in a good position considering the Arizona Coyotes apparent hole in that spot. The recent signing of Radim Vrbata helped strengthen that side, however the need is still there.
Christian Fischer put up impressive numbers with 90 points in 66 games last season.
He is considered a power forward and is built for the NHL, being 6-foot-1 and 212 pounds, however he is only 19 years old. He has the dedication and mind set of an NHL player but lacks the experience, and should he not make the Coyotes' roster he will have to return to Windsor.
Dylan Strome and Christian Dvorak
Not over looking the two top candidates, Dylan Strome and Christian Dvorak, who undoubtedly have made the biggest impression on the Coyotes organization and fan base.
Both fit the image of potential top NHL centers and have the points and hockey resume to back it up.
Dvorak racked up 121 points in 59 games, with 52 goals and 69 assists. Strome had 37 goals and 74 assists in 56 games, totaling 111 points. Both players fit a hole up the middle the Arizona Coyotes need to strengthen.
Strome is an intelligent hockey player, having the hockey I.Q needed to prosper at a high level in the NHL. Dylan fits the mold of a top NHL center, one that is hard to come by. Is he ready this season?
Can he match other centers in the league like Jonathan Toews, Ryan Getzlaf and Tyler Seguin?
Dvorak is known for his impressive vision in front of and around the net.
He also has a competitive drive that makes it hard to defend against and contain him. Christian brings a strong work ethic and fits the mold of whatever line he is put on.
He has a good scoring ability and would fit into the NHL, this season.
The Arizona Coyotes have a tough decision choosing between Dvorak or Strome. Maybe they will make it easy by choosing both.
However, they should keep their eyes out for the other prospects on the ice this weekend.
This article originally appeared on