Arizona Coyotes Rookie Brendan Perlini Scores First NHL Goal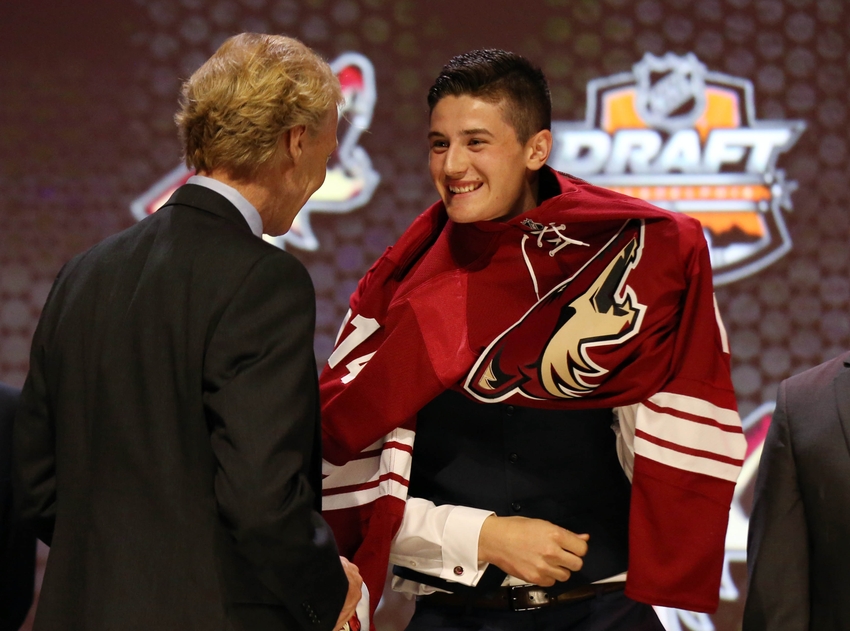 Brendan Perlini scored his first goal with the Arizona Coyotes and it was a beauty.
After training camp, Arizona Coyotes management might not have expected to see Brendan Perlini in Glendale again til next fall.
That's the thing about plans, though. Sometimes they change.
The 20-year-old reported to the Tuscon and promptly become a vital piece of their early season surge.
Perlini went on a hot streak for the Tucson Roadrunners where he scored 9 goals in just 6 games.
Those mitts were on fire, and it felt like it wouldn't be long before Dave Tippett and John Chayka came calling.
It took a few more games, but Perlini got the call and he hasn't looked back.
He was held off the score sheet in his first three games but it wasn't for lack of effort.
#29 has buzzed around, showcasing his speed and skill in every game.
Most importantly, the youngster hasn't shied away from attempting to make a play or shoot the puck, two aspects of hockey that have been conspicuously absent from the Arizona Coyotes' lineup.
On Saturday night against Nashville, Perlini made good on all that promise.
He found a quiet spot on the ice and gathered the pass from Shane Doan, turned and fired it top shelf past Pekka Rinne like it was a shooting drill in practice.
It's that quick release, combined with his size and uncanny speed that had the Coyotes salivating when they selected him 12th overall in 2014.
Arizona Coyotes Trade Maple Leafs For Peter Holland
Things haven't been quite so rosy for Perlini since then, however.
Injuries have hampered his growth, and they also affected his ability to excel with the Niagara IceDogs.
A shift from junior hockey to the pros seems to have done him well, however.
His coach in Tucson, Mark Lamb, has been impressed with his attitude and work rate.
"I've seen a guy that's grown, a guy that's been very coachable," Lamb said. "He's played with two good veterans the whole time so when you put [Chris] Mueller and [Craig] Cunningham in there it's an ideal situation for him. That being said, he's taken advantage of that and done the things he's supposed to do."
Brendan Perlini took advantage of Lamb's trust to the tune of leading the American Hockey League in goal-scoring before being called up to the Coyotes.
Despite his absence, he still sits tied for second in the league with 11 goals.
Perlini, for his part, is likely hoping he never gets another shot at scoring more for the Roadrunners.
If he continues playing smart and hustling like he has in his first four outings, there will be no reason for Dave Tippett to send him back.
This article originally appeared on