Arizona Coyotes Recall Tyler Gaudet From Tucson Roadrunners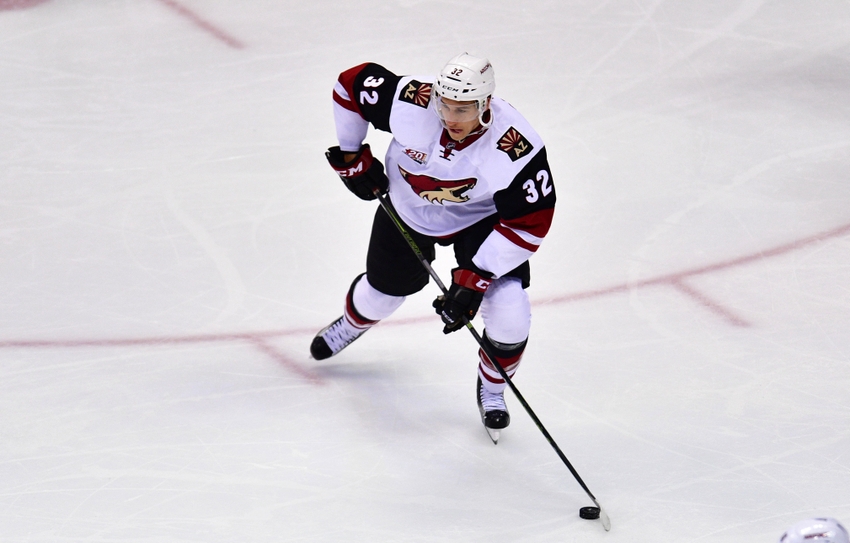 With Laurent Dauphin nursing an injury, the Arizona Coyotes have recalled Tyler Gaudet from the Tucson Roadrunners.
The Arizona Coyotes have battled some injuries thus far this season.
Add rookie forward Laurent Dauphin to the list after a blocked shot last night in Edmonton.
Dauphin appeared to block the shot with his hand and was immediately in pain. After finishing his shift, he went down the tunnel at Gila River Arena.
His injury allows 23-year-old forward Tyler Gaudet a chance at his second stint with the Coyotes this season.
Here's the Yotes press release on the call up:
GLENDALE, ARIZONA – Arizona Coyotes General Manager John Chayka announced today that the Coyotes have recalled center Tyler Gaudet from the Tucson Roadrunners, the club's American Hockey League affiliate (AHL).

The 23-year-old native of Hamilton, Ontario has appeared in one game with the Coyotes this season. The 6-foot-3, 205-pound Gaudet has also registered 2-5-7, a plus-three rating and nine penalty minutes (PIM) in 11 games with the Roadrunners.

Gaudet has totalled 1-2-3 in 17 career NHL games.
Tyler Gaudet has been an effective piece for the Tucson Roadrunners, but his one game with the Arizona Coyotes this season was quite forgettable.
Arizona Coyotes Survive Oilers, Win 3-2 In Shootout
He skated 13:10 and won just 12.5% of his face-offs in that contest. Gaudet also finished as a minus on the night.
After the jettison of Boyd Gordon in the offseason, it seemed like Gaudet might have the inside track on the 4th-line center job heading into training camp this fall.
Ultimately, Arizona decided to keep five other rookies.
Laurent Dauphin and Lawson Crouse beat out Gaudet for bottom-six job openings and the youngster began his season with the surprisingly hot Roadrunners in the AHL.
The centerman will surely want to improve on his showing against Colorado and try to emulate defenseman Tony DeAngelo in making a strong case to stay in Glendale full-time in the future.
The call-up of Gaudet from Tucson will leave the Roadrunners awfully thin for their contests this weekend.
They are already without their heart-and-soul captain Craig Cunningham.
Cunningham had a medical emergency a week ago and remains hospitalized in stable but critical condition.
Tony D is another Roadrunner who has stuck with the Coyotes after being called up.
Gaudet's absence is another blow to the team's red-hot offense and will put more pressure on goaltender Adin Hill, who was already facing a significant workload.
If Dauphin cannot go, Gaudet should be in the lineup Sunday afternoon against Edmonton.
This article originally appeared on