Arizona Coyotes Pair With SanTan Brewing Company For Yotes Pale Ale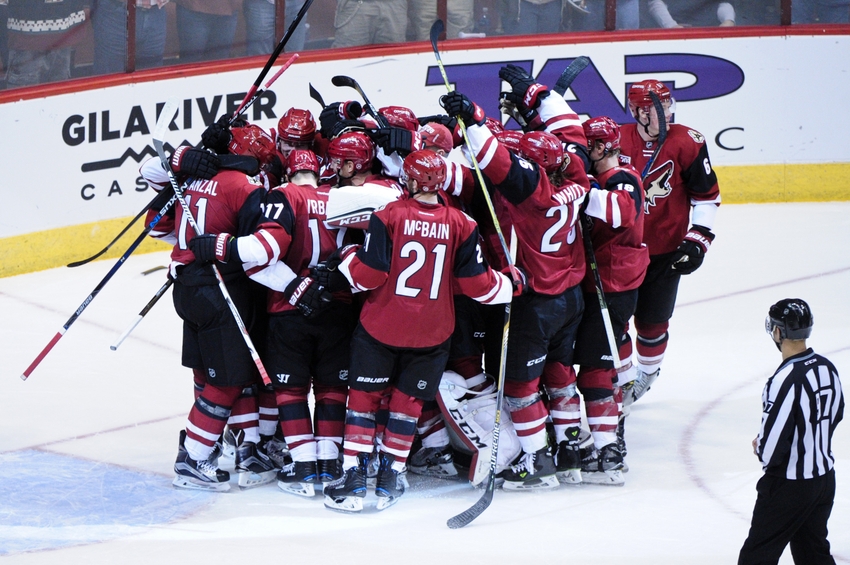 A potential arena isn't the only new addition to the Arizona Coyotes' portfolio this week. The team has paired with SanTan Brewing Company to create a Coyotes branded American Pale Ale.
Love heading out to an Arizona Coyotes game and enjoying a cold beer while you catch the action on the ice?
SanTan Brewing Company says, "Say no more."
They've created Yotes Pale Ale which will be served at Coyotes' concessions during home games.
It's an American Pale Ale and fans are pretty excited about it.
Yotes Pale Ale was created by SanTan Brewing Company and the Coyotes. The color of the American Pale Ale is Coyotes brick red so "Yotes Pale Ale" was an obvious choice for the name. Yotes Pale Ale has an ABV of 5.4% and 40 IBU and was created by flavorful Cascade, Nelson Sauvin and Citra hops. The beer will be available on draft at Coyotes games this season at Gila River Arena beginning on Wednesday, Nov. 23 when the Coyotes take on the Vancouver Canucks.
That sounds pretty good,
It's been quite the busy week for Arizona Coyotes brass.
Arizona Coyotes Exploring New Tempe Arena with Arizona State
New arena plans, new beverage. What's next? A big trade? What do you say, John Chayka?
Coyotes President and CEO Anthony LeBlanc is also ecstatic about the new brew.
"The Coyotes and SanTan Brewing Company are very excited to launch this delicious new American Pale Ale for Coyotes fans attending games at Gila River Arena," LeBlanc said. "We are confident that Coyotes beer lovers will enjoy this new beverage and we hope that they will celebrate many Coyotes wins this season with a Yotes Pale Ale."
Fans are likely already familiar with SanTan Brewing Company.
Their brewery in downtown Chandler is a pretty popular spot for food and beer, and their signature brews are available for sale in many retail outlets here in Arizona.
I've yet to see confirmation regarding the separate sale of Yotes Pale Ale, but one could guess that if it proves popular enough with fans then we may also see it at retail in the near future.
In the meantime, the Arizona Coyotes have added yet another ally in the state in their quest to return to relevance.
We've already seen the debut of several new sponsors on Coyotes' broadcasts and at home games in-arena this season.
Partnering with SanTan Brewing Company strengthens their Arizona ties while providing adult fans with a unique treat to enjoy at Gila River Arena.
This article originally appeared on