Arizona Coyotes' Offense Still Slumbering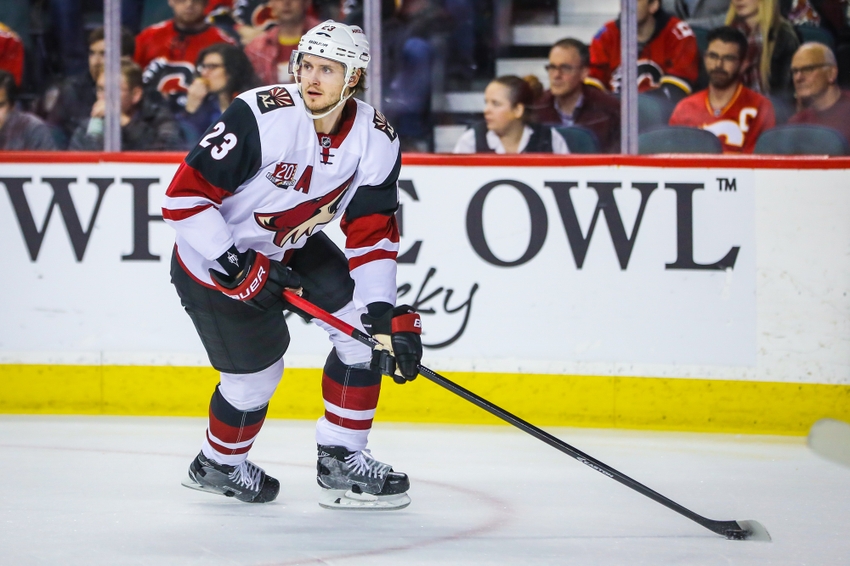 The Arizona Coyotes haven't been able to get their stars going offensively. Can we expect that to change?
Nearly twenty games into Arizona Coyotes 2.0, the offense has yet to boot up.
A few faces have surprised with their production, but they are heavily outweighed by the brighter stars who have either started cold or gone cold in the interim.
These extended slumps have found the Coyotes ranked 19th in goals for per game (2.53). They also rank second worst in goals allowed per game (3.29).
Finally, the Yotes have the league's worst 5v5 Corsi For percentage at 45.55%.
Add those three factors together and one can quickly discern how this team has found itself last in the NHL.
Before we wallow in sorrow too much, let's look at the few players who are doing well.
The Good Guys
Any list of Arizona Coyotes offensive standouts this season has to include top-six centerman Jordan Martinook.
Arizona Coyotes: Ryan White Embraces Role Of Troublemaker
Wait. What? Martinook is a bottom-six winger? And he's still outplaying most of the team?
Yikes!
Martyman has put up five goals and five assists thus far. He's in a four way tie for second on the team in goal-scoring with noted snipers Brad Richardson and Tobias Rieder. Oliver Ekman-Larsson also has five, for what it's worth.
Martinook's emergence has been one of scant few great stories early on this season.
A word of caution, though. He is shooting 20%. That's going to fall.
Radim Vrbata's demise was greatly exaggerated.
He's scoring goals multiple ways, producing offense, and leads the team by a mile in shots on goal.
Even if he wasn't scoring, the Yotes could use Vrbata as he's one of only two or three Coyotes who aren't afraid to fire the puck on net to create an opportunity.
That leads us to Max Domi who is both part of the problem this season, as well as part of the solution.
Domi leads the team with thirteen points but has scored just two goals.
He's on pace to put up more than 60 points on the season, but at some point Arizona needs him to find the back of the net.
The (Playing) Bad Guys
Let's get it out of the way.
Anthony Duclair has been nothing short of a disappointment.
He's not shooting. He's not scoring. He's not contributing. The struggle is real.
Duke isn't the only slumping member of the Arizona Coyotes, however.
Oliver Ekman-Larsson has tallied just one assist in the past eight games. That's bad news considering he led the team in points last season. The team needs production from the only bona-fide elite player on the roster.
There has also been very little impact from the heralded rookie class entering the roster.
Dylan Strome generated just one point before returning to the OHL. Christian Dvorak has five points, but has been mostly invisible.
Jakob Chychrun started hot, but as usual with young defensemen entering the league, has hit the wall a little bit as the season has progressed.
Finally, Alex Goligoski has been a major disappointment since joining the Yotes.
He has put up seven points this season, but the offensive distribution and boost to possession he was expected to provide has not materialized.
If anything, the team has been worse with him on the ice.
Will They Turn It Around?
Some individuals may turn it around.
Possession-wise, the Arizona Coyotes are probably what the stats show.
Their deficiencies there are rooted in both subpar play and Dave Tippett's system.
That doesn't mean that a few guys can't get hot, however.
It is very unlikely that Domi will continue to shoot just 5.4% all season.
I wouldn't be shocked to see him hit a little run of goal-scoring similar to last season, where he scored two or three goals in bunches multiple times.
Oliver Ekman-Larsson isn't going to stay silent forever either.
As one of the elite players in the game, his slump probably revolves more around the malaise surrounding the entire team than his own individual play.
Everyone is also still holding out hope that Alex Goligoski finds his sea legs and can make at least somewhat good on his big new contract.
Don't kid yourself, though.
These Coyotes are bad. They will remain bad. There will be no magic turnaround.
That doesn't mean that watching these games won't become more bearable for fans, however.
There's still plenty of time for the Coyotes to at least become competitive on a nightly basis, and that starts with some of Arizona's stars finding their scoring touch.
This article originally appeared on