Arizona Coyotes: New Arena Plans Face Several Hurdles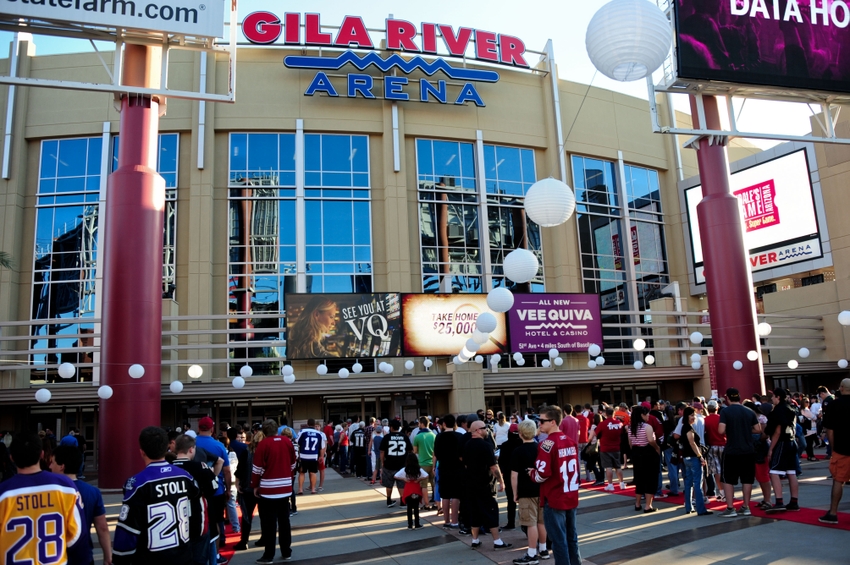 Arizona Coyotes fans let out a deafening cheer on Monday as the franchise announced plans to build a new arena in Tempe, Arizona.
The Arizona Coyotes finally told the public what everyone's been waiting to hear.
The team announced its plans to build a new 16,000 seat arena adjacent to Tempe Town Lake in partnership with Arizona State University.
Plans call for the arena to be built along with a smaller 4,000 seat facility on the current site of the Karsten Golf Course, just to the west of Tempe Marketplace.
The location is deal for ASU, and for fans living in Phoenix, the East Valley, and Scottsdale.
How big a deal is this?
Let's just say the team has been teasing it for quite some time now, ever since management and the Glendale City Council parted ways. That relationship first became nasty back in 2009 when the Coyotes were placed into bankruptcy.
In 2015, the City of Glendale terminated the lease agreement both sides had struck just two years earlier, prompting the team to take a fresh look at its options.
That fresh look is what's led them to Tempe.
It's not all sunshine and roses, however.
First, the Coyotes will need to get some big-time political buy-in. State and local officials will need to okay some fairly significant issues, including a tax rebate to help fund the arena. There will likely be some necessary infrastructure improvements as well.
All told, this is at least a $400 million adventure. The team is willing to invest 50% of their own money to make it happen. That leaves a sizable chunk leftover.
Although the proposed structure includes money obtained from ASU and through the facility's own usage, we all know it can't be that easy.
And it won't be.
Appearing on the NHL Network's NHL Now program on Tuesday, Coyotes President and CEO Anthony Leblanc admitted as much.
"That is the unfortunate reality, is that the next step is 100% political," Leblanc said. "And that is working with the various stakeholders on the ground in Arizona, be it the State of Arizona, the City of Tempe, and illustrating to them the plan that we've put together."
"What we're trying to do is put together a plan that essentially pays for itself, with the Coyotes putting in a vast sum of money to the capital cost, and then putting together a plan for a tax rebate, which is very commercial and utilized in other areas and other businesses," Leblanc added. "But the biggest job we have to do is illustrate that this is a good thing for the state and for the city."
That's the part that will likely be the biggest stumbling block.
When the owner of a sports team says that the plan will pay for itself, you can't blame politicians for being a bit skeptical.
And the City of Tempe won't be getting any letters of recommendation from the Glendale City Council or Glendale voters either. Politicians in Arizona will certainly voice their suspicions before jumping on board.
With a history of gumming up the works, the Goldwater Institute will also probably have a word or two to say about this deal once the details become more clear.
Some sports fans will also question the need for another new arena while the Phoenix Suns and Arizona Diamondbacks are both clamoring for new digs. However, the team has no long-term future in Glendale, and just about everyone knows that.
When faced with the prospect of the Coyotes investing $200 million of their own money, politicians will figure out a way to make that happen.
"We're confident we'll get there, but it's going to be a fair amount of work over the next couple of months," Leblanc concluded.
He's certainly right about that.
In other words, it's a really serious public relations effort that the Coyotes will need to jump on right away. Given the team's history of less-than-stellar PR and marketing, that's a tall order.
In addition, thousands of season ticket holders will not simply come calling because a new arena is constructed. The Coyotes will need to start winning and turn in a couple of competitive seasons before this new arena opens its doors for the 2019-20 season.
And they'll want to retain the season ticket holders they already have.
With the team currently sporting the worst record in the entire NHL, they'll have to come up with some pretty nifty incentives to make that happen.
When you get past the initial excitement, the Arizona Coyotes' new arena is beginning to sound a lot like Christmas. Everybody looks forward to it, but nobody really knows how it will turn out.
This article originally appeared on