Arizona Coyotes Need Max Domi Scoring, Not Fighting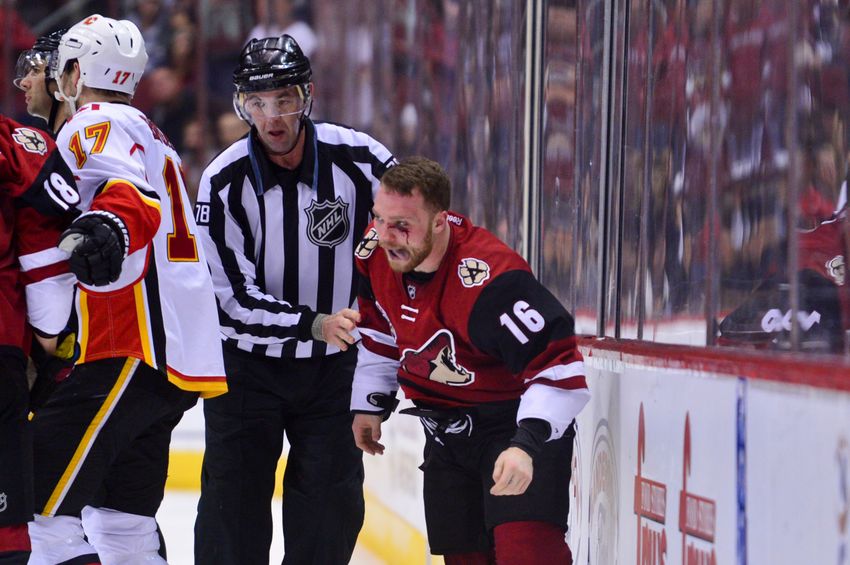 Arizona Coyotes star winger Max Domi is beloved for many reasons, not the least of which is his fearlessness. That doesn't mean that he needs to drop the gloves regularly, however.
Max Domi is the most reliable offensive player on the Arizona Coyotes roster.
He's accomplished that feat despite an early season goal-scoring slump, while being knee deep in a team that struggles to find it's way into the offensive zone with regularity.
On top of his offensive prowess, there's another side to Domi.
The Tie Domi side.
That part of Domi brooks no slight, is quick to jump in the fray, and never turns his back on a teammate.
We love him for it.
But after last night's exchange with Garnet Hathaway, it's fair to ask if #16 is the guy who should be filling this role.
The Hathaway fight resulted in some serious damage to the left side of his face.
He is now day-to-day with an upper-body injury. Presumably the injury came from that first punch to the face by Hathaway, or somewhere else in the fight itself.
There's no guarantee that he will or he won't play on Saturday night against Nashville, but after events like the one that rocked Joe Vitale last year, it's fair to ask whether it's worth it for the Yotes to risk their best forward for a little pride.
This isn't about fighting and whether it should be allowed or not.
I don't mind fighting. It's not my favorite part of hockey, but I cheer the home team and boo the opposition anytime the gloves are dropped.
Players see it as a way to police the game they play for a living, and if it's fine with them…well, I guess it's fine with me.
That said, there's a reason players like Ryan White, John Scott, Kyle Chipchura, and Lawson Crouse have been included on recent editions of the Coyotes' roster.
Arizona Coyotes Fight Their Way To A Point, Lose 2-1 To Flames In OT
It's to deal with cheap shots, bad hits, and overall surliness from opposing players.
Max Domi's job is to score and create goals.
That is a job that he does very well. He's tallied 5 goals and 11 assists for 16 points this season.
If he had some better finishers and puck movers around him, he could easily be pushing towards a point-per-game.
Seeing a player like Domi fight is a thrill for fans and teammates alike. Rarely does a skill player get involved in the guts and grit side of the game.
There's a reason for that, though. On most occasions it's not worth the risk.
Several of Domi's fights have been him losing his cool and taking exception to a hit, legal or otherwise, that he's taken. Others, like the Ryan Garbutt incident, were the result of him coming to the aid of his teammates.
Max Domi should stick up for Oliver Ekman-Larsson and whomever else is being targeted when no one else is stepping up.
He shouldn't be losing his cool with every shot he takes, however. That's why Ryan White is eating up a roster spot. White needs to do his job, too, and not just at the start of games.
Perhaps this time Domi escaped with nothing more than some stitches and a black eye.
Next time? Who knows. He's not a fighter, he's an arguably undersized scorer who likes to fight.
It's not worth the risk of Domi sitting with a concussion or suffering worse effects due to an ill-taken battle with a more seasoned brawler.
Dave Tippett and the Arizona Coyotes should encourage Domi to allow Ryan White and "The Sheriff" to do their jobs.
And they should encourage White and Crouse to actually do them, so Domi doesn't feel the need.
This article originally appeared on