Arizona Coyotes Need Louis Domingue to Lead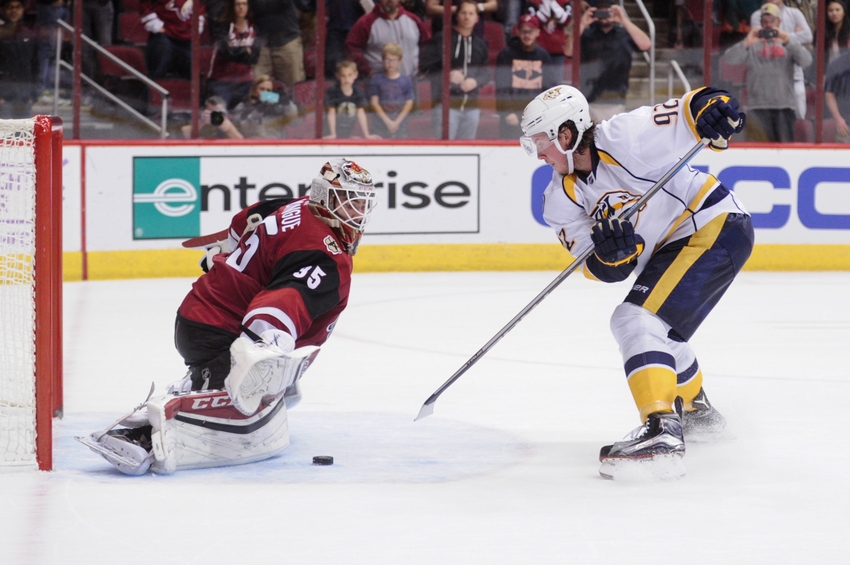 Arizona Coyotes emerging goaltender has tall task ahead to lead team's young forward core.
Since appearing in the Western Conference Finals during the 2011-12 postseason, the Arizona Coyotes have not played like, or even talked like a team that could make it to the postseason. After finishing their extraordinary Stanley Cup run that 2011-12 season, the Coyotes have fallen out of contention to finish their next four seasons with win totals records of  21, 37, 24, and 35, respectively. If they Coyotes are in fact going to make a run once again to the playoffs or even be in the discussion for the playoffs, the wins will need to start coming from their goaltenders.
Domingue's Time to Shine
With 34-year-old goaltender Mike Smith currently listed as week-to-week and recovering from a lower-body injury, the Arizona Coyotes will need 24-year-old goaltender Louis Domingue to lead his young teammates. During the 2015-16 season, Domingue played in 39 games for the Arizona Coyotes, posting a 2.75 GAA and .912 SV%, as well as 13 games for their AHL affiliate, the Springfield Falcons, posting 2.55 GAA and .919 SV%. During the offseason, Domingue signed a two-year contract extension with Arizona worth $2.1 million.
Coyotes GM John Chayka has acquired a number of young, talented pieces over the offseason to join an existing core of fresh-faced talent.  While Max Domi, Anthony Duclair, and Dylan Strome figure to be the nucleus that emerges as leaders in the desert, having a reliable netminder grow and lead with them could pay huge dividends down the road.
The Road So Far
Domingue has played in 9 games for Arizona this season, posting a less than stellar 3.87 GAA and .893 SV%. After a rough Eastern Conference road trip against the Ottawa Senators, Montreal Canadians, New York Islanders and Rangers, and Philadelphia Flyers, the Coyotes will need to put October behind them and look toward the future. Domingue and the Coyotes not have an easy games ahead as they face-off this week against the Colorado Avalanche, Winnipeg Jets and the Boston Bruins.
If the 24-year-old cannot seem to gather wins and help out his team to resurrect their stumbling 4-7-0 start and 1-6-0 road record, it could be up to the young GM to find a replacement amidst another long season for the Arizona Coyotes.
More from Puck Prose
This article originally appeared on