Arizona Coyotes Must Work Harder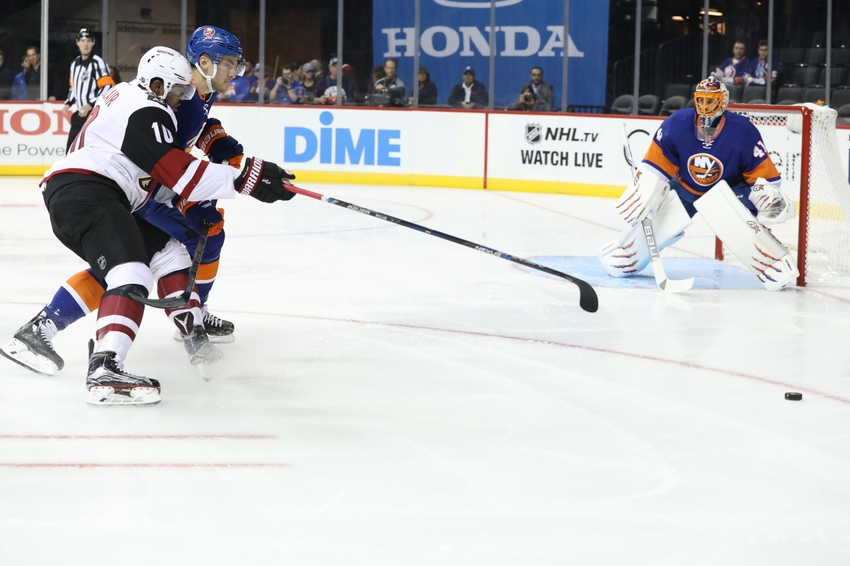 The 2016-17 season is still young for the Arizona Coyotes, but early returns are not good, especially on the road.
Through three games of a season-long six game road trip, the Arizona Coyotes have yet to put up a win.
Not good enough.
In that span, they have been outscored 15-8.
Not good enough.
On top of that, they have been outshot 116-89.
Not good enough.
This is a very young team, and some of them are still learning to play in this league. However, that does not excuse a lack of effort.
Dave Tippett summed things up perfectly after Friday's loss to the Islanders:
"We've got Richardson and Martinook playing hard, but they're the guys leading our scoring…so we could take a few more results from some other guys for sure."
Anthony Duclair is a good example. Through the first three games of the road trip, he has recorded no points and only six shots. Other than the occasional play, he has been mostly invisible.
Dylan Strome and Christian Dvorak have combined for only four shots and one point on the trip. Fans shouldn't expect too much from them, but a little more would help.
Martin Hanzal, while effective offensively and in the faceoff circle, has made some costly turnovers that have led to goals or good chances for the opponent.
Alex Goligoski has often looked questionable in his own end and currently sports a minus five rating, worst on the team.
On the one hand, it has only been four games. However, these are concerning trends that, if left unchecked, could derail the entire season.
This is a promising team and, while they are certainly not a lock for the playoffs, it would be a shame to see them dig a hole so early that they don't even have a chance.
This is Coyotes 2.0, remember? No excuses.
It's not about bad bounces, poor goaltending, or a lengthy road trip.
Plain and simple, the effort needs to improve. That means battling every shift and finding a way to make an impact each time you are on the ice.
No more passengers.
The Coyotes won 50 games in 2009-10 icing a roster with arguably much less talent, but they won because every player bought in every night. They made it their mission to outwork their opponent.
If this year's team works that hard, the results will come.
If not, it's going to be a long season.
This article originally appeared on