Arizona Coyotes: Mike Smith Summons His Inner Bill Buckner In Loss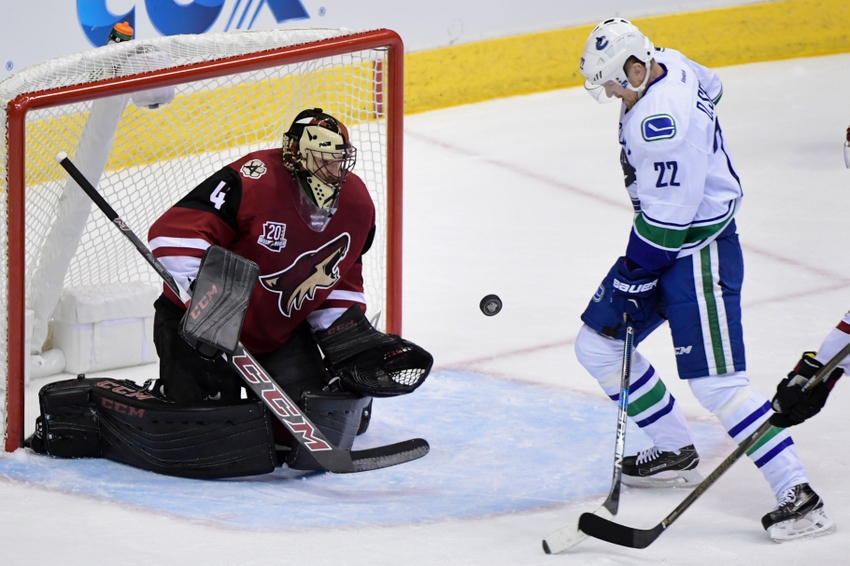 Arizona Coyotes goaltender Mike Smith had perhaps his worst game of the season on Wednesday, allowing some easy goals in a key divisional loss.
Arizona Coyotes fans were in a festive mood on Wednesday evening, with Thanksgiving looming and two big divisional rival games at Gila River Arena bookending the Thursday holiday.
During the team pre-game warm-up, all of the players seemed excited and motivated to put together a complete 60-minute game to get two points against the Vancouver Canucks.
Things don't always go as planned, however, and this game was a prime example.
The Canucks scored in the first period when Oliver Ekman-Larsson turned the puck over in the Coyotes' own end to Canucks forward Bo Horvat.
Horvat then pushed it across to Sven Baertschi waiting on the other side of the crease, who buried it in the net. Mike Smith never had a chance to defend against it.
But that was the only goal of the game where Smith didn't bare some of the responsibility.
Defensive breakdowns set up Vancouver's second and third goals, but Smith was MIA in making plays when needed.
In each of the next three Vancouver goals, Smith looked like a fish out of water.
The fourth goal, Vancouver's third in the second period, was Smith's lowest point in the game, and perhaps on the season.
There was no way to know what Smith was thinking when the shot from Canucks winger Alexandre Burrows made its way toward the goal.
Perhaps he was distracted? Reminiscing about a funny line from a movie?
Like a slow-moving baseball making its way up the first base line, Burrows' soft shot slowly wobbled its way toward Smith.
Everyone in the stands saw it. And just about everyone dismissed it as a non-threat, an impossibility.
Not happening.
And yet somehow, it happened.
The impossible became…well…possible.
Smith summoned his inner Bill Buckner, and like the 1986 World Series blunder that will live in infamy, the Coyotes goaltender let the puck dribble its way under him and…into the net.
Right between his legs.
HOUSTON, WE HAVE A PROBLEM.
With the score 4-1, it was time to get Smith out of there and onto the bench.
He knew it. Everyone knew it.
After the game, Smith was honest about his less-than-stellar game.
"It was awful," Smith said to reporters of his performance.
Louis Domingue came on in relief and was flawless, stopping all ten shots. However, facing a team with a healthy lead is quite a different endeavor.
There were some things to be positive about from the contest, though.
Alex Goligoski's passing seemed right on.
He was pushing some clean, quick passes that landed right on the Coyotes' sticks. Short passing, as well as stretch and cross-ice passes, seemed to all have laser-guidance. That was nice to see.
Shots on goal improved as well. Just after the Coyotes tied the game up a little over a minute into the second period, they had 21 shots on goal.
It was also nice to see some scoring by rookie Christian Dvorak. He deflected a shot from Anthony DeAngelo early in the second period for his second goal on the season.
Dvorak's play has been steadily picking up.
The Arizona Coyotes once again simply need to play a complete game.
These short lapses of five minutes here and five minutes there are proving to be their downfall.
The Yotes will take the ice again tonight at home against Connor McDavid and the Oilers.
This article originally appeared on