Arizona Coyotes Might Move Martin Hanzal By Trade Deadline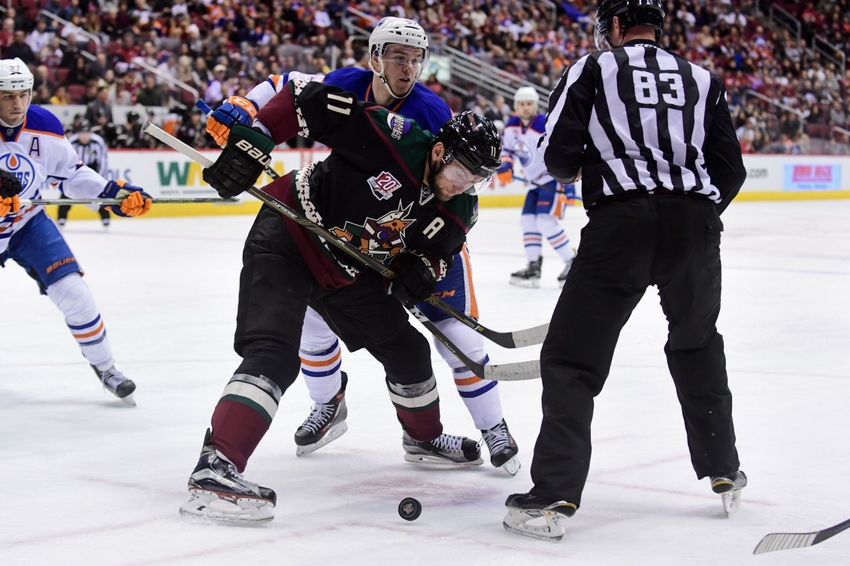 The Arizona Coyotes are off to a start reminiscent of years past, which means players in contract years, like Martin Hanzal, could be wearing a new jersey by the end of the season.
This was the year the Arizona Coyotes were supposed to begin moving out of the rebuilding phase and into a transitional team who could a be a fringe playoff team.
Together with the hiring of John Chayka and the increased utilization of analytics, the youth movement was meant to move the team out of the NHL cellar.
But that hasn't happened and blaming people isn't quite the right response to have. The season is early, injuries have stymied the team out of the gate and the Pacific Division is weak, so anything could still happen.
However if the Coyotes continue down this path, they may look to move top players working towards free agency in order to acquire picks or prospects, as most teams who miss the playoffs do.
While a player like Brad Richardson was a prime subject of this kind of trade before his catastrophic leg injury, others are in the running.
Michael Stone could be moved soon because of the play of Anthony DeAngelo and the market for right-handed defenseman, as could long-time Coyote Martin Hanzal.
Marty was drafted by the then Phoenix Coyotes in the first round of the draft in 2005 and has led the Coyotes' centerman corps for years, including that magical 2011-12 run to the Western Conference Finals.
Arizona Coyotes: Four Positives 20 Games In
Hanzal has produced consistently over his career, averaging about 30 or so points a season while improving year by year in his face off percentages. In fact, over the last few seasons, he's been one of the best face-off men in the league.
But Hanzal comes with downside as prospective trade partners evaluate his worth.
He's injury prone, for starters, having missed over 100 games due to injury over the past six seasons.
Moreover, Hanzal has been playing inflated minutes since the Coyotes do not have a true first line centerman, which mean's Hanzal's totals may not be reflective of his talent.
Contract-wise, Hanzal is in the ballpark of players like Chicago's Marcus Kruger, Toronto's Leo Kamarov and Calgary's Matt Stajan when looking for pay and age similarities. Compared to these particular players, Hanzal has been more offensively productive and is still defensively competitive.
That being said, Hanzal could command a return bigger than Antoine Vermette did in 2015, when Arizona got Chicago's 1st round pick (Nick Merkley) and Klas Dahlbeck, who was considered a good defensive prospect in the Blackhawk's farm system at the time.
When looking at teams who would take Hanzal, the team would both need a good 2nd/3rd line center and some cap flexibilty to take on Hanzal's $3.1 million hit.
Some of those teams, based on current depth charts, could be Nashville, who could shift players to wing in order to take on Hanzal, and Winnipeg. Other teams like the New York Rangers, Montreal, St. Louis and San Jose could be in the mix, as some rumors mills have already noted.
However, just like the case with Michael Stone, Hanzal may never move if John Chayka wants to try and resign him. The Coyotes will have more cap space next season as a few of the dead contracts they took on (Pavel Datsyuk, Chris Pronger) will expire.
The Coyotes also have plenty of room to protect Hanzal from expansion drafting by Las Vegas, an asset few teams can offer.
Whatever happens, Martin Hanzal may not be the 1st line center for the Arizona Coyotes much longer with the organization's young center talent finally beginning to move into the league.
Regardless, Hanzal holds a great deal of worth to the team, whether as a valuable trade deadline piece or solid top-six center for the near future.
This article originally appeared on