Arizona Coyotes Lose Big In Ottawa, 7-4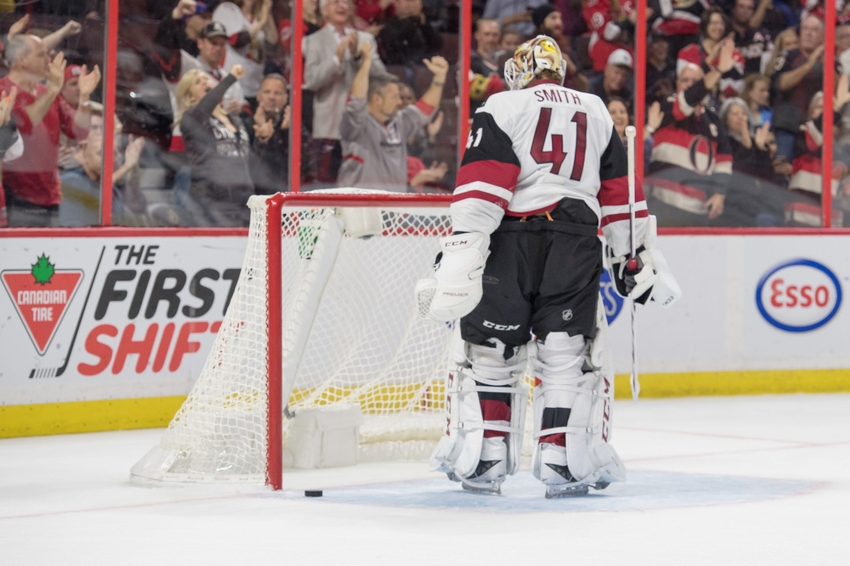 The Arizona Coyotes couldn't find their way in Ottawa, falling to the Sens. Starting goaltender Mike Smith was also injured.

7

4
It's early in the 2016-17, but the Arizona Coyotes have cause for worry.
Starting goaltender Mike Smith went down with an injury in the third period of the Coyotes' 7-4 loss in Ottawa, and now the team must hope he's not out for an extended period of time.
That wasn't the only bad news for the Yotes on Tuesday night.
The team turned in a lackluster performance defensively and were wildly inconsistent in all three zones throughout stretches of the contest.
In particular, the Jamie McBain and Kevin Connauton pairing were suspect throughout.
Turnovers and giveaways were again the name of game as the Coyotes self sabotaged as much or more than the Senators pressed them into mistakes.
Youngsters Jordan Martinook and Max Domi were by far and away the bright spots in the lineup.
Martinook scored two goals while Domi saw the second most ice time of all forwards with 21:21.
Arizona Coyotes Player of the Game
Jordan Martinook scored two goals and continued to be a buzzsaw for the Coyotes at even strength and on the penalty kill.
Arizona Coyotes Assign Zbynek Michalek To AHL Tucson
It seems feasible that Martinook is taking a leap as a player this season. It's too early to be sure, but the evidence he's put forth thus far has been encouraging.
The View From the 200 Level
Rookie Dylan Strome made his debut and gets a passing grade for his first turn on NHL ice. He had an assist on Tobias Rieder's goal and did better defensive work than expected.
It will be interesting to see Tipp's plans for Strome and Christian Dvorak going forward.
Going off of the one game sample size, there's not a whole lot of difference between the two bar face off prowess. Both were sub 50% in their outings, but Dvorak finished his game at 43% while Strome won just 25% of his draws.
On the other hand, Strome appeared more comfortable and capable of generating opportunities in the offensive end.
Moving from those rookies to the one on the defensive side, Jakob Chychrun needs to be in the lineup.
Kevin Connauton is either unready to return or is, at best, as unreliable as the coaching staff is worried about Chychrun being on the back end.
The difference? He doesn't have the high end skill and potential that Chych possesses. After tonight that swap seems like a no-brainer.
While they're at it, they might see how quickly they can get Michael Stone going so that McBain isn't a permanent fixture in the lineup.
If Mike Smith is out for extended time, the Arizona Coyotes are going to have settle on a backup for Louis Domingue.
Domingue showed he is able to carry the load to some degree in 2015-16, but he eventually wore down due to Tippett lacking a viable option behind him.
To avoid that he must have a competent backup.
Justin Peters is, unfortunately, not likely to be that person so that leaves the Yotes in a bit of a quandary if that bears out.
The Yotes have some questions left to answer on their road trip. They've got five more games to go to figure those things out.
Thankfully, it's early days yet.
This article originally appeared on