Arizona Coyotes' Klas Dahlbeck Claimed By Carolina Off Waivers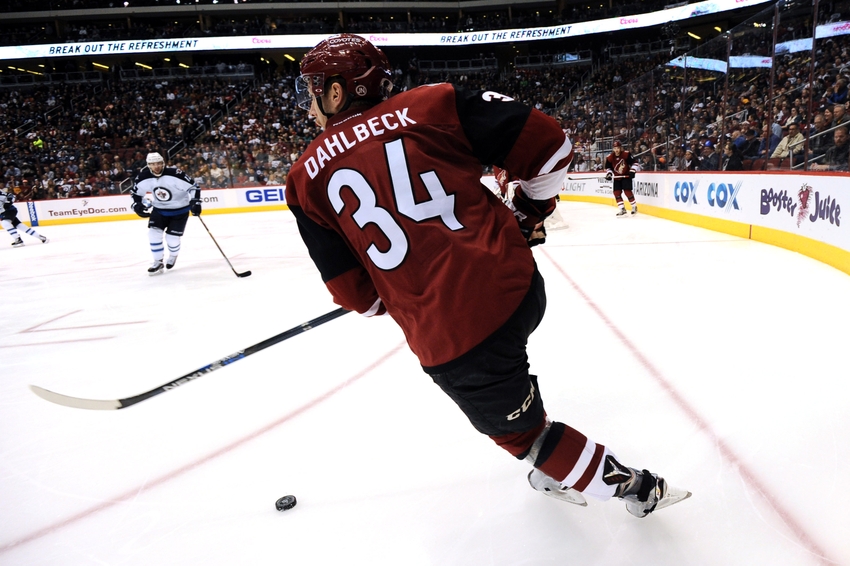 Arizona Coyotes General Manager John Chayka placed defensemen Klas Dahbleck and Zbynek Michalek on waivers yesterday. Today, the Carolina Hurricanes claimed Dahlbeck off waivers.
In an attempt to secure roster flexibility prior to the Tuesday, 2 PM deadline for cuts to reach the 23-man roster, the Arizona Coyotes waived Klas Dahlbeck and Zbynek Michalek.
Michalek survived the waiver wire and remains with the Coyotes.
Klas Dahlbeck was claimed by the Carolina Hurricanes, however, and is another fallen domino in John Chayka's quest to iron out his 23-man roster.
The headline here is "Good for Klas. Good for the Coyotes."
Dahlbeck will get another fresh start in another organization on the rise, and in the meantime the Coyotes now how have a clearer path – for nine games at least – towards Jakob Chychrun starting the season in Glendale.
For their part, the Hurricanes are happy with their new man.
Carolina AGM Rick Olczyk on Klas Dahlbeck: "He's a big, steady defensive defenseman & he's got some NHL experience; improves our depth."

— Craig Morgan (@craigsmorgan) October 11, 2016
More Rick Olczyk on Dahlbeck: "There's upside to him. He's only 25, he's a real good person & he can play both sides; gives us flexibility."

— Craig Morgan (@craigsmorgan) October 11, 2016
Rick Olczyk sounds suspiciously like many of us Arizona Coyotes fans discussing Dahlbeck's acquisition in the Antoine Vermette trade.
Unfortunately, that optimism was unfounded.
A deeper look tells us that Mr. Dahlbeck is mostly a crease-clearing, hitting machine. The actual offense and defense part of the game isn't his strong suit.
The team generally suffered with Klas on the ice and were better without him. He's not good at generating or suppressing shots, and in 94 NHL games he's managed just 3 goals and 9 assists.
Perhaps he can get his career back on track in Carolina, but shedding Dahlbeck is a positive for the Arizona Coyotes.
It's hard to imagine Jakob Chychrun, if he's kept for the full season, not performing better than those low marks. On top of that, the Yotes also have Kevin Connauton on the left side who was already proven to be a better option than Dahlbeck last season.
With Bob McKenzie breaking the news that Jakob Chychrun was making the team this morning, this Coyotes lineup continues to get younger and shift further towards a puck possession game.
Some underage junior news: Barzal/Beauvillier expected to be on NYI 23-man roster; D Strome/Crouse/Chychrun will make ARI's 23-man roster.

— Bob McKenzie (@TSNBobMcKenzie) October 11, 2016
How things play out with #6 will be interesting as the team moves forward. Will the Coyotes allow Chychrun to pass the nine game mark? Are they that high on him?
In the meantime, Klas Dahlbeck will attempt to make his way in Raleigh.
Good for Klas. Good for the Arizona Coyotes.
This article originally appeared on