Arizona Coyotes' Jordan Martinook Making Most Of Top-Six Promotion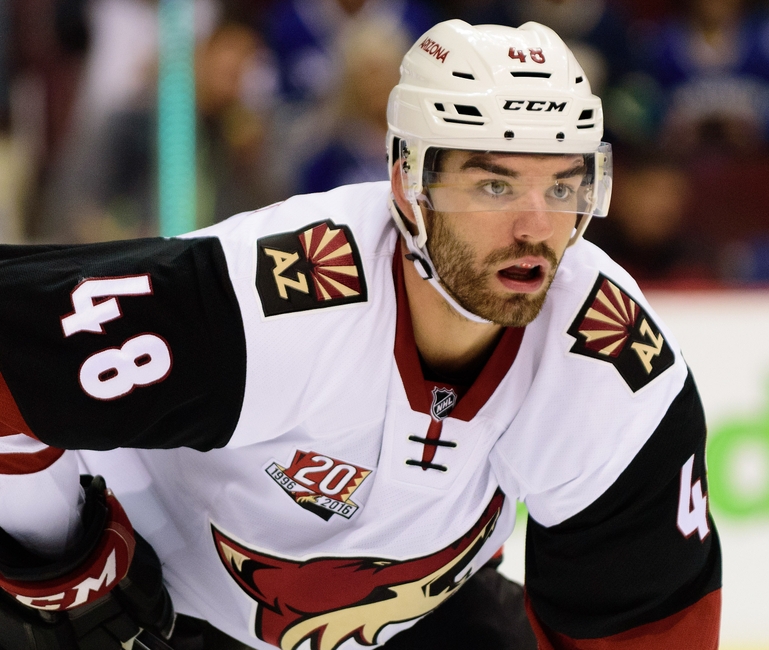 Jordan Martinook emerged last season in the Arizona Coyotes bottom six. This season, he's getting a chance to show his offensive stuff.
Jordan Martinook has the trust of Arizona Coyotes Head Coach Dave Tippett.
That much is indisputable.
While future cogs like Dylan Strome and Christian Dvorak trade out being scratched and demoted, Martinook has improbably found himself moving up the lineup.
Not only is he moving into the top six, he's playing at center which is something he had yet to do with the Coyotes.
His move into the center position has came at the expense of aforementioned names like Strome and Dvorak, as well as Laurent Dauphin and Ryan White being on the roster.
In short, Tipp's trust and reliance on Martyman has vaulted him ahead of at least three other natural centers on the team.
The crazy thing is that Martinook continues producing.
Arizona Coyotes Need Louis Domingue to Lead
Last night, he anchored a line featuring Radim Vrbata and Jamie McGinn.
The line put up five total points, with Martinook providing two goals of his own.
Not bad for a grinder…or is he capable of more?
Despite what some would have you believe, there is more to hockey than scoring goals. Or at least a lot more that goes into scoring them regularly.
Role-players must do their part, relentlessly hounding the opponent and wearing them down.
Teams must control the puck or, at the very least, make the most of their chances. When those things happen, the offense is able to do it's job and positive outcomes are achieved.
Last night, Jordan Martinook finished +7 at even strength in Corsi For, and +15 in all situations.
His linemates were similarly effective.
Martinook's line controlled the run of play and that created opportunity. Not just for his line, but also for the next shift. It's a snowball effect and one the Arizona Coyotes have struggled mightily to established in the past two seasons.
It wasn't that long ago that we opined that Jordan Martinook replicated Tobias Rieder for Dave Tippett's team.
I argued that Martinook could easily give the team 70-80% of Rieder's output, so how badly did they need to capitulate to Tobi's contract demands?
It is possible myself and many others were too conservative in our estimates of Martinook's potential.
What if he is better than Rieder? It's not impossible.
I don't expect #48 to suddenly become a viable second line center, but early returns this year are outstanding regardless of where he has been deployed.
He has a team leading five goals as well as two assists. He had nine goals all of last season. His shooting percentage is inflated, but if he keeps shooting at this rate he will easily surpass his shot totals from last year which bodes well for an increased scoring total.
Martyman is also sitting pretty at 50.15% CF at even strength.
Tobi Rieder has managed two goals and three assists, while his shot totals and possession numbers have cratered. Rieder sits at 44.50% CF at even strength though he has been relatively strong in that regard in the past.
Martinook might be taking a leap while Rieder is struggling out of the gate.
For one night, Jordan Martinook was the top six center the Arizona Coyotes needed.
It seems safe to assume that if Martin Hanzal continues to suffer through injury, Martinook will keep getting chances until further notice.
With performances like last night's, he deserves every bit of it.
This article originally appeared on