Arizona Coyotes' Jakob Chychrun Has Mentor In Luke Schenn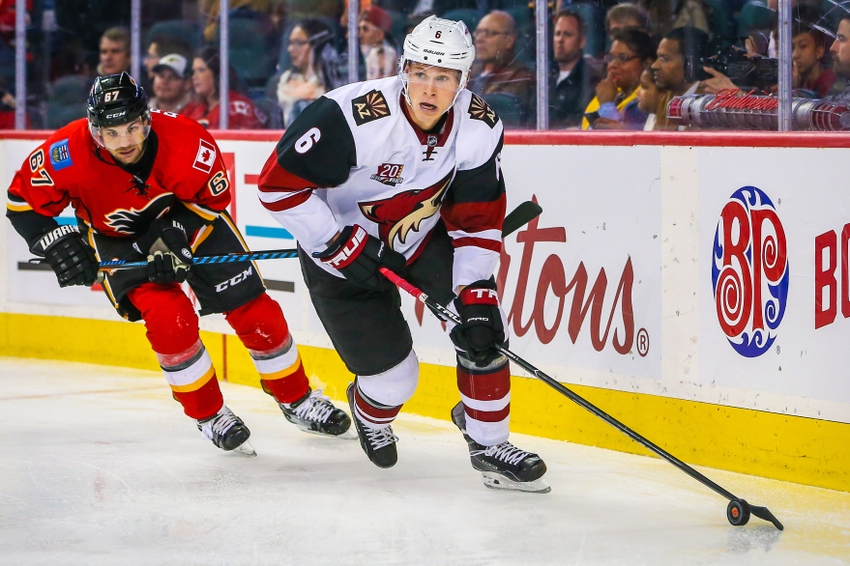 When the Arizona Coyotes signed Luke Schenn to a two year contract this summer, it came across a savvy move to increase defensive depth and give the former 5th overall pick a chance to find his game. But what if there was an ulterior motive?
Despite a rough start to the season, it is clear the Arizona Coyotes have found a gem in Jakob Chychrun.
Drafted 16th overall this past summer, he is the only defenseman from this year's draft left in the NHL after the Montreal Canadiens returned Mikhail Sergachev to Windsor of the OHL.
That's a big accomplishment for an 18-year-old defenseman. He should have no trouble making the transition, though.
Just look at this draft profile:
"He is a solid skater who holds well in his zone, has a good shot from the point, and can make great outlet passes on the tape. He has the ability to be an All-Star defenseman if he stays focused."
High praise for young Chychrun, right?
Wrong.
That was actually taken from Luke Schenn's draft profile back in 2008.
Like Chychrun, Schenn made the NHL as an 18-year-old with high expectations. Unfortunately for him, he never lived up to the hype of being the 5th overall pick.
He has still found some measure of success, however.
Currently in his 9th NHL season, he has developed a reputation as a decent third-pairing defender with a propensity to throw his weight around. Only one player has had more hits than Schenn since he came into the league.
That is where Jakob Chychrun comes in.
Arizona Coyotes Assign Christian Dvorak To AHL Roadrunners
Is it possible that Schenn was brought in, at least in some small part, because of Chychrun?
There is a lot of pressure that comes with being a high draft pick, and Chychrun seemed to feel it last year. Midterm rankings had him 2nd among North American skaters, but he fell all the way to 16th after a rough finish with inconsistent play.
Schenn knows that pressure well, having played as an 18-year-old for the Toronto Maple Leafs, and it caused him to try to change his playing style.
He carried the puck too often and tried to force shots that weren't there in an attempt to live up to the offensive potential scouts saw in him.
Signing with the Coyotes was Schenn's attempt to escape the spotlight and work some of those bad habits out of his game.
That is exactly the kind of role model Jakob Chychrun needs.
Throughout the young season Chychrun has been one of the most consistent players on the team. He has worked hard and stuck to his game, and I would attribute some of that success to Luke Schenn.
They have been paired together much of the early season, allowing Schenn to protect Chychrun on the ice with his physical play and stay-at-home mentality. More importantly, Schenn can mentor Chychrun off the ice by sharing his experiences and keeping him focused.
Perhaps this is all just conjecture, but the two seem to be a pretty good match.
They are the only two defensemen on the roster at or above 50% in possession as individuals this year.
Together they are even better, posting an excellent 59.90% Corsi For in possession through forty-plus minutes of time-on-ice, much higher than any other pairing on the team.
Those are outstanding early returns from one guy who wasn't expected to make the team and another who has been labeled a bust.
Making a smooth transition from juniors to the NHL is crucial. If Chychrun can keep his play up, the Coyotes will owe Luke Schenn a huge thank you.
Let's hope the chemistry continues.
This article originally appeared on