Arizona Coyotes: Inconsistent Western Conference Keeps Yotes In Hunt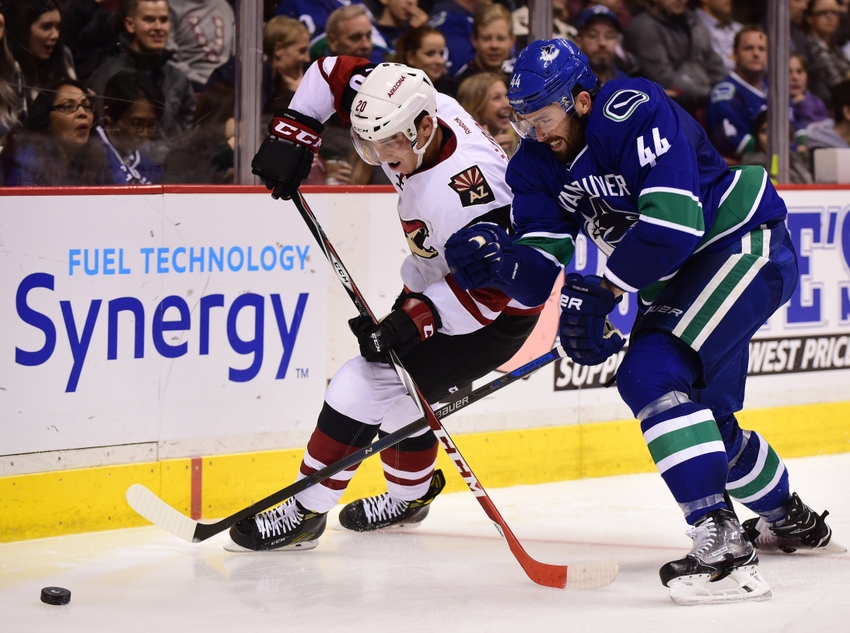 The Arizona Coyotes are in last place, but with an inconsistent Western Conference filled with under-performing teams, don't count them out just yet.
Arizona Coyotes fans were hoping for a big season this year, with an influx of new talent and the recent success of Max Domi and Anthony Duclair.
The team came out of the gate strong on opening night, but then immediately faltered.
In fact, winning on the road has been a tall order.
Difficulty winning on the road is to be expected for a team that is working on its fifth losing season in a row. Just one month in, the Coyotes are tied for the lowest points total in the NHL.
They're losing games against some very bad teams, and haven't shown signs of improving. Goaltender Louis Domingue filled in for an injured Mike Smith and kept the games close. But it wasn't enough to turn the tide.
The announcement this past week of plans for a new arena also didn't seem to energize the team.
But don't count them out quite yet.
Usually the Western Conference is brimming with quality teams. Many of them are in the Coyotes' own Pacific Division. This season, however, the Western Conference is under-performing to such a degree that the Coyotes still have a chance.
It's not a big chance. It's not even a decent one, given their current predicament.
But it is possible.
A quick look at the Pacific Division shows the Arizona Coyotes are just nine points out of first place. They're only six points out of a playoff spot.
The Chicago Blackhawks are the only team in the Western Conference that is performing well. 13 teams are all within nine points. This means that the teams that put it together soon have a good opportunity to turn it around.
The Yotes would need to show some signs of life though, and a willingness to make some changes.
For starters, the Coyotes would need to shift their strategy from "dump and chase" to a more possession-filled game. Head Coach Dave Tippett needs to update their current tactics to cater toward the skills the team does have.
Players would need to show they can grind it out for 60 minutes, not 45 or 50. Forwards would need to start shooting the puck more frequently, something they don't seem to be prone to do.
Blue-liners would need to stop trying to complete stretch passes every time they exit the zone. They also need to reduce the frequency of some very costly mistakes, and focus on puck possession.
From a roster perspective, the team needs to shift a couple of players down to the AHL and look to add some talent through a trade or two.
Coyotes' center Brad Richardson suffered a horrific injury this past Thursday night against Vancouver, breaking his tibia and fibula. Richardson was having a great start to the season and was one of the more consistent players for the Coyotes.
His presence will be missed.
Surgery was performed on Richardson at a Vancouver hospital, and he is reportedly stable. He will undoubtedly miss the remainder of the season.
The Coyotes have a dearth of talent at center. Aside from Martin Hanzal, they have no viable replacement for Richardson.
Rookie centers Christian Dvorak and Dylan Strome, who were thought to be able to make an impact this year, have shown they aren't ready for a full season in the NHL quite yet.
Strome is now in Erie.
Getting them some continuous play at the lower levels can only benefit them. And it would be a mistake to start rushing other younger players up to fill the void.
Resisting the temptation to bring up performing players now will be crucial for their long-term development.
It would be short-sighted to think that a player that wasn't good enough to make the team in training camp is suddenly ready to make an impact in the NHL.
It will be up to Coyotes management to take some action to show they're not throwing in the towel on the season. With so many other teams looking for answers right now, the timing could be perfect for making the right trade move.
The Arizona Coyotes face five Pacific Division opponents in their next five games, with three of those games played at home. The Yotes have an opportunity to turn things around quickly if they can seize the moment and make the necessary adjustments.
This article originally appeared on