Arizona Coyotes Hold On, Win In OT Over Sharks 3-2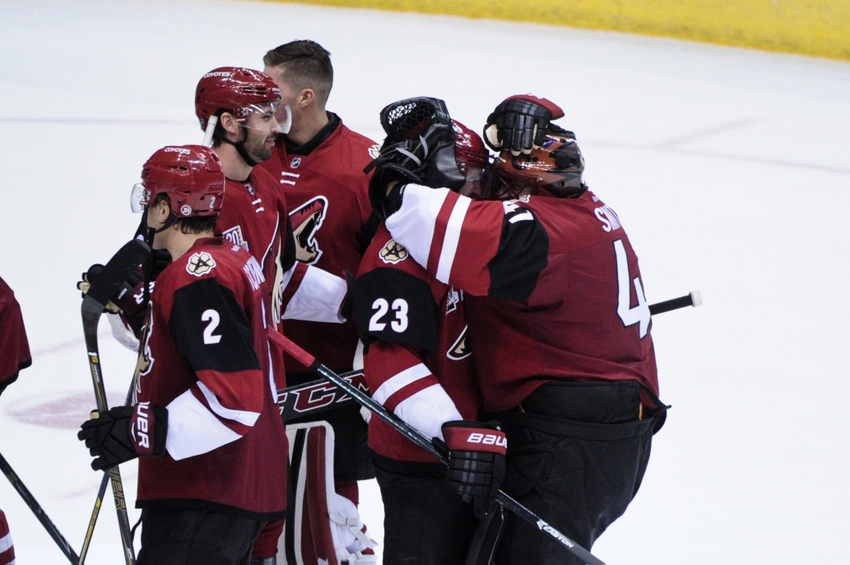 The Arizona Coyotes tried to get over the hump on Saturday night against San Jose, and thanks to the heroics of Mike Smith they pulled through.
Mike Smith was the heartbeat of the Arizona Coyotes on Saturday night.
At times, it appeared he was the only  player in a red jersey who had a pulse.
He was repeatedly pummeled by an aggressive Sharks team but ultimately rebuffed their advances, squeaking out a much needed win against a division opponent on home ice.
It wasn't easy. It also wasn't very pretty.
Here's three thoughts from the game:
Mike Smith Is Earning His Paycheck
Several years into his marriage with the Arizona Coyotes, we know a few things about Mike Smith.
He makes a lot of money. He's had a good number of injuries. He's been inconsistent at times.
We also know that when he's on, he's capable of playing like a worldbeater.
Unfortunately for the San Jose Sharks, tonight Smitty was in top form.
If you were wondering how good Mike Smith was tonight…take a look at a visual of the shot chart for the Sharks compared to the Coyotes: pic.twitter.com/R6MI4rQCJA

— Howlin' Hockey (@HowlinHockey) November 20, 2016
Look at the number of shots he faced from in close. The rest of the team should be a little ashamed of themselves.
Shot chart via @HockeyStatsCa for Sharks v. Coyotes tonight. Those long flat lines in 2nd & 3rd period are not good. A win is a win, though. pic.twitter.com/5mRiJLekiB

— Howlin' Hockey (@HowlinHockey) November 20, 2016
As we (and many others) have said previously, that kind of lopsided shot total is not a winning recipe.
You can think what you want about analytics, but the team and it's goaltenders can't escape them.
Sooner or later, with that many shots coming in, the opposition will score because the defense or the goaltender will tire out or a bounce will finally go their way. That's precisely what happened in the last two games when the Coyotes have squandered two goal leads back-to-back.
Be thankful Louis Domingue and Mike Smith are in form.
And be fearful if nothing changes and a time comes when they are not.
Max Domi Scored Again, Finally
The Yotes have been bad. That's no lie.
Part of the reason they've been so bad has been the lack of goal production from the Killer D's.
Heading into tonight's game, Max Domi and Anthony Duclair had just two goals between them.
Make that two for Domi.
Amazing what happens when #16 shoots the puck, isn't it?
These are the kind of shots we saw him take and make last year.
Domi is an amazing playmaker and models his game as a distributor, however no one would deny that he has a deceptively good shot.
He took five shots on Martin Jones. We need to see more of that.
Perhaps the floodgates will open for the youngster after that snipe.
Considering the fact that he's still shooting just 5.4% after that goal, he's probably got a bit of luck ahead of him if he keeps firing.
Also, in case you hadn't noticed Domi has 13 points in 17 games even though his goal-scoring has been all but nonexistent.
He's still pretty good, gang.
Martinook & Rieder: Speed and…More Speed
Besides the points he's been putting up, there's one added benefit to Jordan Martinook moving to center.
Now we can see him play with Tobias Rieder.
The man who has spent the past year being compared to Tobi was, at least for a bit, his linemate.
Magic was made pretty early on, as well.
I'm not sure I'd condone the Rieder/Martinook/Doan line on a regular basis, though they were hardly the worst offenders last night.
Seeing #8 and #48 on the ice at the same time is a treat, though. And a real threat to opposing teams on the break.
This article originally appeared on