Arizona Coyotes Get Lit Up By Vancouver, Lose 4-1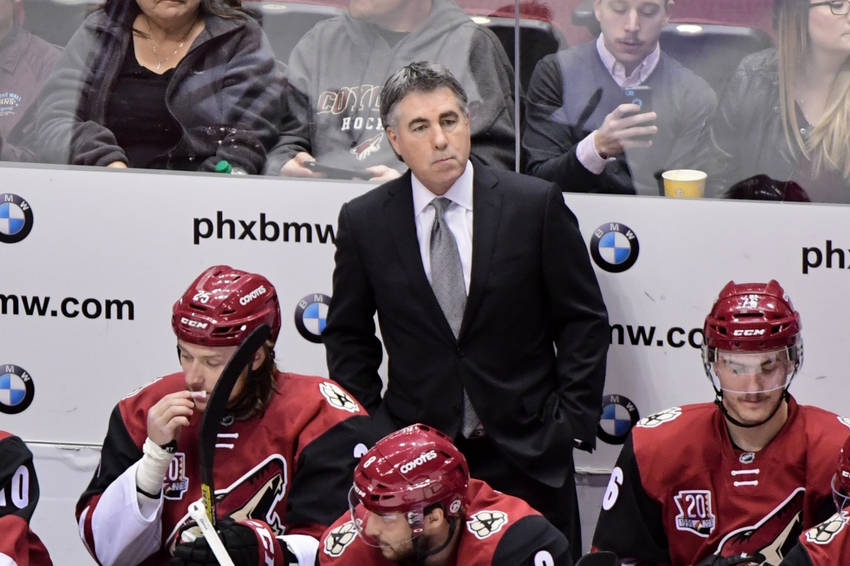 The Arizona Coyotes returned to the ice after an extended break but the time off didn't change the end result.
Bo Horvat had his way with the Arizona Coyotes.

4

1
The former London Knights player had a three point night in Glendale as Mike Smith and the Coyotes' defense fell apart in the second period.
And so the theme continues.
You know, the one where the Yotes can't put together a complete 60-minute game.
Trailing 1-0 after the first period, the Coyotes came out in the second period with a ton of life.
They were pressing Vancouver hard, and it paid off as Christian Dvorak redirected an Anthony DeAngelo shot to tie the game 1-1.
If only the game had ended there.
Less than three minutes later, a defensive breakdown allowed Loui Eriksson to sneak in unchecked and put a soft goal by Mike Smith to reclaim the lead for the Canucks.
17 seconds later Bo Horvat blew by DeAngelo for another goal.
Suddenly the Coyotes were down 3-1.
Just a few minutes later, Alexandre Burrows beat Smith with one of the softest goals you'll see all year.
The Arizona Coyotes went from tying the game 1-1 to being down 4-1 in less than six minutes of play.
Brutal.
Arizona Coyotes Player of the Game
Is none of the above an option?
It wasn't that the Coyotes played poorly, it was that they lost their focus for about five or six minutes in the second period and threw an easily winnable game away. No one looks good when that happens.
Mike Smith was pulled for Louis Domingue after the fourth goal and Domingue came in and held the Canucks scoreless for the duration. If I had to give kudos to anyone, it'd be him.
The View From The 200 Level
I wish there were more nice things to say. I truly do.
This team is what it is, though.
No amount of blaming it on execution or compete level or whatever is going to change that.
The pieces, at least defensively, don't fit together.
Up front, the Arizona Coyotes are lacking goal-scoring or at least scoring chances from several of their most important pieces.
They outchanced the Canucks heavily tonight. That is encouraging.
Unfortunately, tonight was the night when the goaltending had a bad night after a run of strong performances.
For the Yotes, it's par for the course.
Not only is it a struggle to put together a full 60-minute effort, it's also a struggle to get each facet of the game working on the same night.
The Coyotes will return to Gila River Arena ice on Friday against Connor McDavid and the Edmonton Oilers.
This article originally appeared on