Arizona Coyotes Find Their Footing, Kids Show Promise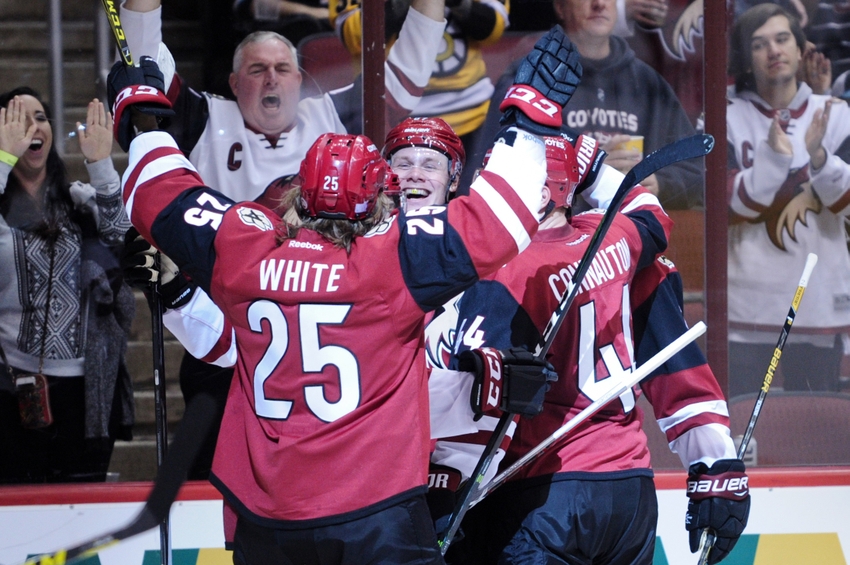 In spite of losing two forwards to injury, the Arizona Coyotes overcame a very sluggish first period to defeat the Sharks.
The Arizona Coyotes got shelled in the first period of their Tuesday night matchup with the San Jose Sharks.
Trailing 1-0, they came out in the second period and put the pedal to the metal.
They never looked back.
Good Louis Domingue Was In The Building
Sports personality Bill Simmons and others refer to Memphis Grizzlies shooting guard Tony Allen as "Trick or Treat" Tony Allen.
He received that nickname because he invariably follows up a good play with a bad play, or a bad play with a good one.
Louis Domingue spent the month of October with an incredible amount of variance in his game, as well. "Trick or Treat" Louis Domingue, if you will.
Maybe it was the passing of Halloween.  Maybe it was just coincidence.
On November 1st, the Louis from January 2016 showed up.
He made 39 saves on 41 shots.
Domingue kept his team in the game in a lopsided first period where his team managed just 5 shots on goal while the Sharks had 14.
It's a performance the Arizona Coyotes will hope builds confidence in the second year NHLer.
OEL and Goligoski Should Not Be A Regular Pairing
On Monday, I checked the possession numbers for every defensive pairing that had played at least 20 minutes together.
The findings were probably a little different than you'd expect:
@CorsiGuy Chychrun/Schenn – 59.90%
OEL/Murph – 51.19%
Goose/Schenn – 51.09%

Stone/Goose – 39.21%
OEL/Goose – 35.57%

— Howlin' Hockey (@HowlinHockey) October 31, 2016
Oliver Ekman-Larsson and Alex Goligoski are effectively the worst pairing the Arizona Coyotes have iced in the 2016-17 season.
That continued on Tuesday night.
OEL and Goligoski were -18 in shot attempts at even strength against the Sharks.
To put that in perspective, the next closest Coyotes player was Lawson Crouse who was only -9. While Goose and OEL did start just 40% of their shifts in the offensive zone, that is simply unacceptable for two defenders who are known for driving offense.
They are kryptonite for each other's games. And Goligoski is apparently not very reliable playing on his off-side.
Ekman-Larsson is one of the few reliably positive shot differential Coyotes players. The team is hurt when he's hitched to the anchor that has been Alex Goligoski this season.
Arizona Coyotes' Jakob Chychrun Has Mentor In Luke Schenn
The pairing also forces Connor Murphy to play with Jakob Chychrun. That pairing has been fine, but Chychrun's possession numbers were dynamite with Luke Schenn and Oliver Ekman-Larsson's were positive with Murphy's.
Seems like a no-brainer, to be honest.
The Kids Showed Up And Showed Out
The only things standing between Dylan Strome and a three-to-five point night were Anthony Duclair's offensive woes and Marc-Edouard Vlasic's lucky stick.
He started out sluggish, much like the team, but the moment the team found life moving the puck in a positive direction, Strome was able to show what he's capable of.
That makes sense if you know anything about the 19-year-old.
He's not a strong defensive player, at least not yet. He needs the puck.
In the games he has played previously, the Arizona Coyotes have mostly been on their heels. It stands to reason that when they can sustain offensive pressure for more than a couple of shifts per period, Strome can turn that pressure into chances for his line.
It's kind of what he does.
#20 certainly gave the Duke plenty of opportunities, but Duclair's sophomore slump continued to haunt him.
Let's hope Dave Tippett keeps this line together for Thursday night. At the rate they were getting high-quality chances, they are bound to break through the glass ceiling sooner or later.
The other rookie who has been in and out of the lineup, Lawson Crouse, continued to show growth in his game at the NHL level.
He was invisible in his first several games and even ended up stapled to the bench in one outing. Crouse has warmed to the task as he's gotten minutes, however, and was rewarded for his adaptation with his first NHL goal last night.
It still seems doubtful Crouse remains in the NHL. There's just no regular spot for him, barring injury.
With that said, he does have the big body and attitude the coaching staff loves.
And the reaction from his teammates after he scored says about all you need to regarding their thoughts on #67.
What's Next For The Arizona Coyotes?
The team got back in the win column, but there's plenty to work on.
They have yet to put together a full 60-minute effort.
Defensively, some of these pairings are suspect at best and downright detrimental at their worst, so hopefully we can see a return to normalcy soon.
If the injuries to Martin Hanzal and Tobias Rieder require them to miss time, Strome and Crouse are going to receive increased responsibility and minutes.
Can they respond like last night, or will they continue to struggle?
The Coyotes face the Nashville Predators on Thursday night. We'll find out then.
This article originally appeared on