Arizona Coyotes Fans Snubbed In FanSided's Fandom 250 Ranks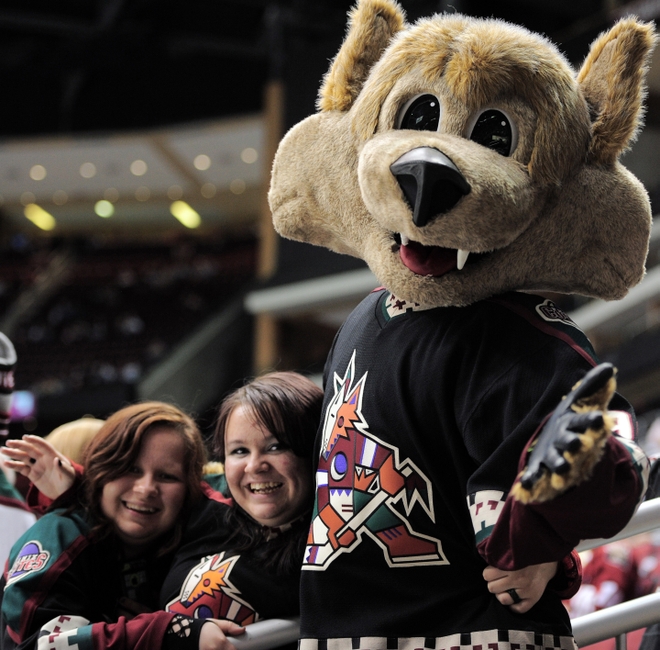 The Arizona Coyotes were left out of FanSided's list of the top 250 fan bases. What gives?
FanSided's #Fandom250 is here and the Arizona Coyotes fan base didn't make the cut.
Some of you reading this are might be thinking Yotes fans should have gotten snubbed, but here is why you are wrong.
The Arizona Coyotes don't have the masses of a fan base that the Chicago Cubs or Dallas Cowboys have, but they have passion and resiliency that is unmatched.
This franchise is young, having only been around for 20 years, but the fan base has been through the ringer in order to stay committed to their favorite NHL team.
Remember when Glendale tried to lock the fans and the franchise out of it's own arena by reneging on an already agreed upon contract? Yep, that happened. Even then the fans stayed.
And boy did they let the mayor know about it.
Through the relocation rumors, the mockery from traditional hockey cities, and hell, even mockery in our own state by other sports fans, the Arizona Coyotes fans have fought tooth and nail to keep hockey in the desert. When you have a fan base willing to fight for their team it doesn't get any better.
You may be thinking well okay that is some passion, but then who would the Coyotes replace?
I'm glad you asked.
Hannibal Lecter, for starters. The franchise is ranked at #225. Who is a fan of this guy? Really he was a neat movie character and the show was decent, but why don't we throw Jigsaw and The Joker on this list as well. HE ATE HUMANS! Is there a big cannibal subset of fans out there?
Just a few spots behind Hannibal at #227 is FIFA (yeah, the video game series).
Arizona Coyotes: Best Yotes Player Commercials You Forgot Existed
I will be the first to admit I enjoy these games, but isn't the series success and it's fans more a reflection to the worldwide popularity of soccer/football than anything else?
Soccer fans are great. They are some of the most passionate in sports…but including a largely derivative videogame franchise's players as a hardcore fan base seems like a piggy-back move off of the established fan bases of specific teams.
To put this poll into perspective, the Chicago Cubs landed at #1. That's reasonable.
The Cubs are a team that has existed for over 100 years. A team that was founded in the late 1800s. Now compare this to the Arizona Coyotes who that came into existence when the Chicago Bulls capped off their 4th championship.
Our team captain, Shane Doan, has a career that spans longer than the franchise itself. That doesn't mean we aren't worthy, however.
The Coyotes are one of the great stories of resilience in hockey.
They moved from Winnipeg to an unknown market. From downtown Phoenix they then went to Glendale.
They went into bankruptcy and the NHL had to take over ownership of the franchise, and even then our fans stuck it out.
There were relocation rumors going of Vegas, Seattle, and of course, those lovely rumors about heading back to Canada. We hope you enjoyed the new arena announcement and plans, people of Quebec.
Did that stop the Coyotes fans from rooting for their team? No.
Then the Coyotes own home locked them out. The city basically said we don't want you here. That's not something you see in professional sports.
Somehow even the attempted eviction didn't stop the fans from continuing to support their team.
For all the talk of empty seats and whatever else people throw at this franchise, the fans who have remained are among the best in sports.
This article originally appeared on