Arizona Coyotes Enjoying Strong Return from Mike Smith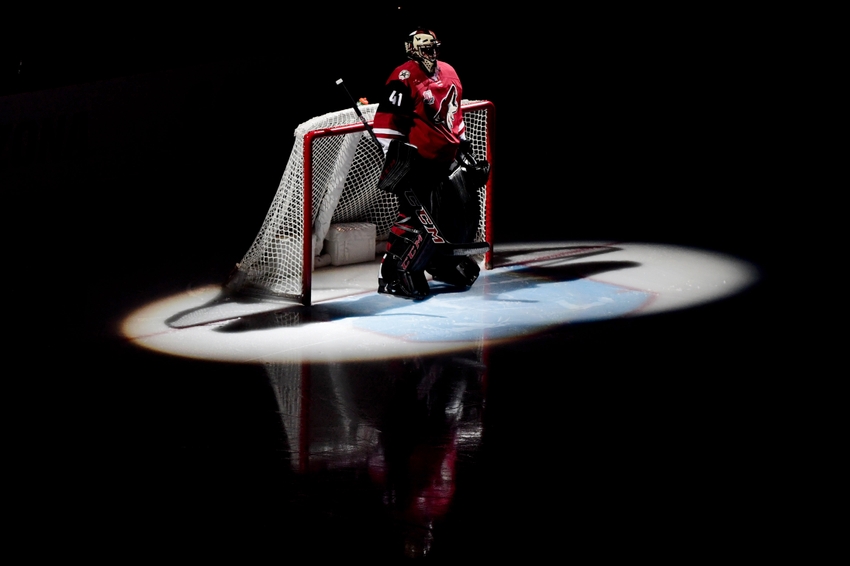 Arizona Coyotes look rejuvenated under Mike Smith, who returned from injury  two weeks ago, and has led them to a 3-1-0-1 since November 16
Arizona Coyotes ended October on a tough five-game road trip, where they lost all five games before returning to Glendale. They started November 3-3-0-0 before Mike Smith made his return from injury. Since then, the Coyotes have just one regulation loss, and took down the rising Edmonton Oilers in back to back games this past weekend.
Smith helped lead the Coyotes to a 3-2 shootout win over the Oilers on Friday, before shutting them down on the road for a 2-1 win on Sunday. Needless to say, the Coyotes have looked like a different team, and their ability to play at both ends of the ice has paid immediate dividends.
Can Mike Smith Stay Healthy?
Looking back on Smith's career with the Coyotes, it has not really been his performance, but his health that has been a concern. He performs well over the course of a season, but has his moments of inconsistency, as any goalie would. However, last year was cut short for Smith due to a lower-body injury, which kept him sidelined from December to March.
So far this season, Smith has missed a month. Age could be catching up, but his overall usage with the Coyotes has certainly taken its toll. With Louis Domingue sidelined, the Coyotes have Justin Peters backing up Smith, which does not give them much of a second option.  Peters has performed well in the NHL, but his unpredictable role at the NHL level always seems to plague his long-term success. Nevertheless, Getting Peters some starts while Smith takes a breather could be the best option, but that is only if the Coyotes care to win games.
Inconsistent Offense is the Problem
The Arizona Coyotes have plenty of youth on their roster, but their lack of production has hindered their overall success this season. Anthony Duclair and Max Domi shined last season on the same line, but have not been given the same opportunity this year.
Radim Vrbata has filled in well on the right wing, but his arrival in Arizona has hindered the development of other forwards. On the other hand, Duclair has shown little signs of his past self, which would make it hard for any coach to slide him into the top line.
With Vrbata on the first line, Duclair must find ways to score while playing on the second unit. He has been nothing short of horrendous in the early going, but can turn things around over the last 60 games. He is currently playing with fellow youngster Christian Dvorak and Jamie McGinn, which could be the problem in the first place. At the same time, Duclair is considered a high-end offensive performer and his abilities should create scoring chances. Unfortunately, this is still a work in progress.
The Coyotes have limited scoring ability, but their young studs are simply not playing with high-end playmakers. Given Vrbata's veteran presence, switching him with Duclair could provide a necessary boost to both lines, giving Duclair a chance to play with Domi, while Dvorak gets a veteran scoring presence to help him find his footing.
It may be a hard feat, but the Coyotes are just three games away from a Wild-Card spot and could surprise if the offense picks up. A lot more was expected from players like Domi and Duclair, and it will have to be them who answers the bell. They have plenty of veteran leadership and a fairly underrated defensive group led by Oliver Ekman-Larsson.
With Smith doing his part to keep the wins coming, it will be interesting to see how the Arizona Coyotes approach the next few weeks of games.
This article originally appeared on