Arizona Coyotes: Craig Cunningham Collapses During Roadrunners' Pregame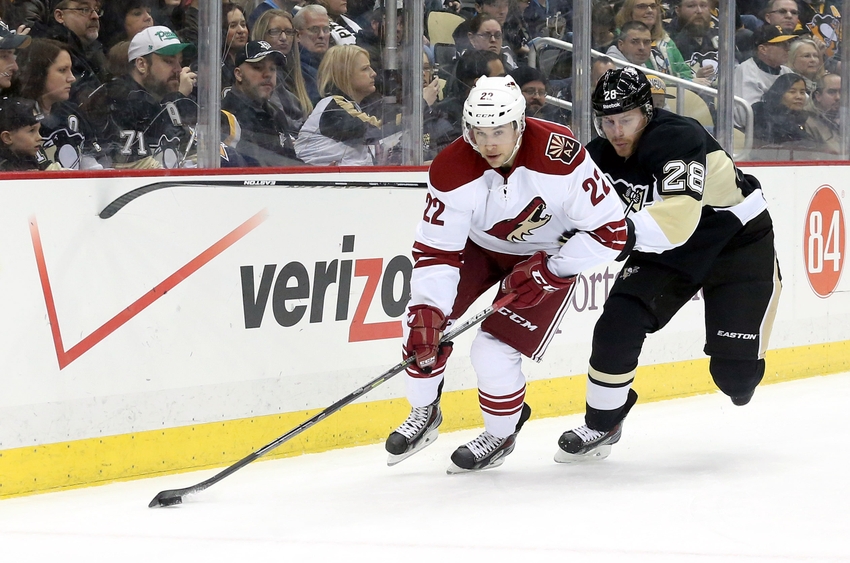 The Arizona Coyotes released a statement updating the condition of Tucson Roadrunners' captain Craig Cunningham.
The Arizona Coyotes win was hollow on Saturday night as news circulated about the hospitalization of forward Craig Cunningham.
Cunningham was playing for the Coyotes' AHL affiliate Tucson Roadrunners and collapsed during pregame after the singing of the national anthem.
According to reports, Cunningham appeared to convulse after hitting the ice.
Medics had to cut away Cunningham's jersey while working on him, then moved him off the ice.

— Ryan Finley (@ryan_finley) November 20, 2016
It was also reported that chest compressions were performed on Cunningham while on the ice.
There have been very few details since the 26-year-old was rushed to the hospital.
The Arizona Coyotes released a statement regarding Cunningham, but it was more of a confirmation of the incident:
GLENDALE, ARIZONA — Arizona Coyotes General Manager John Chayka issued the following statement tonight regarding Craig Cunningham. The Coyotes and the Tucson Roadrunners will have no further comment at the present time.

"Arizona Coyotes center Craig Cunningham suffered a medical emergency on the ice prior to the start of tonight's game between the Tucson Roadrunners and the Manitoba Moose at the Tucson Convention Center. Cunningham was taken to a local hospital where he is receiving medical treatment. Our thoughts and prayers are with Craig and his family. We will provide a medical update once we receive more information."
The Tucson Roadrunners' game against the Manitoba Moose was postponed after Cunningham collapsed.
Craig Cunningham's impact on the Roadrunners is immense.
Along with serving as captain, #14 is tied for the team lead in points with 13 in just 11 games played.
He's been an integral part of the team's impressive 8-1-2 start and has seen at least ten games per season with the Arizona Coyotes during the past two seasons.
Cunningham is also a beloved figure for fans and fellow players.
Thoughts go out to Craig Cunningham. Truly one of the good guys as my son can attest. pic.twitter.com/o4n8bvuSvE

— Jason Harrison (@jasnhaz11) November 20, 2016
Well wishes have poured in from Coyotes players and NHLers throughout the league.
Craig Cunningham is one of the best guy I know. I'm praying for you buddy ❤️

— Louis Domingue (@domingue35) November 20, 2016
Please stay with us Cunny 🙏🏼

— Laurent Dauphin (@flippers27) November 20, 2016
Praying for Cunny and his friends and family tonight, stay strong man. #PrayersForCraigCunningham

— Jakob Chychrun (@j_chychrun7) November 20, 2016
Praying for you cunny stay strong brother

— Max Domi (@max_domi) November 20, 2016
My prayers are with Craig Cunningham and his family tonight. One of a kind guy

— Tyler Seguin (@tseguinofficial) November 20, 2016
Praying for one of my best friends Craig Cunningham. Keep fighting Craig.

— Milan Lucic (@27MilanLucic) November 20, 2016
Hopefully the news will be good when more is available.
In the meantime, keep Craig in your thoughts as he fights through this.
This article originally appeared on