Arizona Coyotes Break Out Kachina Jerseys For Throwback Night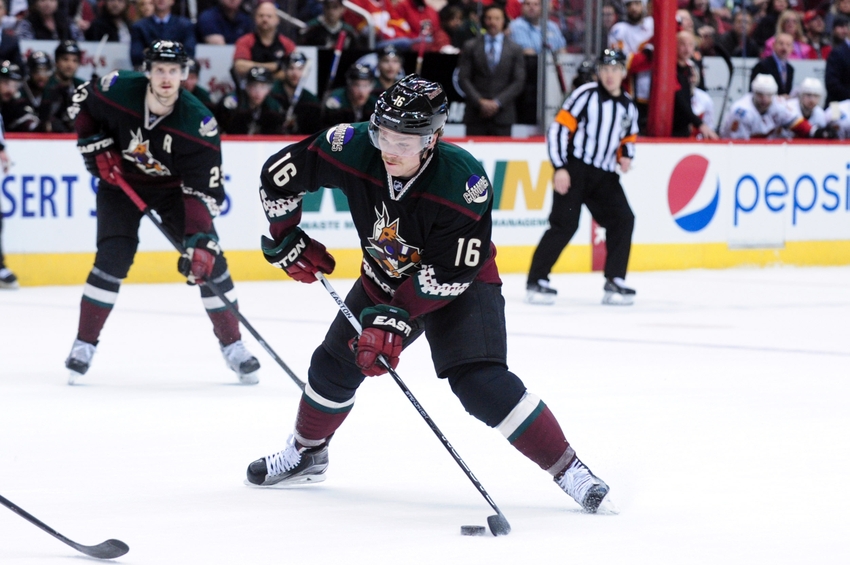 The Arizona Coyotes will attempt to blind and bewilder Edmonton Oilers' captain Connor McDavid with their Kachina jerseys tonight. It's a new strategy to steal a win against the Pacific Division's first place team.
Arizona Coyotes fans love the Kachina jerseys. NHL uniforms are colorful and fun, but usually somewhat predictable and always designed to be appealing.
Then comes the Kachina jersey.
Drab it is not. Artistic? Maybe.
But definitely cool.
Very cool.
On the Coyotes Mount Rushmore, there is Shane Doan, Jeremy Roenick, Keith Tkachuk, the Glendale City Council (kidding), and the Kachina jersey.
The Kachina uniforms live in infamy. On this #ThrowBlackFriday just after Thanksgiving, the Coyotes are breaking them out against the Edmonton Oilers.
It's their newest strategy in gaining the upper hand against their opponent.
We can only hope that the jerseys will distract the NHL's #1 draft pick Connor McDavid. Perhaps they'll keep his Oilers team from scoring so the Coyotes can steal a win.
The Edmonton Oilers are currently in first place in the Pacific Division with a 12-8-1 record and 25 points. They've won their last three games, including a 6-3 win against the Colorado Avalanche on Wednesday.
The Yotes have been in a funk this season. But if there's one thing that can lift them out of it, it's the Kachina jerseys.
These internationally recognized, and scorned, Kachina-style uniforms are an affront to the very fabric of style itself. But they also bear the essence of a franchise's identity.
What better way to shake off a bad start to the season then with the Kachina?
The Arizona Coyotes are discounting their jerseys, shirts, and other memorabilia at the Coyotes Den at Gila River Arena throughout the day in the spirit of ThrowBlackFriday.
Hopefully this will result in even more fans at the game wearing their Kachinas.
For Edmonton players, looking into the stands tonight may be like staring directly into the sun.
Kachinas, Kachinas everywhere.
This article originally appeared on