Arizona Coyotes' Anthony DeAngelo Making Good First Impression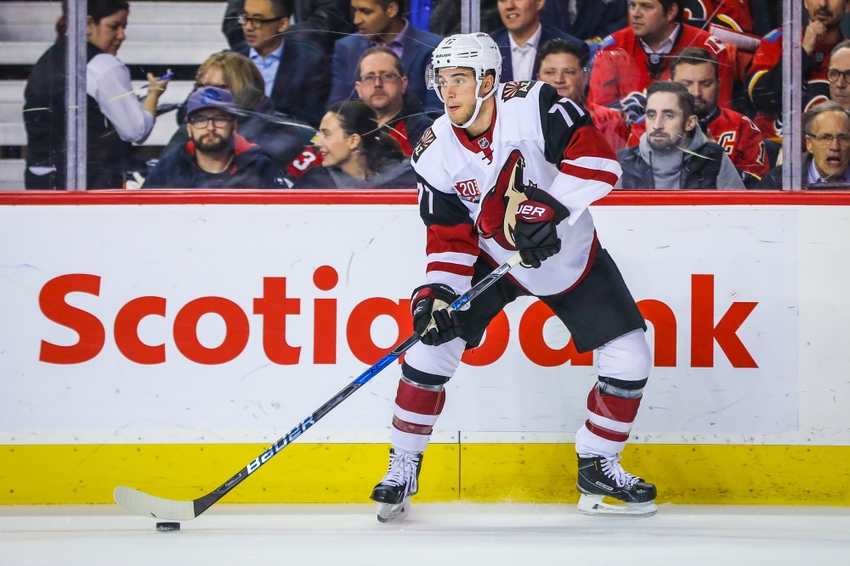 In the midst of a recent dry streak for Oliver Ekman-Larsson and a rough start to the season for Alex Goligoski, young defenseman Anthony DeAngelo has stepped up to make a good first impression with the Arizona Coyotes.
Arizona Coyotes' starting goaltender Mike Smith has been red hot recently.
In fact, Smith has faced 35+ shots in three of his last four starts. In those same four games, has a .946 save percentage. Mike Smith has kept the Coyotes competitive.
But what has not kept the team competitive is the rest of the squad, particularly the defense.
The defense was meant to be improved this year and was the main focus of new GM John Chayka's changes over the summer.
Chayka went out and signed Alex Goligoski, locked down Michael Stone and Connor Murphy to new contracts and furthermore added to the corps with an NHL-ready draft class in Jakob Chychrun and Anthony DeAngelo (whom was acquired from the Lightning in exchange for the Coyotes' second round pick).
Arizona Coyotes Rookie Brendan Perlini Scores First NHL Goal
But that defensive focus has not panned out.
Goligoski has not be stellar, although his last few games have begun to show why Chayka pursued him. Oliver Ekman-Larsson has been surprisingly quiet, only posting 13 points so far, which is seven points below his pace for last season.
Both Murphy and Stone have been just 'ok', with Stone still slowly catching up from a severe knee injury.
What has been surprisingly good is the young guns on defense, particularly in Anthony DeAngelo.
Anthony DeAngelo has shown flashes of brilliance, filling the long empty hole on the power play left by Keith Yandle's departure. 'Tony D' moves pucks with finesse, feeling out opportunities to make clean stretch passes and carrying the puck into the zone when the pressure is up high during entries.
DeAngelo has tallied 3 goals and 11 assists (14 total points) in 21 games total between the Arizona Coyotes and Tucson Roadrunners. He has produced .67 points per professional game this season, which is outstanding production for a rookie defenseman.
It was the belief of many that Tampa wanted to move DeAngelo because of maturity and off-ice issues, but there have been no issues intimated or otherwise since he joined the organization.
And while DeAngelo has struggled in his own zone, he's already grown during the course of the season. DeAngelo is pushing himself to be more accountable in his own zone and not leave his partner, who is often the struggling Goligoski, out to dry.
His efforts to be more accountable may not have been completely successful so far, particularly when playing off the puck, but the good he creates in zone entries, power plays, and offensive pressure have surely justified the defensive shortcomings he's working to correct.
For all the woes the Arizona Coyotes have experienced this season, Anthony DeAngelo is one of the potential young stars blossoming before our eyes.
He has thus far shown the professional maturity the Lightning front office thought he lacked, along with the offensive prowess he was often touted for.
Without a doubt, 'Tony D' will be an NHL mainstay in no time.
This article originally appeared on