Anaheim Ducks D Hampus Lindholm Getting Closer to New Deal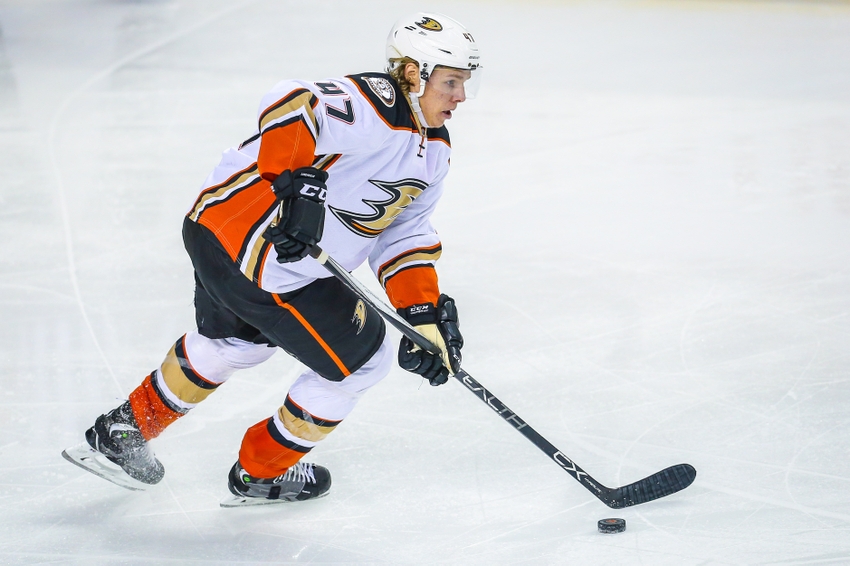 Anaheim Ducks D Hampus Lindholm is Reportedly Getting Closer to a New Deal. There are Still Questions and Concerns Regarding the Salary Cap, and Whether or Not a Cam Fowler Trade is Imminent
Anaheim Ducks D Hampus Lindholm is reportedly getting closer to a new deal. The news came Saturday via Elliotte Friedman during "Saturday's Headlines" on the broadcast of Hockey Night in Canada.
Friedman suggests that Lindholm and Anaheim were roughly $700,000 dollars apart on figures for an annual salary, but those numbers are now much closer.
As it stands, the Anaheim Ducks have $323,335 dollars of cap space. Even with AHL demotions, it's hardly enough to make room for Lindholm even if they get him signed to an affordable bridge deal.
This is where the trade rumors/speculation tends to come in. Logically, the only way to solve their conundrum is to move out a contract and open up a bit of cap space in the process. Here's where it gets a little tricky though. As Friedman points out, the Ducks aren't looking to subtract a major piece and replace it with prospects or draft picks when they're chasing a Stanley Cup.
Cam Fowler Only Logical Choice
As we've stated on numerous occasions, it's a bit of a numbers game. Fowler carries a $4 million dollar cap hit. Top prospect Shea Theodore is scratching and clawing at the door to be a top four defenseman – a left-handed shot, Theodore would slot beneath Lindholm. Impending expansion suggests the Ducks already stand to lose someone like Josh Manson or Simon Despres, so why make Cam Fowler available as well?
Want your voice heard? Join the Puck Prose team!
Freeing Up Cap Space
Simply trading Cam Fowler isn't likely to open up enough cap space for the incoming player(s) and Hampus Lindholm. Instead, Anaheim should think about packaging a forward not named Ryan Getzlaf, Corey Perry, or Ryan Kesler. After years of disappointment over the last half decade, perhaps a shake-up in the dressing room is exactly what this team needs.
If you're Ducks GM Bob Murray, any potential trade would need to look a little something like this:
Anaheim trades D Cam Fowler and F Jakob Silfverberg to Detroit in exchange for F Tomas Tatar and F Anthony Mantha
In this scenario, the Ducks would need to sacrifice a solid two-way forward in Silfverberg, but gain a true top-six LWer and potential replacement for Jakob on the right side. Mantha would be an everyday NHLer on a lot of teams.
If they don't want to subtract core pieces such as Silfverberg, they could attempt to interest a team by offering to retain 50 percent of D Clayton Stoner's $3.25 million dollar cap hit (frees up $1.625 million). They might also look to add premium draft picks, prospects, or even a couple of smaller contracts off the 23-man roster.
One way or another, Bob Murray will need some creative maneuvering on the trade market if he wants to make room for Anaheim Ducks D Hampus Lindholm.
It might be safe to assume that a Cam Fowler trade is about as inevitable as Marc-Andre Fleury or Ben Bishop. In fact, I'm willing to go out on a limb to predict something happens before November rolls around. When a team's postseason fate can be dictated in the first 10-15 games, it's crucial to get off to a quick start and rack up points early.
This article originally appeared on