A mid-February Islanders-Leafs game has huge, unexpected playoff implications
The start of the Stanley Cup Playoffs are still a few months away — the NHL's trade deadline hasn't even passed yet — but that doesn't mean that it's too early to keep an eye on the postseason picture. In fact, there are games holding significant playoff implications being played already…and some of them are pretty unexpected.
Take, for instance, Tuesday night's Islanders-Maple Leafs game in Toronto. Both teams are currently in the thick Eastern Conference playoff race, though they've had to overcome some unlikely odds to get there.
The Leafs are just a season removed from finishing as the worst team in the league — they had the No. 1 overall pick in last summer's draft — but have put the league on notice with how quickly their stable of young players have carried them to success.
Last spring, the Islanders won their first playoff series since 1993. Despite a few significant departures in the offseason, they were expected to contend this season. But a disastrous first half sent them tumbling to the basement of the Eastern Conference and led to the firing of coach Jack Capuano in mid-January.
However, they've managed to climb back to relevance under interim coach Doug Weight, and they've done so in a tough Metro division. They're still in the hunt for a wild card spot, though they'll have to stave off several teams in a tight Eastern Conference dogfight down the stretch. With just one point separating them in the standings, the Maple Leafs are one of those teams.
But Tuesday's matchup north of the border doesn't only have implications for the Isles and Leafs. More than a handful of other East teams — including the Bruins, Flyers, Hurricanes, Panthers, Lightning and Senators — also have a rooting interest.
Here's a handy data visualization of the positive and negative effects of each potential result of the game, courtesy of mathematician Micah Blake McCurdy.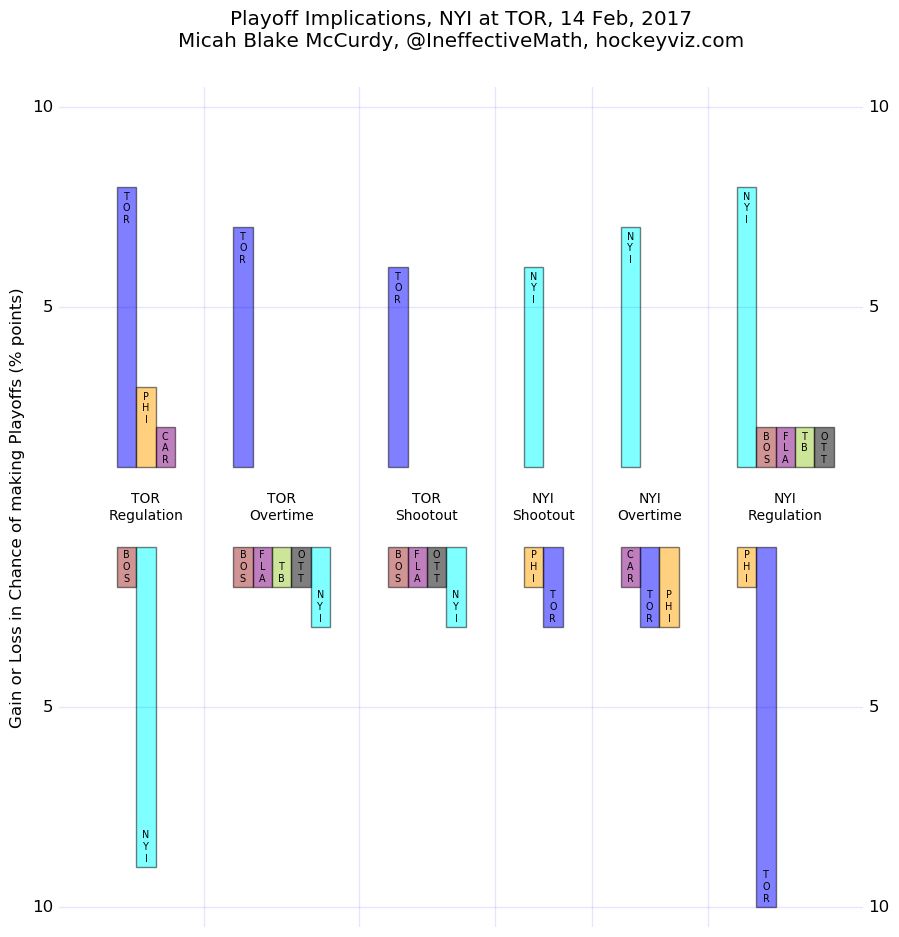 There's a lot to process and digest within that chart, but — if nothing else — the takeaway is that this game is oddly important for one being played in mid-February.
Obviously, no team is immediately locking up a playoff spot or falling out of the race after Tuesday's game. There's plenty of action left on the schedule, plenty of buying and selling at the deadline, and teams will naturally gain or lose ground in the standings. But both the Isles and Leafs could do themselves — and a number of others teams — a favor by achieving their desired result on Tuesday.
If this is how important a game on Valentine's Day can be, that's a pretty great thing for the NHL. There's a lot of parity across the league this year and, from all indications, it should be an outstandingly dramatic stretch run to the season.