5 NHL games to watch this week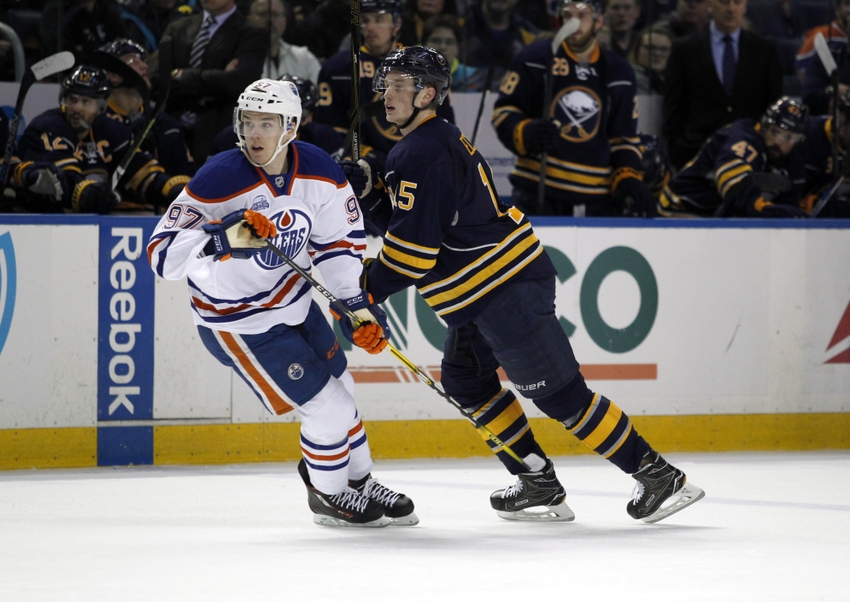 Here are the five best NHL games to watch this week starting Dec. 5. 
As the month of December begins, the NHL season is truly underway. This week of hockey will feature some very fascinating showdowns. A few of them could serve as playoff previews. No matter which kind of match ups you like, you'll get a great one this week.
Love watching top players go against each other? Jack Eichel and Connor McDavid will be leading their teams into battle. Are division showdowns your cup of tea? The Nashville Predators and Dallas Stars go at it this week as one of the best rivalries in hockey. Maybe you love seeing division leaders face each other? Going into this week, the New York Rangers and Chicago Blackhawks lead their respective division and they'll play each other.
Here are the five best NHL games to watch this week.
5. Boston Bruins at Washington Capitals
Though the Bruins and Capitals don't really have a rivalry, they'll still be featured on NBCSN's Rivalry Night this Wednesday Dec. 7 starting at 8:00 p.m. ET. This game will feature two of the most exciting teams in hockey as Brad Marchand leads Boston while Alex Ovechkin leads the Capitals. There's still a bit of bad blood between the Bruins and Caps, stemming from their 2011-12 Stanley Cup playoff series.
It should be an interesting showdown between two of the top defenses in the NHL. Entering Dec. 5, the Capitals have allowed just 53 goals in 23 games while the Bruins have allowed merely 55 goals in 25 games.
This is in large part to their respective starting goaltenders. Braden Holtby is coming off a Vezina Trophy season for Washington while Tuukka Rask is having an excellent season for Boston. Last season, the Capitals beat the Bruins each time they faced, winning three games. They allowed just four goals to Boston while scoring nine in those three matches.
4. Nashville Predators at Dallas Stars
On Thursday Dec. 8, fans will get to see one of the Central Division's top rivalries when the Predators visit the Stars. Entering the 2016-17 season, everyone thought Nashville and Dallas would be Stanley Cup contenders. Though the Predators are looking great thanks to a strong November, as of Monday, the Stars don't have a spot in the playoffs.
While Nashville has been a better team this season, don't underestimate Dallas. They'll be motivated to beat the Predators. This will be the third time they've played this season, with Dallas and Nashville each winning one. The game starts at 8:30 p.m. ET and will be shown on Fox Sports Tennessee and Fox Sports Southwest.. Also, NHL.tv subscribers will be able to tune in as well.
3. Pittsburgh Penguins at Tampa Bay Lightning
On Saturday Dec. 10, hockey fans will get to see a rematch of the 2015-16 Eastern Conference Finals when the Penguins visit the Lightning. This game starts at 7:00 p.m. ET and will be shown on SUN (Tampa) and ROOT (Pittsburgh). The Penguins and Lightning are facing each other for the first time since the Pens topped the Lightning in seven games in the Eastern Conference Finals.
Sidney Crosby will lead Pittsburgh into action while Tampa Bay will be led by top scorer Nikita Kucherov. Even though the Lightning are without their captain Steven Stamkos, this should be an excellent game.
2. Edmonton Oilers at Buffalo Sabres
It's always fun to watch two of the best players in the NHL go against each other. That's precisely what fans will get on Tuesday Dec. 6 when Connor McDavid of the Oilers and Jack Eichel of the Sabres face off. As the top two picks of the 2015 NHL Draft, there's a bit of a friendly rivalry going on between them.
Due to an injury to McDavid, last season the two stars only got to face each other once. Unfortunately, an injury to Eichel earlier this season prevented them from facing off in October. In that game, the Sabres beat the Oilers 6-2. Sure, Eichel and McDavid have many years to face each other. But it's incredible this is just the second time they've done so in the NHL. This game will be shown on MSG-B and Sportsnet West.
1. New York Rangers at Chicago Blackhawks
Two of the best teams in hockey go at it when the Rangers face the Blackhawks on NHL Network this Friday Dec. 9. Going into Dec. 5, New York leads the Metropolitan Division while Chicago leads the Central Division. The best part of this game will be the goaltending matchup. Though the Rangers play the Winnipeg Jets on Thursday, it's quite likely fans will get to see Henrik Lundqvist take on Corey Crawford. Those are two of the top goalies in the league.
This article originally appeared on