5 NHL games to watch this week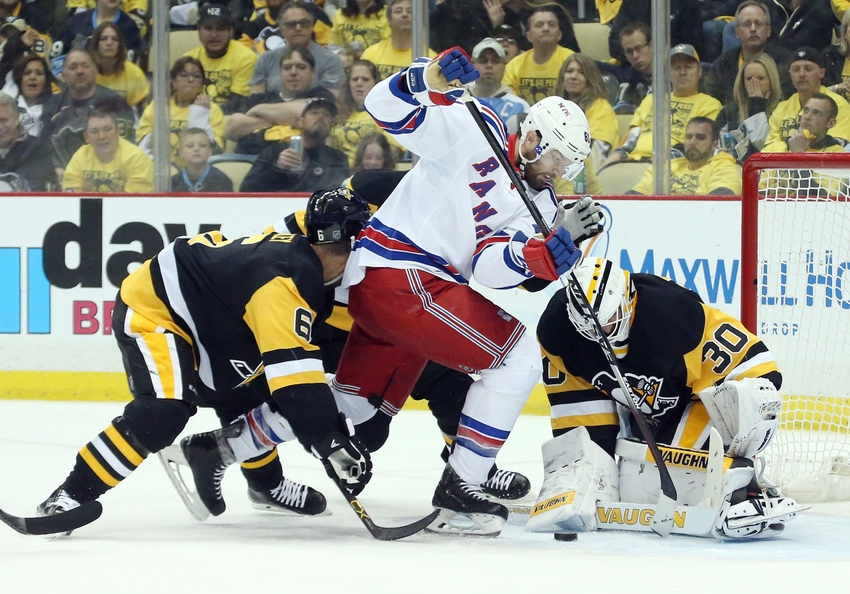 Here are five NHL games for the week starting Nov. 21 that fans shouldn't miss. 
Starting on Nov. 21, Week 7 of the 2016-17 NHL season begins. They say that a team can usually know whether or not they're serious contenders by American Thanksgiving, which takes place on Nov. 24. This isn't always the case, but more often than not, it rings true.
This week features several rivalry battles and some intriguing games between some of the top teams in the league. It will also feature a Thanksgiving doubleheader, in case you get tired of watching football all day. Here are the five best NHL games for Week 7, starting on Monday Nov. 21.
5. Carolina Hurricanes at Montreal Canadiens
American Thanksgiving is usually a day full of football. However, some people simply can't stand watching that much football. Hockey will provide an alternative option when the Carolina Hurricanes face the Montreal Canadiens beginning at 7:30 p.m. ET. It will be broadcast nationally in the United States on NHL Network and Fox Sports Carolina. In Canada, it will be shown on Sportsnet360 and RDS.
Montreal has been arguably the top team in hockey this season. They have the best goaltender in the world in Carey Price. Not only that, the Canadiens feature a strong Norris Trophy candidate in Shea Weber. Alex Radulov has been a huge bargain for Montreal. Despite what their record might reflect, the Hurricanes are an exciting team. Jeff Skinner is one of the most underrated players in hockey. Teuvo Teravainen and Sebastian Aho are a lot of fun to watch.
The Canadiens have not been playing their best hockey as of late, with Price needing to bail them out. However, they have been playing extremely well at home, where Montreal has an 11-0-1 record this season. On the other side of the ice, the Hurricanes have a 2-3-4 record on the road. This is a must watch game, as what better way to become sloth lying on the couch than by watching hockey?
4. Winnipeg Jets at Nashville Predators
What better way to finish a day of either shopping like crazy or avoiding shopping like crazy than by sitting down and watching one of the best rivalries in the NHL? On Friday Nov. 25, the Winnipeg Jets travel south to take on the Nashville Predators starting at 6:00 p.m. ET. The game starts at 6:00 p.m. ET and will be shown on TSN3, TVAS, and Fox Sports Tennessee.
Both teams have not been what many expected them to be this season. The Predators were supposed to be Stanley Cup contenders, but they have struggled so far with a 7-7-3 record. On the other side of the ice, the Jets have exceeded expectations, entering the week in third place in the Central Division.
3. St. Louis Blues at Boston Bruins
Boston Bruins forward David Backes will be facing his old team for the first time on Tuesday Nov. 22 when the Bruins host the St. Louis Blues. The game starts at 7:30 p.m. ET and will be shown nationally in America on NBCSN. In Canada, it'll be broadcasted on Sportsnet. The Bruins and Blues have been two NHL teams hard to figure out because they've been so inconsistent. However, they're quite similar in terms of style. Expect a great game centered around Backes.
2. Chicago Blackhawks at San Jose Sharks
Two of the top teams in the NHL will go at it on Wednesday, Nov. 23 when the Chicago Blackhawks square off against the San Jose Sharks. The game starts at 10:30 p.m. ET and will be shown on NBCSN. Entering the week, the Blackhawks are first in the Central Division while the Sharks are third in the Pacific Division. Two of the better defenses in the NHL will be squaring off, but don't necessarily expect a low scoring affair. Both teams can score when needed.
1. New York Rangers at Pittsburgh Penguins
Two of the top teams in the Metropolitan Division will go at it twice this week when the Penguins take on the Rangers. Their first showdown will be on Monday at PPG Paints Arena in Pittsburgh starting at 7:00 p.m. ET. This game will be aired on ROOT and MSG. Monday will be the first time these two teams have battled since their postseason series last season. The Rangers are a very different team since that series, but in many ways, so are the Penguins.
More from FanSided
This article originally appeared on