5 free agent signings NHL teams are already regretting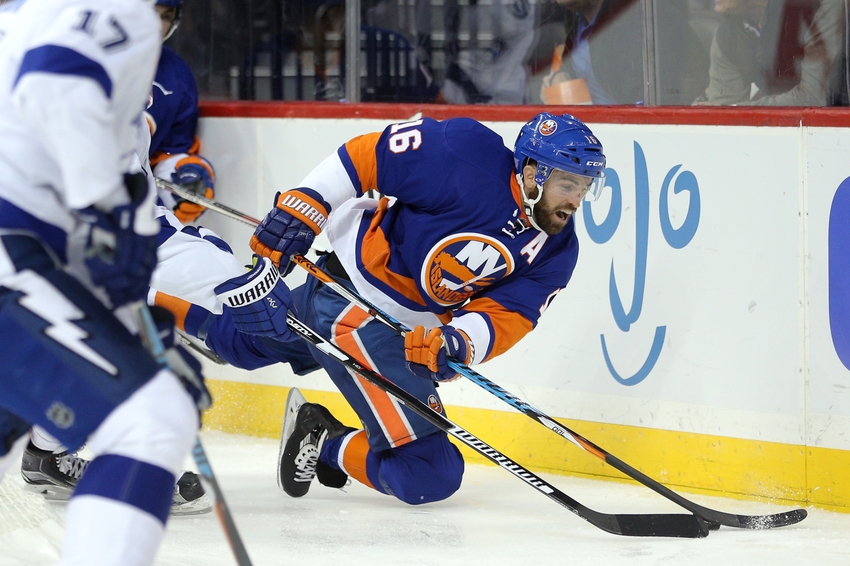 Most NHL teams are about 15 games into the 2016-17 season, but there are some free agent signings teams already want a mulligan on.
The 2016-17 NHL offseason saw teams spend a boat load of money. On just the first day alone, teams spent over $630 million on 119 players. Some of these signings have paid off big time. The New York Rangers, for example, replaced their entire fourth line via free agency and it's already paying dividends. David Schlemko is already playing a big role for the San Jose Sharks and his impact shows in their possession numbers. Last season, the Sharks got significantly outshot with their third pairing on the ice. This season, they're outshooting opponents.
However, with all the money thrown at free agents, there have been some players who haven't performed as planned. That's the risk of free agency. You usually have to overpay to get what you want, so an underperforming free agent can significantly hamper a team's salary cap. Whether it's because they're not doing well or because the team just isn't right for the player, some teams made some mistakes this offseason.
Here are five players whose teams are wishing they could go back in time to avoid signing.
5. Troy Brouwer – Calgary Flames
Contract: Four years, $18 million, $4.5 million annual cap hit
To be fair to Troy Brouwer, he has been productive for the Calgary Flames. The former St. Louis Blues forward has four goals and three assists for seven points through 18 games. While he has never been a good puck possession player, this season he has been abysmal. With Brouwer on the ice at even strength, the Flames have a 46.4 percent Corsi For percentage (or SAT percentage). Calgary has a 52.4 percent mark without him on the ice.
Brouwer's a fine checking line forward and a competent second line forward. However, the Flames signed him thinking he could be a guy who helps them make the playoffs. So far, Brouwer hasn't been that. But to be honest, he's not to blame for it because he can be that guy. Just ask the Blues. Calgary misevaluated their roster and now they're going to have to pay for it.
4. Matt Martin – Toronto Maple Leafs
Contract: Four years, $10 million, $2.5 million cap hit
The Toronto Maple Leafs have been making a lot of great decisions as of late. It's weird seeing them finally acting like they know what they're doing, which is why everyone was shocked when the Leafs signed Matt Martin. He goes against everything the Leafs are trying to do.
They have made it a point to mostly ignore size and grit, going after Mitch Marner in the 2015 NHL Draft. Connor Carrick, arguably one of their best defensemen, is 5-foot-11. So why give $2.5 million a year to someone like Martin, whose greatest asset is his ability to hit people?
Thus far, he has done what everyone expected — gotten a ton of hits and not done much else. Martin has just one assist through 17 games. He's a wonderful guy off the ice, but that doesn't make him worth $2.5 million a year. His cap hit could be going to helping the Leafs get even more draft picks by taking on another bad contract. But instead, Toronto is saddled with one through 2020.
The worst part is Martin could prevent the Leafs from extending a good player. They have under $1 million of cap space. Even with contracts getting off the books soon, most of them are guys on the LTIR, so they don't count for cap space. Toronto has to extend some of their young players pretty soon. Martin could be the difference between a bridge deal and a long-term extension for a great value.
3. Alex Goligoski- Arizona Coyotes
Contract: Five years, $27.4 million, $5.475 million annual cap hit
The Arizona Coyotes made a bold statement by trading for the rights to Alex Goligoski and signing him to a five-year deal. It was always going to be either a great decision or a terrible one since they likely overpaid for him. So far, it's looking like a terrible decision.
Not only are the Coyotes among the worst defensive teams in the NHL, Goligoski has been abysmal. He has six assists so far in his first 15 games with a plus-minus rating of -8. Granted, their goaltending has not been very good. But the Coyotes didn't overpay Goligoski to put up these numbers. They signed him to stabilize their defense.
Which brings us to the huge red flag in his numbers. Goligoski has always been an above average to good puck possession player despite getting a lot of minutes. It's just a 15 game sample size, but Goligoski has a -7.2 percent relative Corsi For percentage at even strength, the 10th worst mark among NHL defensemen.
This isn't a good look for Arizona's new front office. Then again, can you blame them for trying to add to help their team win? It's been a while since the Coyotes have been a very good NHL team. Arizona fans can at least point to this being a small sample size. However, they should be quite concerned.
2. Loui Eriksson – Vancouver Canucks
Contract: Six years, $36 million, $6 million cap hit
It was a bit baffling when the Vancouver Canucks inked Loui Eriksson to a six-year deal back in July. He's a very good player, but the Canucks aren't contenders. So why give a long-term deal to a guy who might have two or three good years left in him? It's hard to call Eriksson anything but a huge disappointment so far.
He has six points through his first 18 games. This is a bit unexpected, as Eriksson had 30 goals last season and 22 goals during the 2014-15 NHL season. Sure, he's 31-years old so a bit of regression isn't weird. But this much of a decline already? Not good at all for the Canucks.
There is a bit of hope for Eriksson, as it's hard to imagine him being this bad if he keeps getting playing time with the Sedin twins. The trio has dominated in international competition, so maybe they get their act together and start scoring.
However, what makes this contract inexplicably terrible regardless of how Eriksson does is the structure of it. Of the $36 million he will get over the next six years, $28 million of it is allocated to a signing bonus. This makes it very hard to buy him out, since he is guaranteed this money no matter what happens unless he retires. And sorry Canucks fans, he's not going to retire anytime soon.
1. Andrew Ladd – New York Islanders
Contract: Seven years, $38.5 million, $5.5 million cap hit
To say Andrew Ladd has been horrible so far for the Islanders is an understatement. He's the poster child for their failures so far in the 2016-17 NHL season. Ladd, perhaps unfairly, was expected to help replace John Tavares' long-time teammate and wing Kyle Okposo. He has just two goals and three points through his first 16 games. Ladd also isn't even playing that much. His average ice time per game of 17:15 is his lowest since the 2009-10 season. Also, Ladd's 0.19 points per game is the lowest of his career.
About the only thing the former Winnipeg Jets forward has going for him is he has a 0.4 percent relative Corsi For percentage at even strength. At least he isn't in the red. But it doesn't make it any easier for the Islanders to accept that they're paying him so much money.
Much like Eriksson, Ladd's contract structure makes his deal even worse. Most of his money ($31.5 million of it to be precise) is considered a signing bonus. So buying him out will be next to impossible and trading him will be even more difficult  Ladd has a no movement clause through next season, so they can't even hope for a mulligan thanks to the expansion draft. He also has a full no trade clause from 2018 to 2020 and a modified NTC through the rest of his deal. Ladd will be 37 years old when his deal is over. He's 30 right now. Yikes.
This article originally appeared on