30 best NHL jerseys of all-time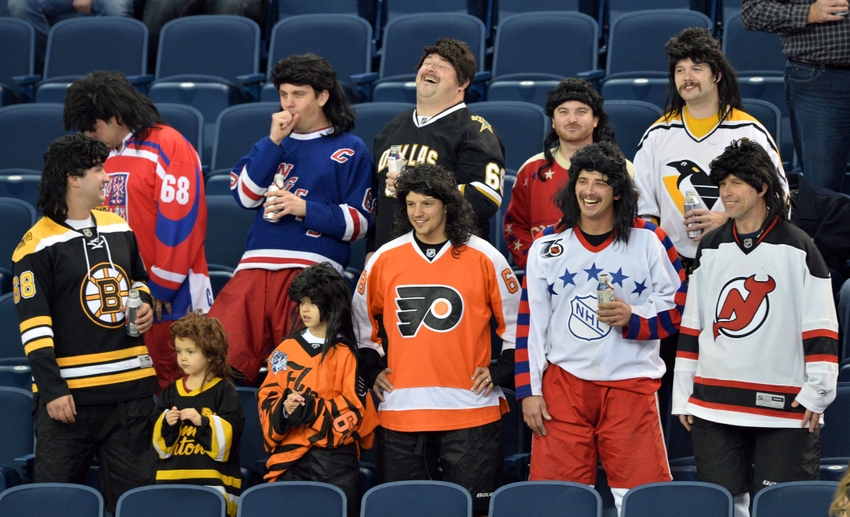 The National Hockey League is about to turn 99 years old. That means for nearly a century teams have been sporting NHL jerseys and other gear to represent their franchise.
In that time there have been a collection of great, iconic even, jerseys. There have also been downfalls that made fans and analysts alike question every step of the decision-making process that resulted in such a catastrophe.
While the highly famed Original Six teams have a number of jersey renditions to choose from and the newer franchises may only have a few, the NHL is home to some of the best jersey designs in sports. Each team has had its ups and downs as far as its brand image on jerseys, but here are the best designs of all time team-by-team, in reverse alphabetical order.
30. Winnipeg Jets
This jersey was the Winnipeg Jets' design used from 1980-90. While it was a part of the original Jets franchise, that later relocated to Phoenix, it is a beautiful jersey. The color palette is vibrant and eye-catching without being overwhelming, which is a difficult line to avoid.
The overall cohesion of the design attracted people to it and the use of the bright orange-red to back the numbers is a detail that could be overlooked. Sometimes more simple designs are lost in the crowd, but the Jets were able to add just enough interest to this concept to make it appealing. All in all this jersey is one that paid special attention to detail and stood out at the time of its conception in the early 80s.
Although this version of the Jets franchise in the NHL was rather unsuccessful, having won only three division titles during their 24 year existence, these sweaters are one of the highlights of their time in Canada. In 2011 when the former Atlanta Thrashers made the move to Winnipeg, they were welcomed with open arms.
The jerseys that came with them weren't bad, but they are missing the old time charm that the original Jets franchise brought to the table.
29. Washington Capitals
The Washington Capitals have had a number of great jersey designs over their years in the NHL, but this ode to older times takes the cake.
For the 2015 NHL Winter Classic, the Capitals donned red, white and blue sweaters as they faced off against the Chicago Blackhawks at Nationals Park in Washington, D.C. The jerseys must have had some good luck as the Caps defeated the eventual 2015 Stanley Cup Champion Chicago Blackhawks in regulation, 3-2.
What's really great about this design is the emblem. The use of the dark blue "W" behind the simplistic "Capitals" is excellent use of font choice and make an otherwise basic jersey more interesting. The addition of stars along the sleeves, shorts and above the points of the "W" further make this jersey memorable.
Attention to detail is a key to a great jersey in any league and this is the best example in Washington's history of making it all come together. A number of teams in the league have a red color scheme, but this maroon shade stands out among the crowd. It would require them to abandon their famous "Rock the Red", though.
The Winter Classic is an outdoor hockey event that draws in an average of 4.4 million viewers and this jersey definitely caught their attention in 2015. Unfortunately this sweater hasn't been implemented as an alternate jersey for the Caps.
28. Vancouver Canucks
The Vancouver Canucks have a difficult task at hand when making an emblem and designing a jersey in general. They do not have the luxury of a typical animal mascot because a "canuck" is essentially slang for a Canadian. That alone severely limits their options, but they somehow managed to put this jersey together.
Overall the color scheme is appealing. The variations of blue mixed with a medium-dark green makes for an aesthetically pleasing look, particularly with their away jerseys because the color pops on white. Vancouver's simple choice in font and strategic placement of stripes, both large and small, make for the entire jersey itself to come together.
Their logo could use a revamp, but it is a lot more difficult than one could imagine to embody an entire brand into a design that is not boring, but has enough going on to be pleasing to the eye.
For a Canadian franchise that has had a number of different color palettes, it seems as if Vancouver has managed to find one that works. After 20 years of red, black and gold mixtures, which eventually developed into a red, blue and white color scheme, the Canucks can be confident in their decision 10 years ago to stick to cool tones.
27. Toronto Maple Leafs
Toronto is an iconic franchise within the NHL. They have been around for 99 years and they have some of the most dedicated fans in the sport, despite growing pains of late. This jersey was used from the early 70s to the beginning of the 90s and it served Toronto well.
The stark contrast of the dark blue with the crispness of the white makes for an eye-catching combination. Not to mention it is a look that immediately reminds viewers of the famed Toronto franchise. A large white stripe going all the way from wrist to wrist makes this jersey different than what we see today, but it allows for the leaves on the side of the sleeves as well as the player's number to be more prominent.
Overall this sweater is one that is great regardless of if you love, hate or moderately like the Leafs. There's no denying that Toronto has one of the best color schemes in the league simply because they avoided traditional black and white contrast in favor of this blue that can easily be associated with the Maple Leafs.
Kudos to them for not taking their mascot too literally, otherwise we could be looking at a series of jerseys containing trees and maple syrup.
Toronto has arguably the best collection of jersey designs in the NHL, but there has not been much innovation. In part, that s due to the concept of "if it ain't broke, don't fix it", but also because Maple Leafs fans are so die hard and a misstep would be detrimental.
26. Tampa Bay Lightning
In 2004 the Tampa Bay Lightning were Stanley Cup Champions. They also had the best jersey design in franchise history.
This jersey accentuated the lightning bolt trademark of Tampa Bay and it popped on their black background. Its use of the right combination of two fonts, one for "Tampa Bay" and another for "Lightning" further adds to the great details of this sweater.
As one of a few teams sporting the black, white and blue color spectrum, the Lightning have a challenge when creating a look that is representative of their mascot. There is really only so much you can do with a lightning bolt and Tampa Bay has managed to fair pretty well.
The shading of the bolt makes the white pop despite being on a slightly grey-silver background. If that detail was missing, their logo design would be a complete miss because no one would be able to see it.
Like with all great jerseys, this one focuses on details. Everything from the navy blue stripe at the wrists to the grey-silver background of the emblem makes this creation great.
All in all this time period of jerseys for the Bolts was a success. They managed to keep this general design from 2001-07, making it the longest running jersey in history too.
25. St. Louis Blues
The Blues have had some interesting sweaters in their 50 years in the NHL. In some strange sequence of events, though, this jersey was the first to feature the most notable structure in all of St. Louis, the Gateway Arch.
Like the Rangers, the Blues took a too simplified route in designing their sweaters and both teams were the benefactors of implementing plaques that represent a more holistic image of the cities in which they reside. The arch is something St. Louis natives are very proud of, as they should be.
It's a beautiful structure that identifies the city as a whole, so it makes sense to have that represented in the jerseys their hockey team wears. The layering of the classic blue note over the grey-toned arch adds the perfect element of St. Louis to their otherwise run of the mill jersey design.
The note itself is not a bad emblem, but it has so much more of an impact with the arch sitting behind it. There are never enough opportunities for brands to differentiate themselves and the Blues were able to do so with this logo. Unfortunately, for the 2016-17 season, however, the Blues retired this jersey.
24. San Jose Sharks
In recent years the San Jose Sharks have moved toward a more simplistic jersey that allows the eye to focus on the emblem. Having re-worked their traditional crest to now include the entire body of a shark, San Jose drastically improved their jersey.
Overall the idea of having a shark bite into a hockey stick is a stereotypical way to portray an animal mascot in the NHL, but it works a lot better now that it incorporates the full shark body.
They have managed to avoid getting too wrapped up in the representation of the shark, too, which is commendable. Keeping with an overall simplistic style, this logo depicts a shark without beating viewers over the head with it. There is not an emphasis on minuscule details that no one, outside of marine biologists, is truly concerned about.
Their traditional teal jersey design is nice in the sense that it is a color not often used in hockey, but the black style still has hints of their signature throughout. The shark is still their easy to identify teal color and it is increasingly more noticeable with the basic black background as opposed to other options.
The step in a different direction make this jersey San Jose's best.
23. Pittsburgh Penguins
This jersey is a beauty. Its incorporation of the powder blue mixed with a navy base and hints of cream and a golden yellow works perfectly. This was utilized by the Penguins for the 2011 Winter Classic, meaning it was meticulously designed for television.
Even though it did not lead to Pittsburgh starting off the 2011 stint of the 2010-11 campaign on the right foot, these sweaters are nearly perfect.
Winter Classic jerseys often pay homage to older designs and this is one in which Pittsburgh's designers nailed it. The cliché use of the penguin mascot holding a hockey stick isn't as big of an issue in this crest because there are other things going on around it.
The team's name surrounds the upside down triangle on the crest and make for a really interesting design. Other teams could not get away with shrinking their emblem down because they would be risking the integrity of the design. However, Pittsburgh's logo is rather simple and it only has a very literal meaning, making the smaller version of it just as impactful.
Everything about this sweater makes it visually pleasing and although the Penguins couldn't come up with two points back in 2011, these jerseys hit it out of the park.
22. Philadelphia Flyers
Philadelphia has the distinct advantage of a color that pops naturally. No one is going to argue that their vibrant orange is a staple and it is something the franchise has not messed with too much since joining the NHL in 1967.
Having a color that in your face is something not many organizations could do, but the Flyers seamlessly intertwined this over the top color with their very essence and style of play. Although the game has changed since '67, Philadelphia is still a hard-hitting team with a lot of grit.
They are hard workers and nothing gets in their way. To say all of that with a jersey is asking for a lot, but this one really embodies the brand of Flyers hockey in its entirety.
Over the course of that time the Flyers have made minuscule changes to their sweaters, but nothing has been revolutionary. The colors, logo and overall aesthetics have remained rather stagnant since their inception.
Their lack of evolution is unimpressive until you notice just how ahead of time their original design was. It has been used over the course of the last nearly fifty years to bring the "City of Brotherly Love" together.
21. Ottawa Senators
Ottawa has struggled with their jersey design in the past. Their mascot isn't the most intimidating in the league by any means and makes for a distinct challenge for designers. This one, however, is unique enough with the wide cream and red stripes to break up the black base.
It's eye-catching enough to be distinguishable on the ice and it doesn't have too much going on to distract viewers. The simplicity of the "O" lined in both cream and red allows for it to pop without taking away from the other aspects of the design.
Ottawa's original senator logo is regal, but fails to be accurate in this day and age. They were not the most lucky NHL team in regards to their name, but in most cases having a design that is more creative and less literal works out significantly better.
That is part of the reason why this design is their best. It could be better if they incorporated a landmark native to Ottawa or if they used some other defining characteristic of their location, but overall it isn't a bad design.
With that said, compared to other options in their arsenal of sweaters, this is by far their most visually appealing design.
20. New York Rangers
The Rangers are a typical Original Six team in the sense that they haven't strayed much from their original jersey design. That was until 1996 when they introduced this alternate jersey and it was a hit.
In keeping with their well-known red, white and blue color scheme, the Rangers added a touch of the Statue of Liberty to their design. The most well-known Rangers emblem simply reads "Rangers" diagonally down the jersey in red lettering with a white or blue shadow.
Aside from the argument that their traditional jersey is iconic or has some sort of undefined equity about it, there's nothing special about it. Yes, they were an Original Six franchise, but that does not mean they have to be resistant to change and innovation.
That design severely lacks in the design aspect because it doesn't take advantage of one of the most iconic cities in the world.
This design, however, makes a statement. It actually features something taken right out of the city and makes viewers dissect it. However, it doesn't cross the line of being too much.
Everything from the "NYR" underneath Lady Liberty to the pointed stripes on the sleeves works with this sweater and it's one that stands out rather easily from the collection of jersey designs in Rangers history. Not to mention that this sweater was one that received high praise from Rangers fans, which makes its disappearance from their three jersey options.
19. New York Islanders
Black and white is a challenging concept to incorporate into an NHL jersey design. It's often remarked as boring or simply uninteresting in contrast to the brighter jerseys of other franchises.
This New York Islanders jersey, however, breaks that stereotype rather beautifully with this ensemble. They still utilized the emblem of "NY" having the "Y" be made predominantly of a hockey stick, but they eliminated the "Islanders" font underneath it. That change transformed the jersey and made it the best they have every had.
New York has the obstacle of sporting a similar color scheme to the Edmonton Oilers and, unfortunately for them, the Oilers are superior in their jersey design. Edmonton's monopoly, if you will, on the navy and orange color palette makes the Islander's older designs less impactful.
This, however, is something that directly separates them from the other two New York franchises. Prior to this design all three teams from the Big Apple and blue as a primary color in their palette. By removing that aspect from their jerseys, the Islanders allow themselves to take sole place as the most modern and unique jersey in New York.
As a fashion capital of the world, that differentiation is powerful.
18. New Jersey Devils
Having only used three jersey variations in their history, choosing the best New Jersey Devils sweater of all time was both incredibly easy and incredibly challenging. They sported a design that featured Christmas colors at their inception and it was awful.
That color scheme lasted for a decade before they moved toward this more recognizable black, red and white design. Their emblem is clever in the sense that it features the devil horn and tail incorporated into an "N" that seemingly resembles "NJ", but it's a little less effective than other similar ideas throughout the league.
New Jersey really couldn't go with any other color scheme, unless they were to incorporate orange into their designs. Having a devil as a mascot makes for color choices because warm tones are naturally so closely related. Having overcome that challenge and accepted that red is their go-to shade, the Devils have done their best to be creative and it doesn't go unnoticed.
That said, this jersey is by no means a bad look. It's something that stands out against the stark white ice and it features a creative aspect in the emblem. However, compared to the other red jerseys in the league, it doesn't really hold a torch.
17. Nashville Predators
A team that knows about a color palette issue is the Nashville Predators. Why they have been highlighting their bright mustard yellow in recent jerseys is a conundrum that won't soon be solved.
This version is pretty great, though. If they're married to their color scheme, this is the way to do it. Strategically placed pops of bright mustard yellow throughout the jersey and, in this case, pads, blocker and glove, make for a more appealing uniform.
They may prefer it because it's bright or because it's unique, but there's certainly a reason why few teams dip their toes into the bright yellow shades when creating jerseys. On this away jersey, though, it works rather nicely.
This is nothing compared to what they have now for their home sweaters. They have really taken the bull by the horns in their newest designs, featuring the bright mustard as the base.
To be fair, though, the Predators are trying to standout. They forewent the option to stick with their traditional navy blue threads in favor of making a statement. And a statement they made. Maybe they'll realize that this color scheme isn't really meant for professional sports one day, but until then hopefully they determine that hints of mustard are far better than an abundance.
16. Montreal Canadiens
Montreal is another hockey team that hasn't strayed from their traditional emblem over their time in the league. Red, white and blue is arguably most identifiable in the Canadiens' jerseys simply because of their longevity and popularity.
This style was used from 1978-80 before the team changed the number font to align better with the rest of the league. This jersey works because it incorporates a lot of the best characteristics of past versions. They moved the numbers on the sleeves to above the stripes, which makes them easier to see, but they remained true in traditional Montreal sweater styles.
The use of stripes on this jersey, and on historic Canadiens jerseys in general, is one of the reasons it works so well. Varying the alternative blue and white stripes on the sleeves, chest and even the shins, provides a cohesive look without distracting from the famous Montreal logo.
Honestly, Montreal has never had a misstep when it comes to their jerseys. They have remained tried and true throughout their existence and it's something of wonder. Montreal hit it out of the park with their inaugural sweaters and haven't looked back since, but the small details on this sweater make it their best.
15. Minnesota Wild
Minnesota lost their first franchise to Dallas in 1993. The State of Hockey would go seven years before seeing NHL hockey again in their home state, this time as the Minnesota Wild.
The Wild seem like a team that is at a disadvantage with their mascot, but they've turned something rather vague into something rather extraordinary. Minnesota incorporated a lot into their emblem and it's no wonder it hasn't changed in over fifteen years.
The eye of the beast is actually the North Star, an ode to the first NHL franchise that called Minnesota home. A full moon is used to create the ear of the animal and its mouth is actually made out of a body of water. That's one of the most intelligent uses of a logo in the league by far.
As for the rest of the sweater, Minnesota uses a red, green and white palette with hints of yellow. Despite their Christmas-like color scheme, the Wild have managed to stumble upon a successful look. Everything from the laces to the strategic placement of green on this away sweater makes it stand out.
In the time since their induction into the league back in 2000, the Wild have gone to a crest that has the original emblem as the central focus of a circle. While it isn't as impactful, being that all of the small details are barely noticeable, it still has a pretty good visual appeal level.
Overall, this jersey is simply a modern take on their original sweater from a decade and a half ago and it's easily the best they've ever had.
14. Los Angeles Kings
Los Angeles has the distinct advantage of being the only team in the National Hockey League to incorporate purple into their color scheme. That is probably because it is not a typical shade for professional athletes, but it works for them.
This is their best jersey because the crown is detailed enough without being overdone. While they have toyed around with different variations of crowns, this one is the easiest on the eyes. It is not overly obnoxious with gold like they used to include. It's a regal take on royalty.
This jersey has hints of purple without being overwhelming, so not to congest the sweater. Having "Los Angeles" plastered along the bottom stripe of the jersey only adds to its appeal because they did not try to incorporate it inorganically into the crown.
Other jerseys of their have been over design and borderline gaudy, but this one has a balance that their previous designs lacked. Simply put, this sweater is proof of how important it can be to get color balance right. It is proof of how well using a unique color can pay off when used as more of an accent than the main focus. For that reason, it's a hit for the Kings.
13. Florida Panthers
The Florida Panthers ditched their old design and debuted this beauty last offseason. While their old sweaters were tough on the eyes and suffered from a severely dated appearance, this version is fantastic.
Red is still a predominate color in their jerseys and that works perfectly with the faded gold and white. Their take on red is not quite as bold as other franchises, but that is not a big deal considering they would never wear their home jerseys at the same time as an opponent.
The emblem itself features a more distinguished panther in a plaque of sorts. That change alone make it worlds better because their old design was a panther that was aggressively launching at viewers.
As with most redesigns of jerseys and logos in the past few years, this one is a modern take. The appeal for more updated jerseys is something people either love or hate, but this could seemingly please everyone.
Maybe the reason this jersey works so well is that it is reminiscent of professional soccer jerseys, or maybe it's the Olympic-esque nature of the design. Whatever it is, there is no doubt that the Florida Panthers did themselves a favor with this design.
12. Edmonton Oilers
The Edmonton Oilers have the monopoly on the orange and blue color spectrum as far as most people are concerned. They're iconic for taking advantage of the bright color duo, despite having entered the league later than a team like the Islanders which also uses a similar palette.
Regardless, this is the Oilers' best jersey because it highlights the vibrant capability of a rich orange and royal blue. Other variations of theirs lack in this aspect, ditching the royal blue in favor of a more navy tone.
The font for the numbers, the details on the gloves and helmet make this look come together. That is, with exception of the dull orange seen on the pants in this image. Overall Edmonton's crest is essentially the same as the one used when they were apart of the WHA, before they joined the NHL.
It is still a good option for the team as redoing it risks backlash, something that a lot of NHL teams are familiar with.
It would be nice to see the Oilers take a risk in the future and not stick to the status quo. They have an opportunity to redo their emblem and rebrand a team that is finally starting to look like a club featuring numerous high draft picks.
11. Detroit Red Wings
Detroit hasn't strayed from their wheel design too often in their 90 year existence, but this was a hit. Used in the 2009 Winter Classic, the Wings played up the original "D" emblem design from their inaugural season.
It pops on the thick, bright red stripe that runs across the player's chest and onto the sleeves and it's all in all gorgeous. This is essentially a manual on how to take a vintage design and make it more modern. The subtle wheel emblem on the pant leg and the stripes on the shin covers only add to the simple, but detailed design for Detroit.
Although their wheel logo is still a great look, and seems to withstand the test of time, this ode to their origin is a great representation of how far the team has come. Detroit is an ever-changing city and is developing into something much different than it once was.
It is logical to anticipate a change in the sports organizations as well. Maybe with this being the last season for Joe Louis Arena, the Wings will be inspired to debut a new look. Or maybe they'll go back to their roots, like they did for the '09 Winter Classic.
10. Dallas Stars
The Stars have gone through a few a handful of jerseys in their time in Dallas and some have been hits, while others have been borderline tragic. This style, used from the late 90s to mid 00s, was their greatest hit. The jersey features an outline of a star that was seemingly placed down over the player's head.
It's a brilliant concept and it was executed beautifully. Despite its rather overwhelmingly 90s feel and look, this sweater captures the essence of the franchise and really made them feel separate from their Minnesota North Star past.
This logo was a great way to incorporate the old with the new. Although this sweater design differentiated the Dallas Stars from Minnesota, the logo itself was used for the franchise's last two years in the north. Its lack of association with the North Stars, though, made it reasonable to remain despite the location switch.
Overall this jersey is a great way to depict an otherwise boring mascot. Simply plastering a star on a jersey doesn't do much for the eye, but strategically placing it over the top of the jersey makes for a much more visually appealing design. It is easily the most creative in Stars history.
9. Columbus Blue Jackets
The Blue Jackets are yet another team with a challenging mascot. Their traditional star emblem design is confusing and has little to do with the Blue Jackets at all. That other logo, which features a star with the Ohio state flag wrapped around it, is bland to say the least.
The Ohio flag is not one of most recognizable flags in the United States and the stars seemed out of place for a team named the Blue Jackets. The attempt at a patriotic design is notable, but the execution just isn't there.
Incorporating the cannon and plainly stating "Columbus Blue Jackets" makes the jersey easier for newcomers to the game to identify and it is just plainly more aesthetically pleasing. This design makes the cannon the main focal point. That makes perfect sense because every time the Jackets score at home, a cannon goes off.
From a strategic message standpoint, it's ingenious to tie the two elements together in one jersey. It reinforces the fact that Columbus is unique in their cannon-firing method of celebration and it further perpetuates the experience of attending a Blue Jackets home game.
Hopefully the Jackets can take a more logical and literal approach to their next design, but until then this is by far their best sweater option.
8. Colorado Avalanche
The Colorado Avalanche pay homage to the old Colorado Rockies, which became the New Jersey Devils, with this design. Playing off the Rockies old triangle emblem, the Avalanche made this tribute and it is by far their best jersey.
Not only does it actually include an identifiable mountain, but it is a modern take on the first NHL franchise to call Colorado home. Historical ties are a challenging thing to do because fans are often even more critical of new designs that draw inspiration from older ones, but this works.
In keeping with their navy, maroon and white color palette the Avalanche made a jersey that is noticeable without being overbearing. It is so modern that it essentially screams of newness. That is an important feature for a team that is rebuilding and hoping to become a leader in the league yet again.
Their old logo is inferior to this in nearly every way. Its use of an "A" as a mountain is a nice idea, but it did not pan out as anticipated because it was more confusing than anything. The puck at the base of the snow in that logo is lost on most and that makes the tie to hockey completely lost.
In comparison to their past jerseys, this is the only one that really intelligently grabs your attention. It isn't a cheap knockoff of the Rangers' signature diagonal style that the Avalanche tried as their alternate sweater from 2009-15. It's uniquely theirs.
7. Chicago Blackhawks
The Chicago Blackhawks created a design similar to this back in 1955 and since then, it's stuck. Although there have been evolutions in the Native American head emblem over the last sixty years, the overall design has stayed extremely consistent.
Probably because its a look that is representative of a team that's the closest thing to a dynasty modern hockey has seen. Probably because it's been one of the most popular jerseys still. Probably because changing it is too big of a risk to take.
The Native American head is detailed and features four distinct feathers of red, green, yellow and orange. It also has face paint on the man's cheek and chin. Their jersey is, rather obviously, scrutinized for its cultural significance. While that isn't something to argue plainly or take lightly, the franchise was named after a division of the military, that its founder was a part of, called the Blackhawks.
That division was, however, named after a Native American leader. The logo itself was designed by the founder's wife and has since been updated a few times.
Although it'd be nice to see a revamped Chicago jersey hit the ice in the upcoming years, this design has been around for so long because it is rather timeless.
6. Carolina Hurricanes
The Carolina Hurricanes have a natural disaster as their mascot. While that is an intimidating thought, creating a jersey and emblem design around it is a challenge.
Since joining the NHL in 1998, the Canes have stuck to their original emblem design. It is actually a modified version of the symbol of a hurricane in Carolina's colors of black, white and red.
The design itself is okay. It is not the best in the league, but it is not necessarily the worst. There are not that many options when it comes to recreating a hurricane if they were to go in a very literal sense. They could try to do something related to the Carolinas, but in all actuality this is probably their best bet.
The sweater has basic stripes throughout and on the shoulders, which is nice but not revolutionary. Adding details like laces or something a little more distinguishing would really take this jersey to the next level.
Maybe their next redesign will feature a logo change, but until then this will continue to identify them as a franchise.
Nonetheless, this sweater is the best the Hurricanes have come up with. It seems like it can withstand the test of time moving forward, which is always a good thing for a jersey.
5. Calgary Flames
The Calgary Flames took their logo very literally when designing the flaming "C." It is an eye-catching design, but it needs more to be fully impactful and that is exactly what this version does.
The simple addition of "Calgary" written in script above the "C" emblem makes this jersey much more visually pleasing because it is more than just a letter and a few flames. The logo design works extremely well shrunken down because it really does not have too many little details, making its smaller version almost seem intentional.
This jersey also includes a lot of little details that give it character. The should patches feature a "C" surrounded by sun rays, peeking out over mountains with the word "Flames" written plainly above.
Another detail that further contributes to the strength of this jersey overall is the letting used to distinguish leadership. They have further expressed their brand image in the font used by incorporating flames into the "A". That is a creative way to further push the mascot without being over the top.
All in all this jersey is the best the Flames have ever had because it makes note of all the little details of the franchise that could otherwise go overlooked. Their past sweaters suffered from being too simple, but this version has just enough going on to keep people interested.
4. Buffalo Sabres
The Buffalo Sabres are a team that has taken more risks than the average franchise in the NHL. They overhauled their traditionally blue, gold and white color scheme to black, red and silver back in 1996 without much of any reason other than the fact that they got a new arena.
Ultimately that decision backfired and the team returned to their blue, gold and white roots after ten years of rather strange jerseys and emblems. Still, their ability to entirely transform the brand's image is something to admire. A few teams around the league could use a similar dose of courage in their emblem and jersey designs.
Before all of that, though, Buffalo had this design. It is a beautiful look that incorporates two saber swords as well as a buffalo. While that is a very literal interpretation of the team and its location, it works.
That coupled with the varied golden stripes along the base of the torso and otherwise very simple dark blue background makes for a great sweater.
Maybe the best part of this design is that it was used as an influence for future jersey to come. The Sabres still use this crest to this day, despite numerous jersey transformations.
3. Boston Bruins
Boston has a number of great jerseys. Their traditional "B" emblem is great, but this jersey stands out among the rest. For a team with a mascot that is so easily translatable and intimidating, it is no wonder the B's finally took advantage of the original Bruins emblem from the 1924-25 NHL season.
Everything from the font to the bear itself works on this sweater because it mixes the vintage with the new of age. In still ringing true to Boston's classic color scheme, this jersey makes its case for being the franchise's best rather simple.
The spoked "B" crest that is so familiar to hockey fans is great, but it lacks the very thing that Bruins are. It doesn't identify the predatory factor of their mascot in a recognizable way and that's one of the biggest strengths of this version.
It was intelligent to leave the rest of the jersey plain, so that the logo could truly be the focal point.
Plus the fact that the designers were able to utilize the original logo of the team makes this jersey so much better. It goes to show the timelessness of a good idea and this jersey represents the bones of the Bruins as an organization.
2. Arizona Coyotes
The Arizona Coyotes have collectively featured some of the weakest jersey designs in the league. There is not anything too special about their traditionally bland jerseys because they are quite stereotypical.
The logo could use a redesign because it is just a coyote bearing its teeth. It lacks to say anything about the brand of Coyote hockey and it does not even identify the team's location.
When the Phoenix Coyotes became the Arizona Coyotes back at the start of the 2014-15 season, it seemed like a good opportunity to make alterations to their jerseys. However, almost nothing was changed.
They ditched an underwhelming design of a full-bodied coyote on a black background in favor of running with two jerseys, but other than that they remained nearly the same. To make the jersey relevant, though, the Coyotes altered the shoulder patches to read "AZ" instead of "PHX".
The name change was the perfect opportunity to revamp the organization, but for whatever reason no one took advantage. They could have rebranded their franchise and make it more modern, but opted to maintain the status quo.
With that said, this is their best version. The maroon shade of red contrasts the white background rather nicely and the logo itself is able to pop.
1. Anaheim Ducks
Anaheim hit the nail on the head with this design. It is the perfect combination of retro with modern aspects and it is by far their best sweater to date. The throwback Mighty Ducks emblem coupled with the bright burnt orange base gives this sweater a unique look that other Ducks jerseys have lacked.
What makes it even better is the fact that the Ducks did not provide any press surrounding the release of this sweater. There were not press releases. There wasn't a jersey reveal party. Nothing. Anaheim simply went into the 2016-17 season and skated out onto the ice in their new jerseys.
How they pulled that off in this day and age of social media is unknown.
That's a bold move for a franchise that has been pretty reserved since becoming the Anaheim Ducks back in 2006. The design itself features a logo using the original Mighty Ducks one from 1993, but with color changes. Other than that, though, the emblem remained intact.
Nonetheless the Ducks have a heritage to their franchise and the fact that this jersey celebrates it is something to note. It's hard to do justice to something that was so prevalent in Anaheim's hockey history, but this design is the right amount of old and new.
More from FanSided
This article originally appeared on