2017 NHL Playoffs: Anaheim vs. Edmonton Series Prediction
Matt Duscharme/FanSided via Puck Prose

Fansided
The Second Round of the 2017 NHL Playoffs Starts on Wednesday. Meaning we are Getting Closer and Closer to the Stanley Cup, Who Will Win it? Follow This Series to Find Out!
BREAKDOWN OF THE TEAMS FIRST ROUND:
The Ducks had a terrific first round against Calgary in the 2017 NHL Playoffs, they were pressured every game but their experience helped them overcome the adversity and pull off a four-game sweep. However, they still have a depleted blue line with the injuries to Cam Fowler, Sami Vatanen, and Clayton Stoner. But that's meant the rise of Shea Theodore and Josh Manson. Edmonton surprised us all when they were able to knock off the San Jose Sharks in six games. Mostly due to the fact Edmonton hasn't touched playoff ice since 2005-06 and San Jose made the Cup Finals last season. Cam Talbot and Connor McDavid were key parts to the team's success against San Jose but lost offensive defenseman Oscar Klefbom.
SPECIAL TEAMS: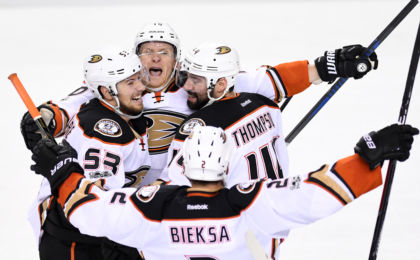 The Ducks power-play helped them a lot in round one which currently sits fourth in the playoffs at 23.1 percent. Their penalty kill, however, wasn't as fortunate. They sit dead last in the playoffs at 62.5 percent. So if they can keep their power-play productive and scoring that should put a lot of pressure on Edmonton. They obviously need to improve their PK but it shouldn't be challenged too much granted how poorly the Oilers have done on their power play.
Speaking of the Oilers power play they sit 14th in the league at 12.5 percent and their PK isn't much better since it sits 10th in the league at 80.8 percent. So it's definitely going to come down to even strength scoring, and if Anaheim gets's power play chances they have a serious shot to capitalize on them. However, if Edmonton can improve those two areas of the ice, thing's will strictly come down to even strength play.
EDGE: Anaheim
OFFENSE: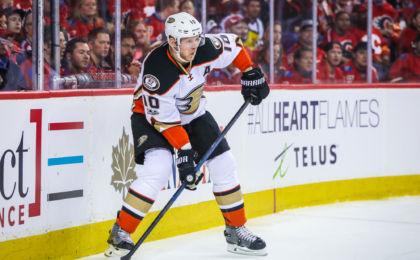 The Oilers offense has been average putting in 12 goals in six games which have them sitting 11th in the playoffs. Connor McDavid has the team lead in scoring four points so far which isn't surprising but sitting second is Oscar Klefbom who is now down with an injury, which means someone is going to have to step up and fill that void. Anaheim has had great scoring so far, they have three players who are tied for the team lead with five points, Ryan Getzlaf, Rickard Rakell, and Shea Theodore. The Ducks also sit sixth in the league with 14 goals for at 3.50 goals-for-per-game while Edmonton is at 2.00 goals-for-per-game. So Anaheim can clearly put the puck in the net, but Cam Talbot is much better than Brian Elliott or Chad Johnson.
EDGE: Anaheim
DEFENSE: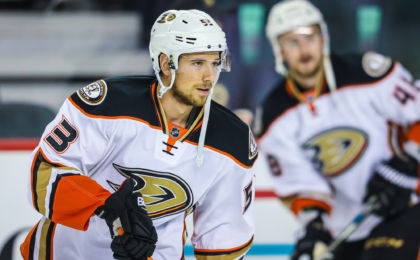 Another area where the Ducks have the Oilers beat is defensive play despite the injuries to Cam Fowler, Sami Vatanen, and Clayton Stoner. But the production has been picked up by Josh Manson and rookie Shea Theodore. The team has only allowed nine goals-against which is good enough for third place. The Oilers, on the other hand, sit 11th in the league with 14 goals-against. That's an area that needs to improve as well, or Edmonton will be facing a second round exit.
EDGE: Anaheim
GOALTENDING: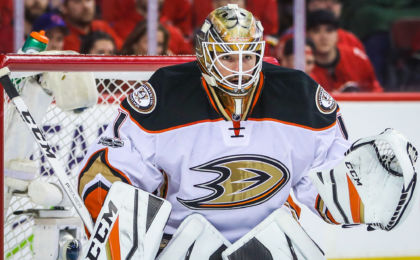 Cam Talbot has been solid as solid can be granted the Oilers poor penalty kill and defensive play. He owns a .927 save percentage and a 2.03 goals-against-average. So he definitely was a key part of the Oilers success over San Jose. But John Gibson has been just as good, posting a .926 save percentage and a 2.59 goals-against-average. And let's not forget the fact that Jonathan Bernier posted a shutout in a full game of play this post-season. The Oilers had Laurent Brossoit play in a game as well but he didn't fair out so well, he finished with a 4.42 goals-against-average and a .750 save percentage. So this series will be relied upon when it comes to the starters cause there's no way Edmonton starts Brossoit again unless Talbot goes down with an injury, especially against a higher scoring Ducks teams.
EDGE: Anaheim
SERIES OUTCOME:
This is going to be another great series for the Oilers to prove they are no joke, but San Jose had a few players that played with serious injuries and had guys who couldn't put the puck in the net no matter what, for instance, Mikkel Boedker and Jannik Hansen. The Ducks though are fresh and the injuries they do have were before the playoffs started so they are good to go. If this series comes down to the goaltenders and how well they play, special teams will be the next factor and since Anaheim is much better on the power-play than Edmonton, the Oilers could be in serious trouble this time around.
FINAL SERIES RECORD: Anaheim wins the series 4-2.
PREDICTION: WASHINGTON 4-1 OVER TORONTO
ACTUAL OUTCOME: CAPITALS WIN 4-2
PREDICTION PERCENTAGE: 50%
PREDICTION: MONTREAL 4-3 OVER RANGERS
ACTUAL OUTCOME: RANGERS WIN 4-2
PREDICTION PERCENTAGE: 0%
PREDICTION: SAN JOSE 4-2 OVER EDMONTON
ACTUAL OUTCOME: EDMONTON WINS 4-2
PREDICTION PERCENTAGE: 50%
PREDICTION: ANAHEIM 4-2 OVER CALGARY
ACTUAL OUTCOME: DUCKS WIN 4-0
PREDICTION PERCENTAGE: 50%
PREDICTION: BOSTON 4-2 OVER OTTAWA
ACTUAL OUTCOME: SENATORS WIN 4-2
PREDICTION PERCENTAGE: 50%
PREDICTION: PITTSBURGH 4-2 OVER COLUMBUS
ACTUAL OUTCOME: PENGUINS WIN 4-1
PREDICTION PERCENTAGE: 50%
PREDICTION: CHICAGO 4-3 OVER NASHVILLE
ACTUAL OUTCOME: NASHVILLE WINS 4-0
PREDICTION PERCENTAGE: 0%
PREDICTION: MINNESOTA 4-3 OVER ST. LOUIS
ACTUAL OUTCOME: BLUES WIN 4-1
PREDICTION PERCENTAGE: 0%
This article originally appeared on