Would the NFL really discipline the Browns over RG3's pregame throws?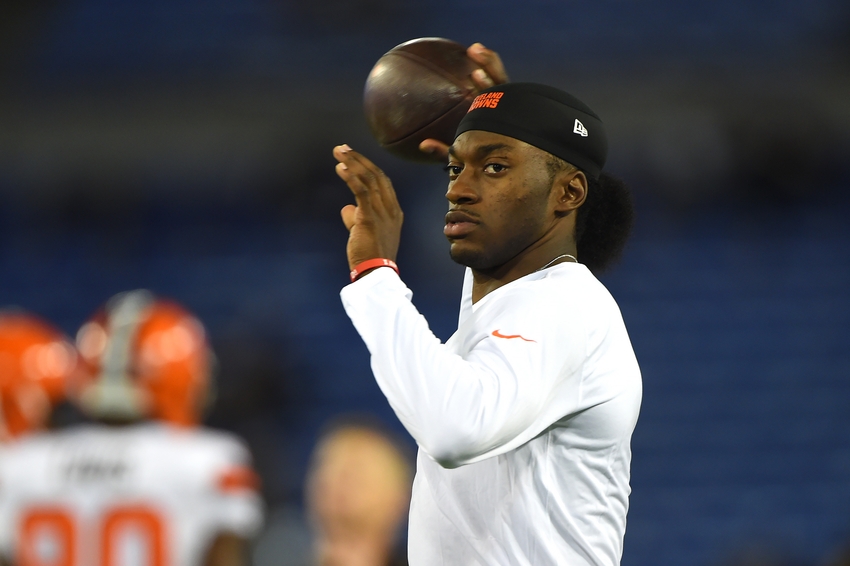 Cleveland Browns quarterback Robert Griffin III threw on the field prior to Thursday's game. Did the injured QB's work violate NFL rules?
Twenty passes, give or take, is all it took for the Cleveland Browns to inexplicably find themselves under the ever watchful eye of the NFL.
That is approximately how many passes quarterback Robert Griffin III, still on injured reserve with a shoulder injury suffered in Week 1, threw prior to the game on Thursday night against the Baltimore Ravens.
Even though he is not on the active roster Griffin is allowed to play catch with his teammates, provided he puts down the ball at least 60 minutes prior to kickoff. There is an eyewitness, unnamed of course, who claims that Griffin was still throwing at 7:30 p.m., which would have put him in violation of NFL rules.
Which led to head coach Hue Jackson having to address the situation earlier today.
"As far as him throwing on the field, I do know and I have heard about that," Jackson said. "That is something that obviously the league is taking a look at, and hopefully, there is no issue with that. I believe there will not be, but we will see how that goes, too.
"From what I know, we did not break the rules. Obviously, until the investigation is complete, you don't know. We will wait for them to have that down, but hopefully, everything will be alright as far as that is concerned."
Mary Kay Cabot from cleveland.com posted video and a photo showing that Griffin was finished with his on-field work by 7:15 p.m., which if the NFL accepts that should be enough for everyone to move along.
#Browns RG3 threw between about 7:00 and 7:15, which was more than 60 minutes before the game started. Therefore, no #NFL rule broken

— Mary Kay Cabot (@MaryKayCabot) November 11, 2016
But in a season that has seen the Browns hit historic lows by losing their first 10 games and be on pace to give up a franchise-record number of points, among other woes, would anyone really be surprised if the NFL levied some kind of punishment?
If that were to happen it would be easy enough to make a joke about how the "bumbling Browns" can't even get through a pregame session without screwing up, seems like the league should have more important matters to deal with.
It's not as if having Griffin throw to a wide receiver who barely sees the field is giving Cleveland some kind of competitive advantage. Griffin's tenure in Cleveland is most likely over after less than four quarters of football, so what's the harm in him playing a little catch before a game?
Of course this is the NFL, so it wouldn't really be a surprise if they found an answer to that question that did the Browns no favors.
More from Dawg Pound Daily
This article originally appeared on