Wire: Breaking down the AFC and NFC championship games
By Sunday evening, we will have our Super Bowl matchup.
It will be New England or Denver out of the AFC and San Francisco or Seattle out of the NFC.
Let's take a closer look at each conference championship game and highlight where each will be won.
AFC Championship Game: New England Patriots at Denver Broncos
Everyone in the football world knows what Peyton Manning is capable of. We also know what kind of genius Patriots coach Bill Belichick is.
I talked to my former teammate Lawyer Milloy, who won a Super Bowl when he played for Belichick and the Patriots, and asked him to describe Belichick's basic philosophy. "When you're in the playoffs, you pick one attribute and you take it away," he said. "Belichick was so good at that. He would start each week with a breakdown of the opposing players, and he would then point out the one guy who would not beat them that week."
That one guy this week will be Manning, and therefore I think we'll see another heavy dose of Knowshon Moreno and the Denver run game like we did when Denver took New England to overtime in Foxborough in Week 12 by rushing for 280 yards (Moreno had 224). The Patriots will load up to neutralize Manning and see if Moreno can repeat his performance.
Manning will have to make some key third-down throws, but with several of New England's key run stoppers out due to injury, Denver's chances of winning will depend heavily on its ability to run the ball, specifically against Cover 2 Man.
Cover 2 Man is a kick-butt defense designed to stop the pass, and New England had great success doing that in its 34-31 OT victory over Denver. In that game, the Patriots held Manning to his lowest completion percentage of the season (52.8), his lowest passer rating of the season (70.4), sacked him twice and intercepted him once.
Here's what it looks like: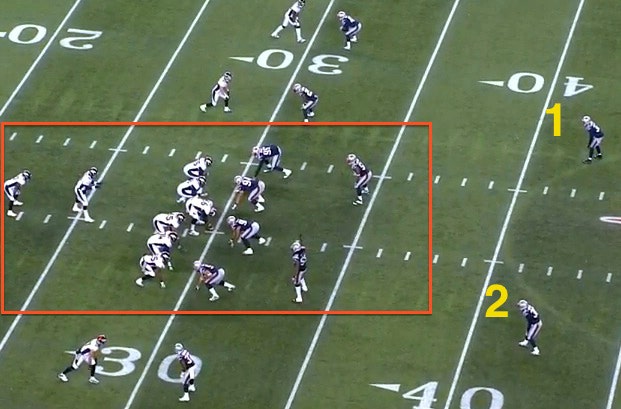 As you can see in the photo, Cover 2 Man consists of two safeties aligned deep (or "high") whose first priority is the pass, with run support being second.
The other defensive backs are locked and loaded on their pass coverage responsibility. They would line up facemask-to-facemask if they could. They have ZERO run responsibility.
This means New England will have only six men in the box geared up to stop the run while Denver will have seven guys in the box — or one extra man (two extra if you include Manning, but he's not a running quarterback and therefore we won't count him as a threat). It's obvious why this defense's weakness is stopping the run.
Close to 90 percent of New England's defensive pre-snap alignments looked just like the one shown above in its last meeting with Denver. When Manning saw this look, he simply took what the defense gave him: the run game. While I'm sure it was frustrating not to throw the ball, Manning aligned Moreno behind him in a Pistol formation, and the Broncos were highly effective on the ground.
New England is a bit different, because you can't be too certain about what you'll see.
Having played six years for Buffalo, I had the privilege (and burden) of playing against a Belichick-coached and Brady-led team twice every year. The Patriots' ability to shed the skin of their offensive identity each week, in order to become the best version of themselves to beat the upcoming opponent specifically, was most astounding.
Because the Patriots change up their offensive M.O. regularly, it's difficult to prepare for them. But we can look at their last three games to get a glimpse of the morphing amoeba that is their offense. Two points to note:
1) Against Indianapolis last week, they used two tight ends on almost 50 percent of snaps. In Week 17 against Buffalo, they used two tight ends on only 31 percent of snaps.
2) Against Baltimore in Week 16, New England was extremely lopsided, using two running backs on 28 percent of snaps and one running back on 72 percent. The following week (against Buffalo), the balance returned with two running backs on 51 percent of snaps and one running back on 49 percent.
In their first matchup with Denver, the Patriots had a unique offensive approach in which they didn't have any running backs in the backfield on many of their snaps. A large portion of their game plan was to spread the Broncos' defense out, attack the depth of their secondary and force them to cover the width of the field in the pass game.
Many of New England's plays were run from an "empty" or "spread" formation such as this one: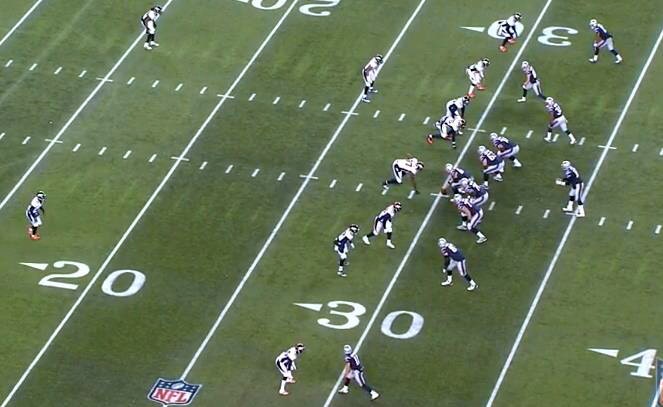 There's no way for Denver to predict if it will see multiple tight ends, multiple running backs or one (or none) of each when it lines up against New England this week. That's what makes this game fascinating. For a football nerd like me, waiting to see the Patriots play offense is a bit like waiting for Christmas morning.
Ultimately, I think the outcome of the game will depend on what we talked about first — New England's ability to neutralize Manning while not getting thrashed by the ground game. If they can do that, they have a good chance of winning in Denver.
But if the Broncos get another hefty amount of Cover 2 Man and rack up a bunch of yards on the ground again — and not turn the ball over four times like in Week 12 (giving Brady four extra possessions is never a good formula for success) — they will be crowned AFC champions and find themselves in the Super Bowl.
NFC Championship Game: San Francisco 49ers at Seattle Seahawks
There's no strategy that allows a defense to neutralize every playmaker on the opposing offense, nor is there any game plan that enables it to stop both the run and pass.
The greatest defensive coaches pick one facet of the opposing offense they feel is the biggest threat and then draw up a game plan to take it away.
After watching tape of San Francisco's 19-17 victory over Seattle in Week 14, I think the 49ers will go back to the same defensive game plan they used to beat the Seahawks at home: a heavy dose of Cover 1 Rover.
This coverage allows the 49ers to play cardiac cop and arrest the heartbeat of the Seahawks' offensive attack — Marshawn Lynch and the run game — by playing with a seven- or eight-man front.
In Cover 1 Rover, San Francisco can have five men rush the quarterback while playing one-on-one coverage in the secondary with a "low-hole rover" and a "high-hole rover."
Check out this photo: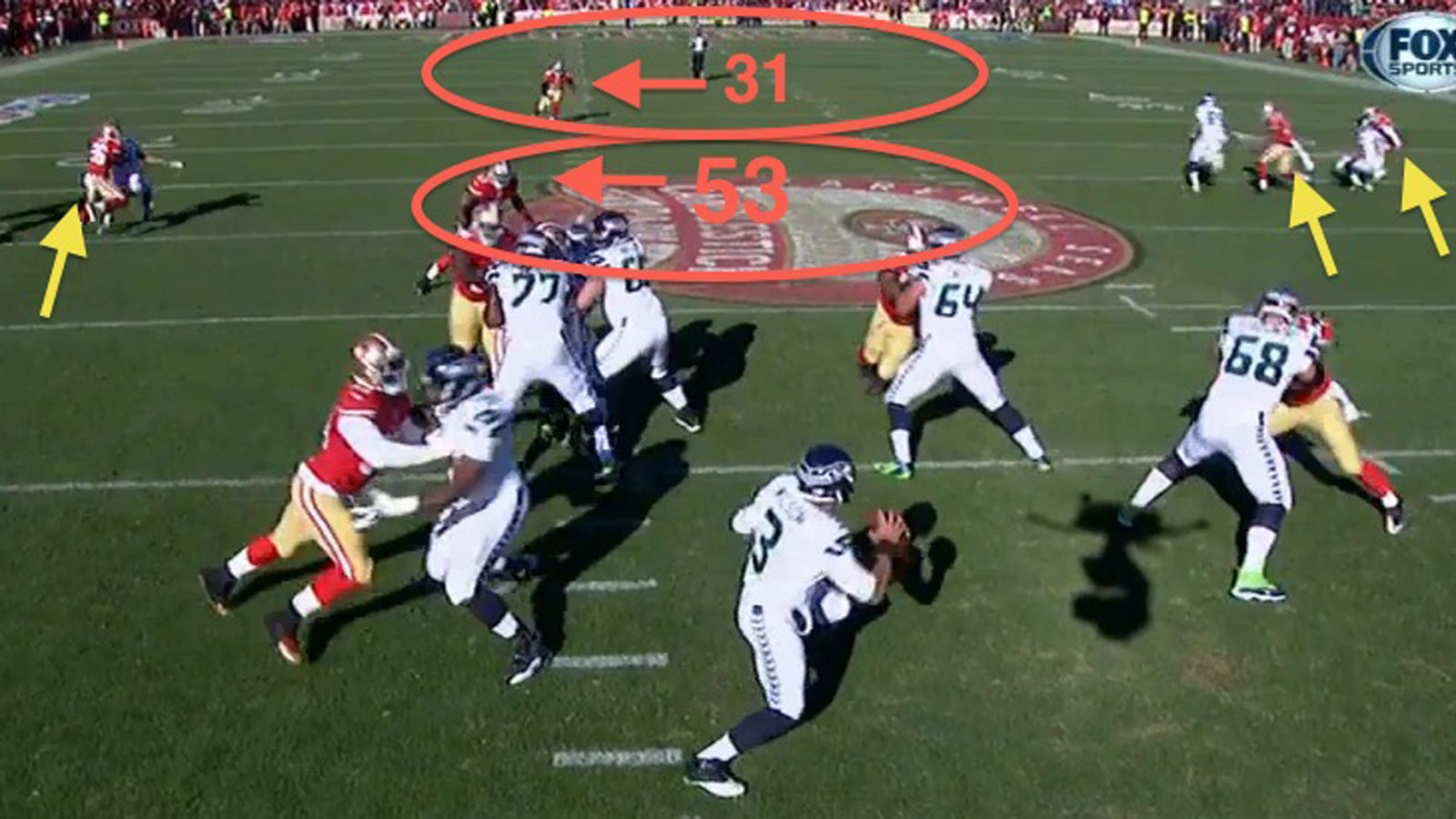 You can see this coverage allows for a five-man rush against this formation. That means that the Seahawks' ability to protect Russell Wilson on this play consisted of one-on-one matchups across the board. It's difficult for an O-Line to consistently sustain one-on-one blocks when the D-Line runs stunts and games at a dizzying pace. Someone pops free eventually.
You'll also see the 49ers did a great job of playing disciplined technique in the secondary in this coverage. The defenders who were in man-to-man coverage took away all outside-breaking routes by the receivers by maintaining outside leverage, while the shallow rover (No. 53, NaVorro Bowman) and deep rover (No. 31, Donte Whitner) roamed the middle to take away any inside-breaking routes. Perfect execution.
The low-hole rover is the key arrow in the quiver of this coverage when facing a mobile quarterback like Russell Wilson, who can take off and run when the pocket collapses and there is nowhere to throw the ball.
Here's another photo: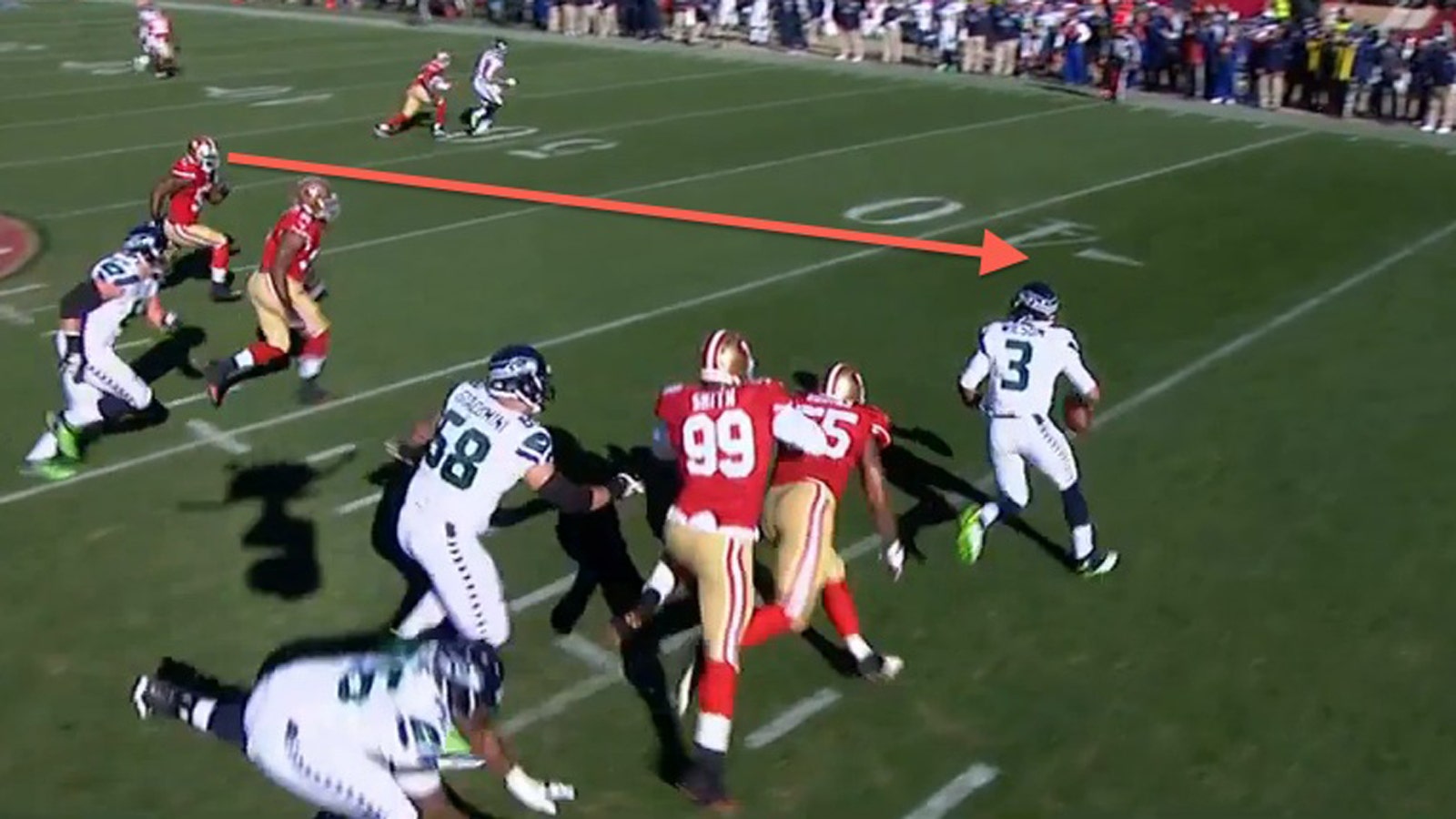 In this one, the low-hole rover (Bowman), whose responsibility is also to spy the QB in this coverage, becomes a heat-seeking missile when Wilson takes off running. This play resulted in a bone-crushing hit on Wilson and a forced fumble.
The key to a successful Cover 1 Rover defense is the players in coverage remaining disciplined with outside leverage and using their "hole defenders" for inside support, allowing the defensive line enough time to flush the QB to run.
How effective was this defense for the Niners in their victory over the Seahawks? They ran it on the first five third-down attempts of the game, and four of those resulted in either an incompletion or a sack. There was only one completion.
In that game, the Seahawks ran the ball 23 times for only 86 yards, while Wilson went 15 of 25 for only 178 yards and was sacked twice. In the first game between these teams (a Seattle win in Week 2), the Seahawks ran a whopping 47 times for 172 yards.
So what was the difference? A lot of it was San Francisco's defensive adjustment and shift to Cover 1 Rover.
I expect San Francisco to utilize another heavy dose of Cover 1 Rover on Sunday. If it's as successful as in Week 14, the Niners will be off to the Super Bowl.
The Seahawks' chances of earning an opportunity to play for the Lombardi Trophy will depend on whether or not their wide receivers are able to win the one-on-one matchups against the Niners' defensive backs (as seen in the first photo above), giving Wilson another way to attack.
Coy Wire is a college football analyst for FOX Sports 1 and writes CFB and NFL for FOXSports.com. He played college ball at Stanford before spending nine years in the NFL with Buffalo and Atlanta. Follow him on Twitter at @CoyWire.