Will Todd Gurley Benefit From Jared Goff at Quarterback For Los Angeles Rams?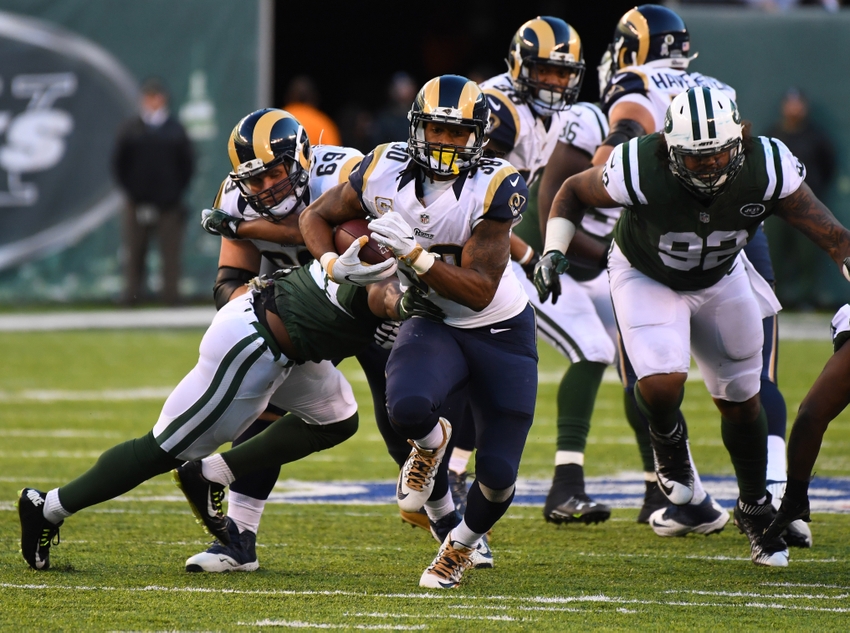 Todd Gurley hopes Jared Goff as quarterback for the Los Angeles Rams will help take some pressure off of the ground game.
After taking home Rookie of the Year honors in 2015, expectations were high for Todd Gurley entering his sophomore season with the Los Angeles Rams as many believed he was even capable of competing for the rushing title.
Instead, Gurley has been one of the biggest disappoints of the 2016 season, but the argument can be made one of the reasons for that happening is due to inconsistent play at the quarterback position. Despite the team's weak receiving corps, Case Keenum should have been able to help Los Angeles average more than just 15.4 points per game.
For a team that's managed to win two games this year without scoring a single touchdown, the Rams should consider themselves lucky for being 4-5 heading into Sunday's game against the Miami Dolphins.
Now that Keenum will be watching from the sidelines after Jeff Fisher announced Jared Goff would be the starter against the Dolphins, the Rams hope the change at quarterback will also benefit Gurley in the ground game. One of the reasons behind Gurley's struggles this season has been due to defenses stacking the box more, knowing Los Angeles wasn't as capable of doing as much damage through the air.
If all goes well and Goff provides that spark the offense has been looking for all season, this will hopefully take some of the pressure off Gurley as the rookie quarterback will look for more production in the passing game. And who knows, maybe Sunday will finally mark the first time Gurley breaks the 100-yard rushing mark, which nobody expected to take this long after rushing for 1,106 yards with 10 touchdowns as a rookie last year.
This article originally appeared on