Will The Philadelphia Eagles Leaders Please Stand Up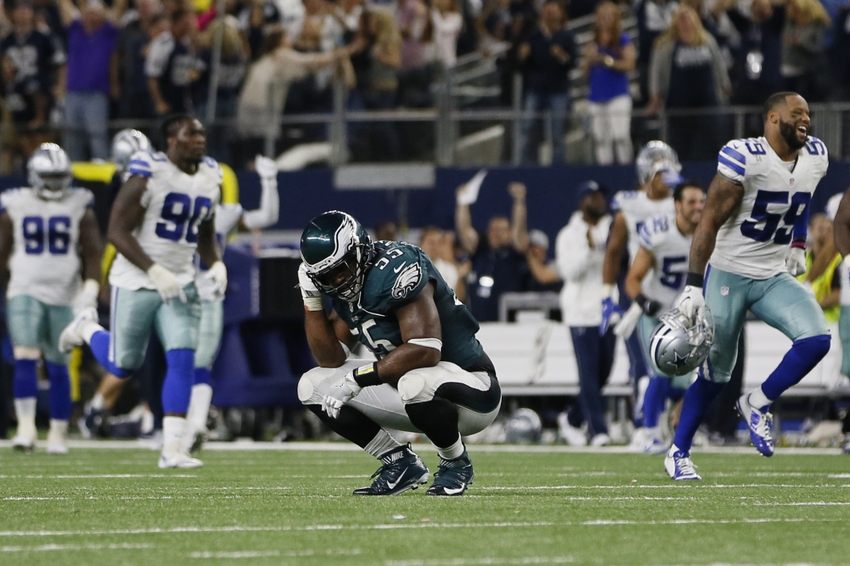 The Philadelphia Eagles are seven games into a tumultuous 2016 season. As they prepare to play their second consecutive must-win divisional game, team leadership has disappeared.
Remember when the Philadelphia Eagles were flying high this season? How about when Doug Pederson's tenure as head coach was quite possibly the greatest decision ever made by the franchise? Do we remember when Josh Huff and Jim Schwartz found their careers resurrected?
It might seem that I'm asking a lot of questions about a team that many of us didn't have high expectations for entering the season, but this is where we currently are entering Week 9. Pederson has found himself at the crossroads of his first season as head coach. Reclamation projects such as this can be messy. Cleaning up the slop that Chip Kelly left on this roster will take it's time, but patience isn't one of my virtues.
As we all know, Huff was arrested this past week on a bevy of charges. He was subsequently released from the team. Huff was 11th in the NFL with 252 kick return yards on just seven returns. His 36.0 yards per return is second to only teammate Wendell Smallwood (46.3). As good as Huff was returning kicks, he simply didn't use good judgment and paid the consequences. Some of the current Eagles had some interesting things to say about his release, with most in agreeing that it was a business decision made by the team.

Not included in this video was Malcolm Jenkins. Jenkins insinuated that Huff's release was a bigger distraction than Huff's actions.
"I think if you ask anybody in the locker room, 'Do you think Josh Huff is a bad guy or a bad apple?' I don't think anybody would say that," Jenkins said. "It's not for us as players to weigh in on or have any part of, but as a teammate, obviously, we wish he was in the building."
That's the kind of response this team and Pederson do not need in my opinion. Unfortunately it's a response that comes as a result of failed leadership. Pederson's tepid press conference left many doubting his role as a disciplinarian. Is he simply a lame duck coach under the guise of Howie Roseman? Following Nigel Bradham's arrest during the bye week, this team from top to bottom needed to know the consequences of their actions on and off the field. According to Jeff McLane's report, the locker room has become far too comfortable with the status quo.
How about Schwartz's vaunted defense collapsing under the pressure of bright lights? Bennie Logan's absence has certainly affected the defensive front. Unfortunately, it appears that Fletcher Cox, the recipient of 12 Brinks trucks worth of money this offseason, has not lived up to his contract.
Of course, according to Cox, the Eagles were the best team on the field last Sunday. Sorry Fletcher, but according to the scoreboard, you weren't. Ill-conceived logic like that is the very thing Los Angeles Rams head coach Jeff Fisher described as "7-9 bull****" during Hard Knocks. Right now, 7-9 looks appropriate for this team, if we're lucky. This team had an identity before the bye week. Since then, it appears the leadership on this team forgot to return to play out the rest of the season.
Today's tilt with the New York Giants is the proverbial fork in the road. There are currently six teams, including the Giants, with equivalent or better records than the Eagles in the NFC. Philadelphia has a meager 2-3 record in the conference, and is 0-2 in the division. A loss today would not eliminate the Eagles from postseason contention, but it would make the road to victory extremely difficult. Going 0-3 in the division at this point in the season would be crippling for the tie-breakers in January.
Of course, there's still a long way to go. Doom and gloom can be rectified by winning football games. The losses to the Detroit Lions and Washington Redskins were forgiven after trouncing the Minnesota Vikings. Likewise, a win over the Giants could lessen the pain inflicted by an overtime loss to the Cowboys. The Eagles will need leadership in order to accomplish this task however. Huff's departure cannot be allowed to distract this team from it's ultimate goal. So today, the only question is: Will the leaders of the Eagles please step up when this football team needs them the most?
More from Inside the Iggles
This article originally appeared on