Will Robert Griffin III start for the Browns in Week 14?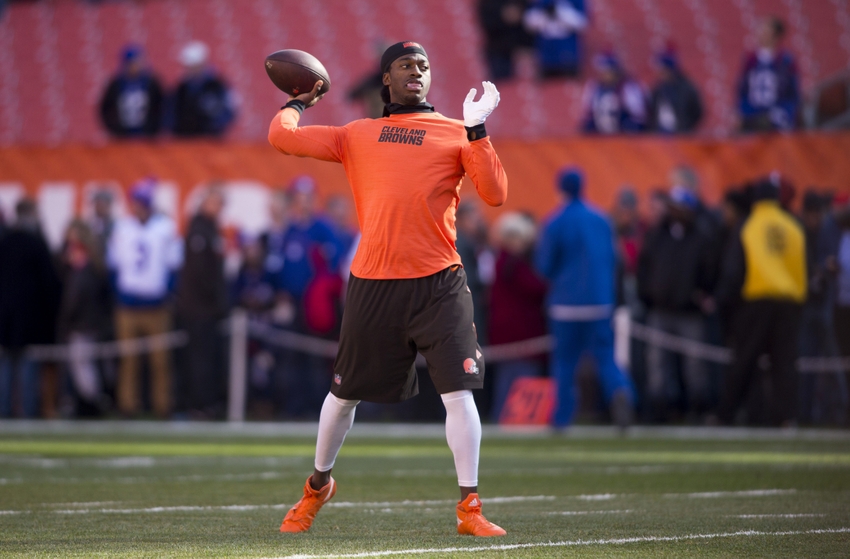 At 0-12 heading into their bye week, should the Cleveland Browns turn to Robert Griffin III under center in Week 14?
With an 0-12 record this season, the Cleveland Browns finally get their bye in Week 13. A winless campaign is not out of the question, and six players have seen time under center for the Browns this season. With that in mind, this nugget from ESPN's Ed Werder is not too surprising.
With #Browns on bye week, RG3 has been fully cleared for contact. Hue Jackson will let him, Kessler, McCown practice, compete, then decide

— Ed Werder (@Edwerderespn) November 29, 2016
As Werder alluded to, Robert Griffin III has been cleared for contact as he works his way back from a left shoulder injury. Rookie Cody Kessler has been cleared from concussion protocol after missing last Sunday's game, and he returned to practice on Monday. Add in Josh McCown, who has made three starts this season, and the pieces are theoretically in place for a three-man competition to be Cleveland's starting quarterback.
In late October, there was some indication the Browns wanted Griffin to play again this season if he was able to. Since earlier this month, Week 14 has been looked at the possible target date for his return. Things have progressed on that track, with his return to practice last week and the aforementioned further clearing for contact on Tuesday. So it follows simple logic that Griffin is in line to start against the Cincinnati Bengals on Dec. 11 at FirstEnergy Stadium.
Kessler has had some good moments over his eight starts this season, so the Browns would be justified if they want to see more of him over the final four games. But he has also suffered two concussions this year, so keeping Kessler off the field for the rest of the season is a viable choice too. McCown should be the odd-man out, barring injuries, which leaves Griffin as the proverbial wild card.
It's worth noting Griffin was Cleveland's Week 1 starting quarterback. He had a mediocre performance against the Philadelphia Eagles (12-for-26 for 190 yards, five carries for 37 yards), before being injured toward the end of that game.
The Browns have not seen enough of Griffin to judge him as a possible starter under center in 2017. Since they are in no position to be choosy about offering opportunities to play, a fully healthy Griffin is the best option to be the Browns' starting quarterback in Week 14.
More from FanSided
This article originally appeared on