Will Jared Goff Start For Los Angeles Rams in Preseason Finale?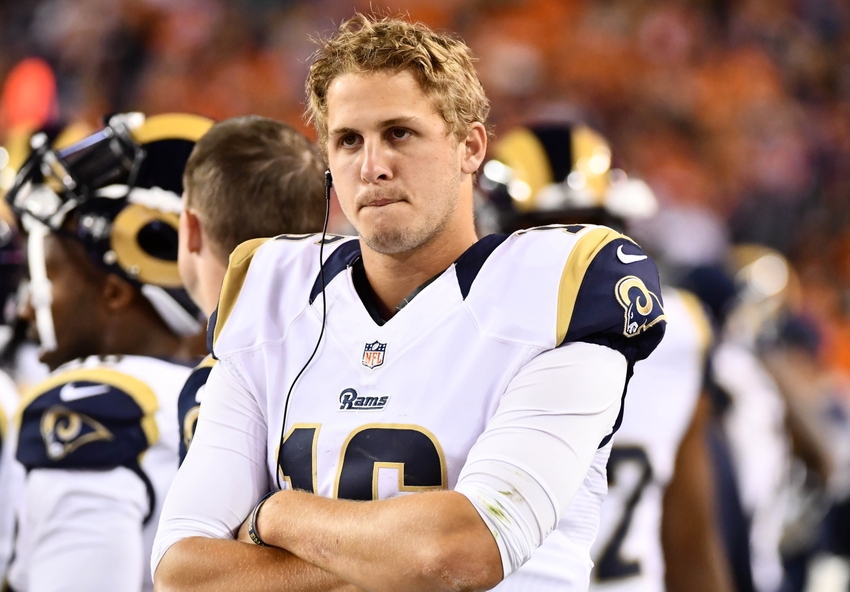 The No. 1 pick from the 2016 NFL Draft may start his first in the preseason finale against the Minnesota Vikings.
After all of the draft picks they surrendered to move up in the 2016 NFL Draft, Jared Goff knows it's only a matter of time before he officially takes over the starting job at quarterback for the Los Angeles Rams. For now, it looks like the only starting job the former California star will have could be on Thursday during the team's preseason finale.
Jeff Fisher discussed on Tuesday how Goff has a "50-50 chance" of starting against the Minnesota Vikings during the preseason finale on Thursday. Normally, teams tend to rest their starters in the finale and while Fisher is uncertain whether to go with the rookie or Case Keenum, it wouldn't be a surprise to see Goff.
While Goff has seen the typical struggles most rookies deal with, he has pulled together some impressive drives in the preseason. If anything, the start under center against Minnesota could benefit Goff if Los Angeles were forced to go with the rookie in the regular season.
If there's anything to take away from the preseason with the Rams, it would be Goff still needs plenty of experience before he's going to be fully comfortable with running the offense. Keenum may be the starter heading into Week 1 due to his veteran experience, but a start against the Vikings may give Goff an extra confidence boost if he manages to perform well against one of the league's top defenses.
This article originally appeared on