Will 49ers Quarterback Colin Kaepernick Continue to Improve?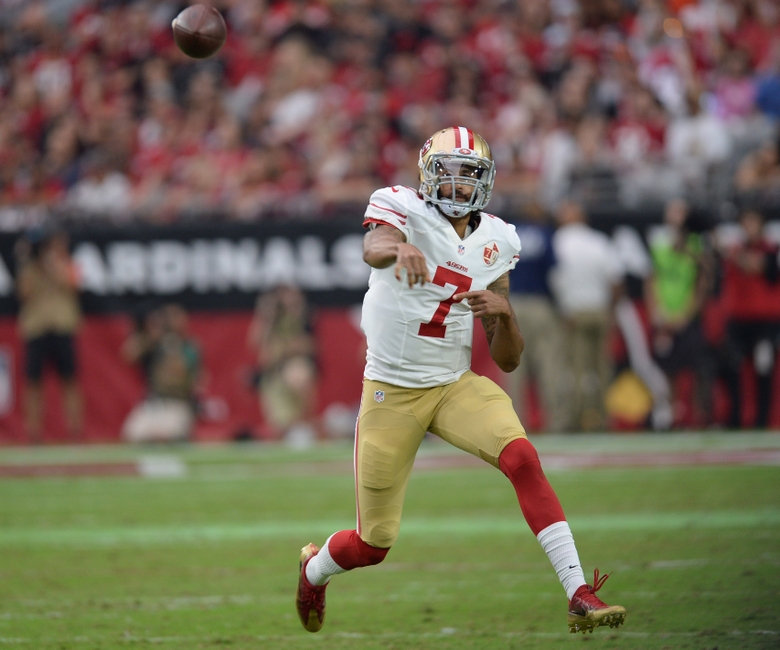 San Francisco 49ers quarterback Colin Kaepernick has shown notable improvement over his last two efforts. But with a tough schedule ahead, should we expect more of the same from the Niners' signal-caller?
The San Francisco 49ers defense, a unit allowing 5.1 yards per carry and 31.4 points per game, is also not doing quarterback Colin Kaepernick any favors, having fallen behind early in three of their last four games.
Eddie DeBartolo: Give Jed York a Chance
While head coach Chip Kelly has proven to be a better offensive mind than Geep Chryst, last season's offensive coordinator, Kelly's offense is not built to play from behind, and Kaepernick is not a quarterback that succeeds throwing the ball 30 plus times a game.
His mechanics, accuracy, touch and ability to read a defense are average at best by today's quarterback standards. Kaepernick's mechanics have been an issue dating back to his pre-draft evaluations because his long windup and release point do not lead to accurate passes. The lack of refined mechanics are also the reason Kaepernick struggles to put the proper touch on passes, often putting too much speed on throws.
In addition to the mechanical issues, Kaepernick has always struggled pre-snap to read if a defense is playing zone or man-to-man, which has led to many of his interceptions and a number of other close calls.
Although Kelly has been able to mask these issues with good play designs, it's only a matter of time before opposing defenses adjust to the constant misdirection and underneath throws. Defenses will begin to dare the 49ers to throw deep knowing there is a lack of playmakers at the wide receiver and tight end positions.
Albeit a small sample size, the struggles have already started for Kaepernick.
Yes, he's had respectable numbers, but in each start he has regressed after halftime when defenses adjust.
In the first half of games, Kaepernick is completing 71.2 percent of his passes for 630 yards and five touchdowns with two interceptions, compared to a 38.4 completion percentage with just 308 passing yards and no second half touchdowns or picks.  
Kaepernick will face his most difficult test thus far on Sunday when the New England Patriots come to Levi's Stadium, so despite back-to-back impressive performances regression is on the way.
This article originally appeared on