Why Week 4 is the Ideal Time to Bench Blaine Gabbert for Colin Kaepernick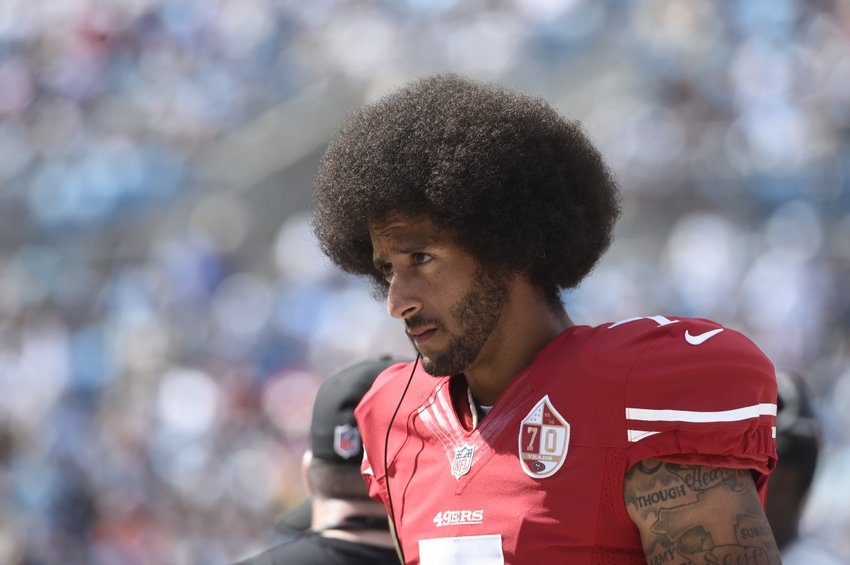 Blaine Gabbert is not good enough for the 49ers to win with and now is the ideal time to make the switch to Colin Kaepernick.
Chip Kelly stood at the podium after the 49ers' blowout loss to the Seahawks on Sunday and was asked what he thought of Blaine Gabbert's performance at CenturyLink Field.
"He played OK," was Kelly's response.
It was a generous exaggeration of a woeful performance in which Gabbert completed just 14 of his 25 passes for 119 yards and one interception but it was also far from a glowing endorsement of his starting quarterback.
In the same press conference Kelly said he did not have any thought to putting Colin Kaepernick in the game and, in a spiky meeting with the media on Monday, spoke on Kaepernick's readiness to play.
Kap is our number two right now and everybody wants to know why Kap isn't our number one. I don't think Kap is 100 percent right now. So, that's what I'm saying.
Kelly does not believe Kaepernick is at the right weight to be depended on as the starter, however, his stance that he is capable of being the backup but not the No. 1 is one that will leave people scratching their heads.
Reading between the lines, though, Kelly is a man who knows he needs to make a change. His only reasoning for keeping Kaepernick on the bench is seemingly that he is not back at his previous playing weight of 225 pounds.
But Kelly was willing to throw Kaepernick out there in preseason against the Packers and Chargers , when logic would suggest he was much less ready to play than he is now and – even if he is not quite at his ideal weight – Kaepernick presents a much more attractive option at quarterback than Gabbert.
It may only have been against third-stringers, but Kaepernick was decisive and accurate in the preseason finale against the Chargers, completing 11 of his 18 passes for 103 yards and looked the same threat on the ground he always has been with four rushes for 38 yards.
Kaepernick produced that showing while playing behind a second-string offensive line. Gabbert, meanwhile, protected by a vastly improved O-Line that has given up just two sacks in three games, has a completion percentage of just 55.2 percent.
#49ers offensive line did a good job protecting Gabbert in a tough environment. No sacks and Gabbert pressured on just 7 of 27 dropbacks.

— Jeff Deeney (@PFF_Jeff) September 26, 2016
Even at his lowest ebb last season, Kaepernick's completion percentage for a campaign has never been below 58.4 percent and, prior to his confidence-destroying spell in 2015, had not shown the hesitation to push the ball down the field Gabbert has since stepping in to the starting role.
Gabbert has the lowest yards per pass attempt in the league with 5.54, with his tendency for throws short of the sticks on third down becoming a maddeningly predictable aspect of this offense.
Though Gabbert is an impressive athlete and can make an impact with his legs, Kaepernick is more of a home-run threat and opposing defenses would likely fear the zone-read more with him in the game.
Kaepernick obviously has his fair share of faults, he stares down receivers too often and struggles with accuracy, but he has been a better quarterback than Gabbert throughout his career and that has not changed.
The performances Gabbert has put on show this season have been bad enough to merit Kaepernick getting a second chance and a Week 4 contest with a Dallas Cowboys team featuring a generous defense is an ideal game in which to make the switch.
Dallas' defense has given up an average of 379.3 yards a game so far this season, ranking at No. 22 in the league in that category and has only four sacks.
San Francisco's O-Line should have little difficulty keeping the pocket clean against a Cowboys pass rush missing both DeMarcus Lawrence and Randy Gregory through suspensions.
Kaepernick's previous history of success when playing behind a capable O-Line suggests he can do a lot more than Gabbert with time to throw.
And, while there has been little in the last two weeks to indicate San Francisco's defense can stop Dallas, a solid showing from Kaepernick – regardless of the result – would be a timely confidence boost ahead of a Week 5 Thursday night meeting with the same Arizona Cardinals team that picked him off four times in Week 3 last year.
After that game the Cardinals bragged about knowing where Kaepernick was going to throw and for many, the upcoming meeting with Arizona is good enough reason to keep him on the bench.
However, through three weeks this looks like a different Arizona team, one that played sloppy against a Tom Brady-less Patriots and a Buffalo Bills team missing Sammy Watkins.
Buffalo destroyed Arizona on the ground, with quarterback Tyrod Taylor playing a huge role with nine carries for 76 yards and a touchdown.
No In-Editor Preview for ONEUPSPORTS Videos
Video Details
ID: fansided-nfl/most-important-victory-week-3
Source: ONEUPSPORTS
With his athleticism, there is little reason why Kaepernick could not do the same with the zone-read being a staple of the Kelly offense.
For his part, Kaepernick – per The San Jose Mercury News – predictably says he is ready to play.
It does not appear Kelly agrees with that assessment but, with Gabbert wasting the gift of a talented group in the trenches, the 49ers coach would be wise to listen to Kaepernick, forget the apparent weight issue and make the switch in time for him to bolster his confidence against a defense that is clearly easily exploited.
This article originally appeared on