Why the 49ers Will Have a Better Second Half in 2016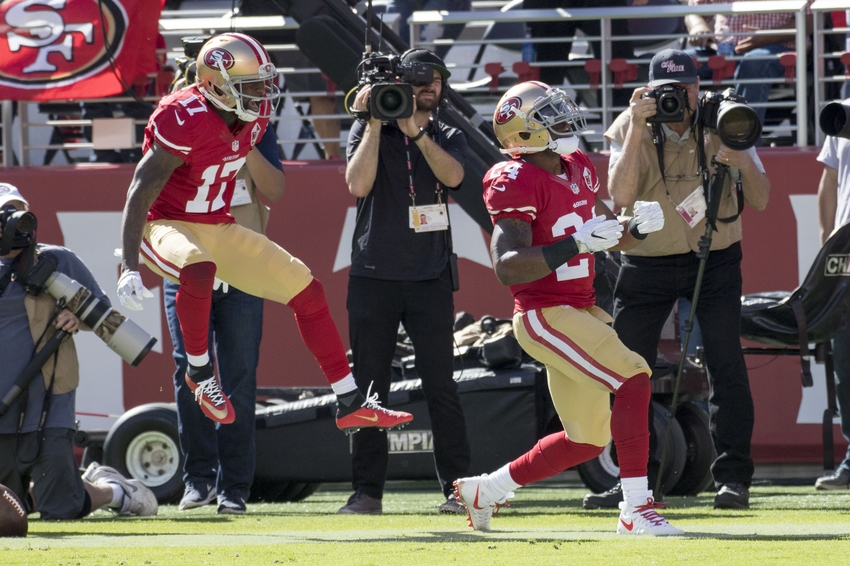 The growing pains have been rough under first year head coach Chip Kelly, but there is reason to believe they can turn things around moving forward. Niner Noise takes a look at the promising aspects the 49ers can look forward to in the second half of the season.
There is always light at the end of the tunnel. San Francisco 49ers fans are quickly losing hope for this season and shifting focus to potential studs the team can assemble in the upcoming draft. The Niners currently sit at last in the NFC West with a 1-6 record and have arguably the toughest schedule in the league for the rest of the season.
The 49ers have assembled a solid young core of players on both sides of the ball. These core players are gaining invaluable game experience with the 49ers, especially as many would be practice squad players on most teams. It may be hard to sift through the bright spots currently, but there are players working hard day in and day out for this team and that needs to be acknowledged.
Consistent Quarterback Play  –
Colin Kaepernick has started the last two games under center for the 49ers and the results have been lackluster.  Kap has completed 46% of his passes and 5.2 yards per attempt this year which is a dip in production from his eight starts last year. There is no inclinations from the coaches of making any changes to QB the rest of this year, and the receivers will hope to build more chemistry with Kap running the offense then they did with Blaine Gabbert.
Offensive Coordinator Curtis Modkins has endorsed that improvement is coming.
"There's a lot involved with the passing game," Modkins said, via CSNBayArea.com. "It's not just Colin. It's protections. It's backs. It's being in the right places, timing. Colin knows and Colin will probably tell you this same thing, he needs to be, there are some throws that he probably wishes he had been a little bit more accurate on. There were some things he was accurate on that we dropped it or there's a lot of things involved. But Colin is fine. He's been up and down a little bit, but he's fine and he'll continue to get better. I don't have an issue with where he's at."
Colin will hope to get things jump started against the New Orleans Saints next Sunday.
Running Back Tandem –
Dujuan Harris has shown promise after his debut last week in slew of the injured Carlos Hyde. Harris had 11 carries for 39 yards and 2 catches for 18 yards in his debut, sharing the load with rookie Mike Davis.  Hyde has been sitting the last two weeks with a shoulder injury but will likely return after the bye week. He has the potential to be a top 10 RB in this league given he stays healthy. This has been a problem, however. He has missed at least one game with an injury in each of his first three seasons. Davis and Shaun Draughn are also in the mix for more carries. With the stagnant passing game the Niners will likely increase the percentage of running plays.
Harris, 28, seems to have finally found a home with the Niners. He previously bounced around eight teams since his NFL debut as an undrafted free agent in 2011. He is trending in the right direction and primed to take the main backup role with Hyde expected to return Sunday. Harris is the home run threat the Niners  have been lacking out of the backfield. He has six plays of at least 18 yards in his 49 touches with the 49ers. The team's other running backs have accounted for 11 plays of at least 18 yards on 455 touches since 2015. (Via Eric Branch of SFGate)
Chip Kelly has been pleased with how Harris has played in his small sample and endorsed his playing time via his press conference prior to the bye week.
"I think overall for his first extended playing time, I think everybody on the offensive side of the staff as we met today and talked about it were impressed with him. … I think he's playing himself into a role in our offense."
Growing Improvements of 2016 Draft class 
DeForest Buckner – Buckner has seen plenty of playing time in his rookie season, leading the D line with 389 snaps. The #7 overall pick has been forced into a full time starting role as injuries have depleted the depth chart this season. Nose Tackle Ian Williams was recently released via ESPN.COM from the Reserve/NFI list with an injury settlement due to a nagging ankle injury. However, the 49ers released wide receiver DeAndre Smelter with a similar injury settlement, and signed him back, so a Williams-Niners reunion is still a possibility. Alongside Buckner is second year player Arik Armstead, who was also a first rounnd pick out of Oregon. The "Twin Towers"  will provide the defense with a cog up the middle for years to come.
Josh Garnett – The 49ers second 1st round pick has only recently been plugged into the starting rotation. Garnett cracked the lineup at Right Guard in Week 6 against Tampa Bay. He did, however, get a late start in the NFL offseason as finished up classes at Stanford. The preseason and training camp was utilized more to play catch-up  and he moved around from right guard to left guard.
Garnett who is a traditional run scheme grinder must improve as a pass protector. Pro Football Focus reports that he allowed 13 quarterback pressures in 100 pass-blocking situations. His starting role is not guaranteed as Andrew Tiller is right behind him and was the starter the previous five games.
Rashard Robinson – Robinson, the first year Cornerback out of LSU has played well this year. Hence, he has seen an increase of playing time on the outside. in Week 4 he made his starting debut after Jimmie Ward suffered a quadricep strain. He has remained a started since. His recent MCL sprain means his status is uncertain for the near future, however. There is no timetable yet on his return to action. His first three games were very productive for a rookie. According to Pro Football Focus, in those games Robinson gave up only six receptions for 55 yards. The upside is there for Robinson to be a viable starting corner for the Niners.
Will Redmond, The other corner drafted by the niners was taken a round earlier than Robinson but has yet to see any action.
Redmond was placed on Injured Reserve at the start of the regular season due to a torn ACL he suffered playing at the end of career at Mississippi State.  The 6-foot, 186-pound cornerback did take part in training camp practices and played sparingly in the preseason. He expressed his optimism coming back via 49ers.com.
"Back in camp I felt good, but now I feel great," Redmond said. "To have that time off, it let me be more of myself."
The 49ers recently placed slot cornerback Chris Davis on injured reserve. This puts Redmond in a perfect position to take that position on the the depth chart.
Additionally, fookie WR Aaron Burbridge is a gunner on special teams and Ronald Blair has cracked the defensive line rotation. The rest of the rookie class is buried on the practice squad, however. If Baalke wants to keep his job, he needs better production from his draft picks.
This article originally appeared on