Why the 49ers Should Have Kept Frank Gore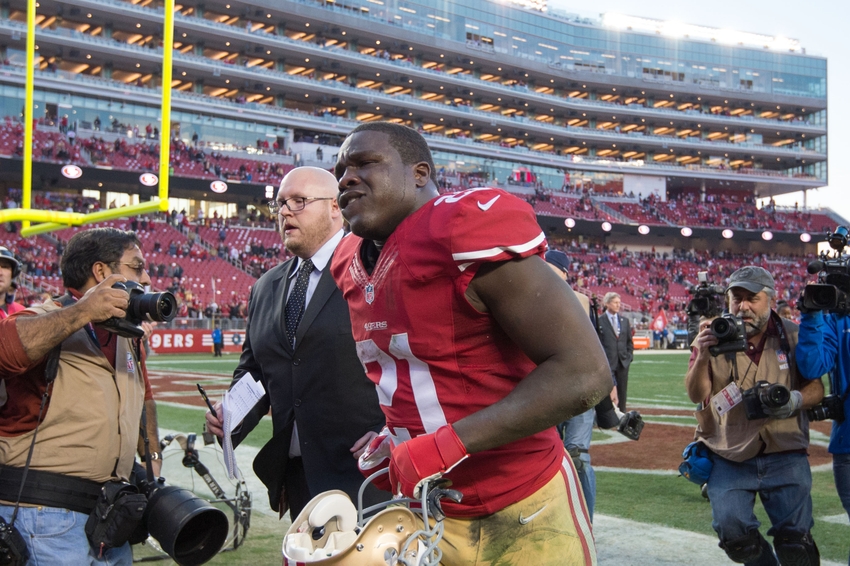 Carlos Hyde cannot stay healthy and, while the 49ers are getting some production from backups, they would have been better off keeping the ever durable Frank Gore on the team.
It's almost two years since we last saw Frank Gore in a 49ers uniform.
But, as Niners running backs coach Tom Rathman revealed on a podcast with CSN Bay Area's Matt Maiocco (h/t David Fucillo of Niners Nation), the now Indianapolis Colt is still keeping a close eye on San Francisco's fortunes. And he does not like what is happening to the team he spent 10 seasons with.
"I just talked to him (Sunday). He's doing good. They won the game. He had a couple of touchdowns, so he's gleaming right now. (He's) a little frustrated with how the Niners are doing. He made that comment. I think he's a true Niner for always, when it's all said and done." – Tom Rathman on Frank Gore.
Gore was let go by the Niners at the end of the 2014 season because they had a seemingly ready-made replacement in Carlos Hyde.
But, while Hyde has looked good when he has been on the field, he has not been able to stay on it, a failing which has contributed to the struggles of the Niner offense and exacerbated the loss of a player in Gore who has not missed a game for the Colts.
The 2015 season marked only the third time in Gore's career that he has failed to top 1,000 yards, but he is on pace to reach four figures in his second year with the Colts, averaging 65.8 yards per game through the first 10 weeks of the campaign.
It has been tough sledding for Gore for much of the year, he has averaged five yards per attempt only once in 2016, doing so in Week 5 against the Bears, but his durability has allowed him to get a strong volume of carries once again.
And, though he is now 33 years old and the physical gifts he possessed during his prime have long since disappeared, Gore continues to make the most of the attributes he does have, using his patience, vision, elusiveness and skills as a receiver out of the backfield to find the end zone four times, including twice versus a Packers defense ranked No. 6 against the run by Football Outsiders.
Hyde does not possess the same skills as a pass-catcher and the 49ers have had to mix and match with him and Shaun Draughn to give them a receiving option out of the backfield, though they look to have stumbled onto a player who can make an impact in the ground game and the passing game in the form of DuJuan Harris.
Yet the 49ers may not have needed to call on the services of Harris had they kept hold of Gore and given him a smaller share of the workload than Hyde, likely extending his career while helping preserve a starting tailback who is clearly vulnerable to injury.
Gore may not have reacted favorably to smaller percentage of the carries, but extending his 49ers career would have provided San Francisco with two starter-level backs who can be relied on to carry the load and who both excel in the red zone.
With Hyde and Gore in the backfield, defenses would have had to respect the 49ers' ground attack at all times. Nobody behind Hyde on the depth chart was deserving of the same kind of respect until Harris' recent breakout showing the Saints last week.
It would appear from Rathman's recent claims that Gore's heart is still firmly with San Francisco. His achievements with the Niners had earned him a fairytale send-off, but instead the franchise's all-time leading rusher left via the back door in a move that has undoubtedly had a negative impact on the team.
Gore is unlikely to have done much to prevent the Niners' demise back to league also-rans, but there can be little argument the offense would be better off had he been kept around.
This article originally appeared on