Why the 49ers 41-23 Week 9 Loss to the Saints Is Good for San Francisco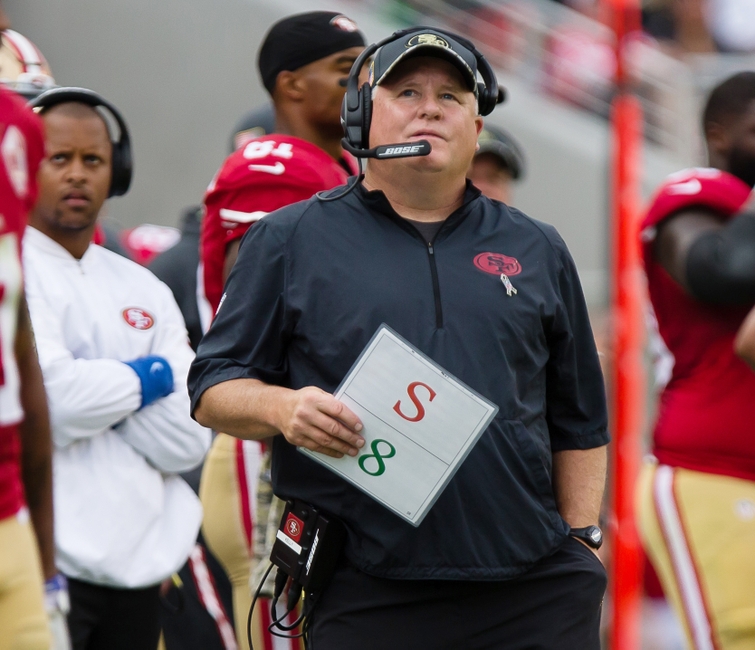 The San Francisco 49ers dropped their seventh consecutive game, losing to the New Orleans Saints 41-23 in Week 9. And this loss is actually a good thing for the Niners moving forward.
The San Francisco 49ers are now 1-7 in 2016 after falling to the New Orleans Saints 41-23 in Week 9.
Fantasy Football: Week 9 Daily Fantasy Football Picks
And while another loss continues to point out how bad this Niners team is right now, it's exactly what the franchise needs moving forward.
This is a team in need of a rock-bottom hit. And while head coach Chip Kelly's offense managed to 486 total yards against a bad Saints defense on Sunday, all the continued issues prevalent over the course of 2016 remain highlighted.
The 49ers are a team without talent on both sides of the ball. That points to general manager Trent Baalke. San Francisco's scheme, especially on defense, makes little sense and/or isn't being executed properly. This issue points to the coaching staff, namely head coach Chip Kelly and defensive coordinator Jim O'Neil.
Most troubling, the Niners are a franchise seemingly lacking any sort of cohesive direction whatsoever.
That points to CEO Jed York.
It's impossible to know fully what goes on within San Francisco's front office and, especially, in York's head. But if we assume he cares — and at this point it's the fan base's only hope — losses like these are good.
Summarizing the 49ers Problems
The Niners aren't just facing a handful of issues. There is a plethora of them. Perhaps more than any other team in the NFL, even the Cleveland Browns.
We get San Francisco lacks talent. But a good coaching staff puts it's players into the best position to succeed.
Sunday's results suggest Kelly's offense might be OK against a bad-to-average defense. And yet the uptempo style has continually worn down San Francisco's own defense. Not surprisingly, the Niners lost the time-of-possession battle 38:54 to 21:06 in Week 9.
That's nearly a 2-to-1 ratio in favor of New Orleans. And it's a story replicated nearly every week since Week 1.
Affected the most has been the 49ers run defense. According to ESPN Stats & Information, the Niners have given up at least 240 rushing yards in three consecutive games.
49ers are the first team since the 1977 Chiefs to allow at least 240 rushing yards in 3 straight games.

— ESPN Stats & Info (@ESPNStatsInfo) November 7, 2016
It's a finger pointed against O'Neil, whose defenses with the Cleveland Browns ranked 32nd and 30th in 2014 and 2015, respectively.
But it's also a mark against Baalke, as Steve Berman of Bay Area Sports Guy pointed out:
Baalke made 15 draft picks in the 1st/2nd/3rd rounds since 2013. 10 were spent on defensive players. 49ers have allowed 33+ pts in 6 games.

— Bay Area Sports Guy (@BASportsGuy) November 7, 2016
Just think, San Francisco's defense was supposed to be one of its few strengths entering this season.
Blowing It Up in Santa Clara
2016 marks the second consecutive season in which the 49ers are going nowhere fast. Two coaching changes have made no difference, the roster appears worse than it was last season and the Niners are destined for a top-three pick in the 2017 NFL Draft.
There isn't exactly a reset button in the NFL. But cleaning house once the year is over is about as close as York can get to doing this.
Losses like Week 9 just reinforce why it needs to happen. And our friend Keith Myers from FanSided's 12th Man Rising certainly agreed:
They just need to blow it up in Santa Clara and start over. New GM, New coach, all-new players, new owner, everything.

— Keith Myers (@MyersNFL) November 6, 2016
Now York isn't going to fire himself or ask his family to sell the team. But wiping the slate clean would provide a much-needed fresh start.
One of the biggest moves would be to put a top-level person in charge of football-related decisions. He or she (let's make this progressive) would report only to York. But everyone else — from the GM on down to the coaching staff — would fall under his or her direction.
In short, we have more than enough evidence to prove the entire franchise if flawed from top to bottom.
The 2017 NFL Draft and Other Implications
At this point, losing out for the No. 1 overall pick might be a good thing for San Francisco.
Finding gold in the NFL Draft is far from an exact science. But a talent like, let's say Texas A&M edge rusher Myles Garrett, is simply too good to pass up. The winless Browns currently own the top pick if the season was to end today. And it's hard to see them passing on a player like Garrett.
But let's not limit it to just one player. A new general manager would have different ideas and approaches. And what a way to start off a resume in Santa Clara than with a No. 1 pick. A GM could trade down too, and such a move would make plenty of sense considering all of San Francisco's needs.
It doesn't end with the draft either. The Niners are projected to have $46,305,666 in salary cap space next year, per Over the Cap.
While Baalke has never been a big player in free agency, the next GM might take a different approach.
And he should have the resources with which to work. Remember, teams can't hoard cap space continuously, per the league's current bargaining agreement. So that rules out the York family simply trying to field a team as cheaply as possible over a lengthy period of time.
For those thinking York doesn't care, just consider how bad a PR look it is to have thousands of vacant seats at Levi's Stadium on a weekly basis. It's not good for investors and businesses looking to fill executive suites.
So, more importantly, York has the chance to become a hero in Santa Clara by simply wiping the slate clean and putting the right people in place to make the best decisions possible.
Games like Week 9 only reinforce how bad things are with the 49ers right now. And these games prove any changes since the end of 2014 haven't worked.
And that's a good, good thing.
This article originally appeared on