Why Chip Kelly Should Stay as the 49ers Head Coach in 2017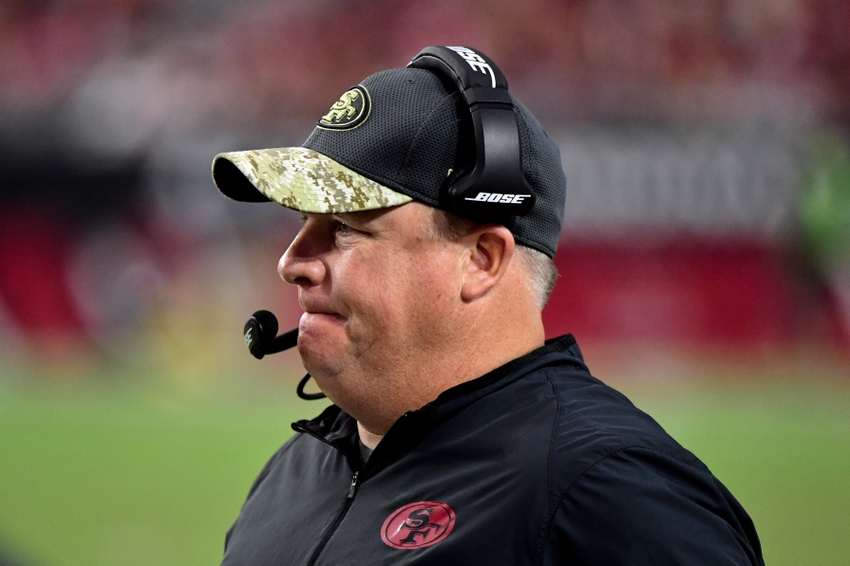 Keeping 49ers Head Coach Chip Kelly for at least one more season would be the right move for the 49ers, who are in a rebuilding stage.
The spotlight is shining bright on Chip Kelly in his first season as the 49ers head coach heading into Week 10 at a 1-8 record and seven game losing streak.
49ers vs. Cardinals: The Good, Bad and Ugly in Week 10 for San Francisco
There is a short fuse in the NFL when it comes to winning, and the decision to keep him depends on the direction the front office wants to take in these rebuilding stages.
Keeping Kelly would ensure a consistent personnel group and allow the large number of young players on the team room to grow under him. There is a a lot that goes into transitioning head coaches with a whole different playbook, new coordinators and dividing up the power structure.
A third head coach in three years would hurt the team.
While the 49ers record doesn't look good on paper, they have shown flashes of competitive football this season and have reason to believe that the team can be successful under Kelly.
Last year, Jim Tomsula transitioned to full-time head coach, but the Niners were not pleased with the turnout. If they fired Kelly, it would hurt the team and regress any momentum built this season. It's tough to swallow how the defense has panned out this year, allowing seven straight 100-yard rushers.
This can't be blamed on Kelly though, as the front line has battled injuries and the youthful depth chart has been depleted. With a healthy line and more experience, the rush defense should improve next year.
What About the 49ers Defense?
Defensive coordinator Jim O'Neil responded to criticism of the defense and lack of consistency in a press conference.
"I think that is hard," O'Neil said. "We can talk for hours about that and my beliefs, but I think when you're consistent with guys and you allow guys to hear the same message and get coached the same way, there's a reason the good teams in this league are really good."
The main question surrounding Kelly was his uptempo offense putting more pressure on the defense. Both of these issues were silenced last week, as the defense improved a bit against Cardinals tailback David Johnson, for the most part, as he averaged 2.9 yards per carry against a defense that entered the game allowing 5.3 yards per attempt.
They also had a drive of 15 plays within a shade under six minutes. These are signs of improvement, and Kelly can feel more comfortable now heading into the game against the Patriots.
Questions Under Center
It remains to be seen whether Colin Kaepernick will be retained next year. His restructured contract can either extend his deal another season or void his contract after the year, which means he would become a free agent.
The 49ers cannot franchise tag him after this season, according to the original report. ESPN's Adam Schefter then wrote on Twitter if Kaepernick wants to stick around in San Francisco for the 2017 season, he'd earn a $14.5 million salary. However, none of that money would be guaranteed.
In the last two games, Kap has looked like his old self operating under Kelly's offense. Against the Saints he threw for 398 yards and two touchdowns, which is good for second highest in his career. He seems to be thriving with the uptempo offense. And Kap has dispersed the ball around all over to multiple receivers and tight ends, which is a good sign.
Last week against the Cardinals, Kap improved drastically. He was 17-of-30 passing for 210 yards and 55 rushing yards on 10 carries compared to the last time he played there when he threw four interceptions. This could be just an audition for Kaepernick as he could be signed to a new team without much baggage.
It would benefit Kelly to and he could have his choice at a top flight QB in the draft and mold him while Christian Ponder as the veteran stop gap.
Although this is merely speculation, it's time for the Niners to look for their new QB of the future. Having an established coaching staff is very important for a young team needing leadership. The team also has a large amount of cap space heading into free agency and can sign multiple studs to lucrative contracts, according to overthecap.com.
Keeping Kelly on board for at least one more season would be the best scenario to see how well the team improves.
The San Francisco 49ers are back home following a closer Week 10 loss to the Arizona Cardinals. Practice for Week 12 against the New England Patriots gets going later this week.
This article originally appeared on