Why Chip Kelly Remains as Head Coach of the 49ers in 2017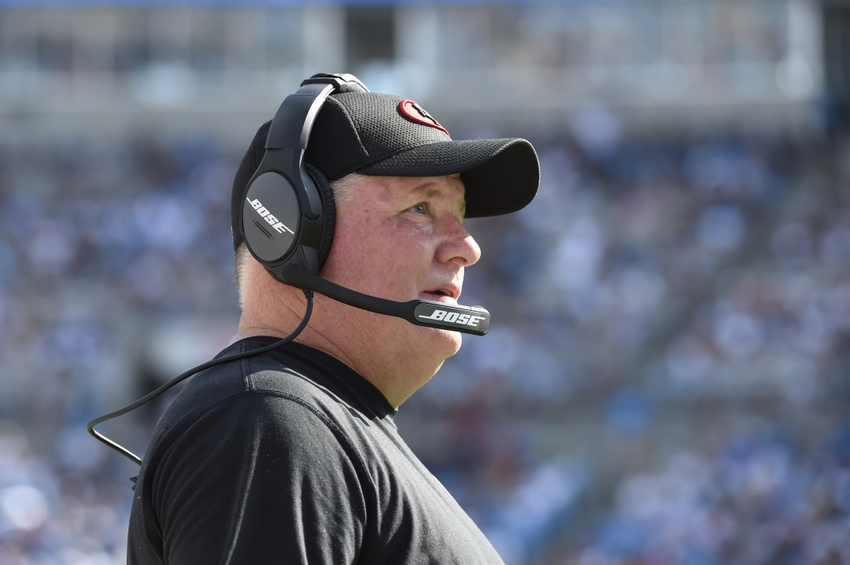 San Francisco 49ers head coach Chip Kelly could easily be on the hot seat with a 1-9 record under his belt heading into Week 12. But Niner Noise looks at why Kelly sticks around in 2017.
The San Francisco 49ers are a mess, and head coach Chip Kelly certainly doesn't seem to have the tricks up his sleeve to turn this franchise around.
2017 NFL Draft: Why the 49ers Should Trade Down in Round 1
A 1-9 start, a last-ranked defense and an offense that completely falls apart in the second quarter of games would make almost anyone think a head coach's job should be in danger.
For Kelly, it might be.
The Niners head coach informed Eric Branch of SFGate.com earlier this week of zero conversations with CEO Jed York about staying in Santa Clara for the upcoming season. This might lead some to believe Kelly is going to be the next in line of coaches to be dismissed by York and the front office.
Perhaps. But it's equally possible Kelly sticks around as well.
Prior to the season, ESPN's John Clayton noted the 49ers would be grateful for hiring Kelly, albeit the franchise would have to wait a few years before any real effect would take place.
Think the long game for a second here. San Francisco is bad. Everyone within the organization knows this. And it's not going to be a quick rebuild either.
Chip Kelly vs. Trent Baalke
If Kelly was fired, the Niners would be searching for their fourth head coach in as many years. Two of those years have already been bad, and 2014 wasn't particularly great either. In all likelihood, 2017 would be rough as well.
Kelly isn't the constant here. It's York and general manager Trent Baalke.
Baalke might have made some good moves early on during his tenure. But the team has been in a gradual-to-violent tailspin ever since. What's one of the main complaints about the 49ers? They don't have a talented roster.
If Kelly had roster control, well there's your answer. But he doesn't.
And Kelly might have taken a few subtle potshots at Baalke too. When asked about the midseason switch from quarterback Blaine Gabbert to Colin Kaepernick, Kelly responded (h/t David Fucillo of Niners Nation), "It's really one of the only maneuvers we can make, based on our depth."
What of this comment earlier this week, courtesy of Niners Wire's Chris Biderman?
"When you get down like we did all of a sudden it turns into a throw every down game and we're not built for that right now," Kelly said.
Whatever Kelly might say about these not being slights against Baalke, the truth is they are a point-blank reflection of the job Baalke has done.
So maybe, likely, Baalke deserves the blame.
The Colin Kaepernick Factor
San Francisco might want to hope Kaepernick doesn't opt out of his contract after the season. Why? Well, what are the other answers?
Maybe quarterback Christian Ponder, who was painting his house when he got the call from the 49ers in the preseason. Thiry-one other teams passed. The Niners bit. Blaine Gabbert, a free agent in 2017, is likely done in Santa Clara.
And unless the team is banking on free agency or the next NFL-impact prospect, a la Carson Wentz or Dak Prescott, who's going to be under center?
Kap isn't the long-term answer. We know this. And we also know Kaepernick doesn't see eye to eye with Baalke. He might with Kelly. Kap said so before.
If Baalke loses the power struggle in Santa Clara and Kelly remains, maybe that would entice Kaepernick to stay a bit longer while the 49ers look to groom another quarterback on what hopes to be a better team and situation.
The Consistency Factor
Scroll back up to the four-coaches-in-four-years part — the situation San Francisco would be in if Kelly was fired.
Think about that for a second. That hasn't happened since 1977 through 1979, albeit one of those coaches was on an interim basis. Regardless, the 49ers were a shambles back then too. And no, Bill Walsh isn't coming to the rescue.
A revolving door of coaches hinders player development, especially younger guys. It also jeopardizes the chance of landing any top-tier coaching candidates. Who would want to come to Santa Clara knowing full well how tenuous the job is? It would be one thing if the Niners had a stacked roster. But they can't boast that either.
The 49ers are in stabilization mode, at least they should be on the field. Even if Kelly isn't the right answer for a long, long time — as York said after his hiring — San Francisco would be doing more harm than good by releasing him in, or before, 2017.
Ride this out for a while. See where it goes. That's the approach the 49ers need to take. It might not be ideal. But to quote our friends in the medical field, "to help or to do no harm."
Releasing Kelly would do the harm.
This article originally appeared on